Meetings 3 & 4 of Syriac-Speaking Reps in Iraq
3rd Meeting
(ZNDA: Baghdad) The third meeting between the various Syriac-speaking Christians of Iraq to discuss the name issue took place on Friday, July 15 at al-Mashriq Club in Baghdad.
Many political parties, institutions, and church representatives that had attended in the prior two meetings were absent. The second meeting had in fact left a clear message to everyone that the two opposing groups were not going to reconsider their plans.
The speeches clearly asserted the two emerging groups: the first group represented those who stressed the unified title, while the second group represented the path of separation.
In the midst of this fragmentation and chaos, the meeting adjorned in less than two hours and it was decided to hold one final meeting on 21 July 2005. In that meeting the heads of the various political, cultural, and civic groups, and churches were asked to attend.
At the end of the third meeting it was evident that there is a slim and bleak chance for progress, unless non-Kurdish Iraqi groups or the Americans would interfere.
4th Meeting
On Monday, July 18 representatives from the Syriac-speaking churches and political and cultural groups met for the fourth time at the Ashurbanipal Society Hall in Baghdad. The meeting lasted for three hours.
The following three members of the Iraqi Parliament attended: Younadam Kanna, Nuri Potrus 'Attoo, and Abd al-Ahad Afram. Among the attendees were representatives from BNDP, APP, ChaldoAshur Communist Party, cultural institutions, and independents. The only church represented was the Ancient Assyrian Church of the East (Old Calendar).
Mr. Nuri Potrus pointed out that a proposal was submitted in the Iraqi National Assembly to mention the Chaldeans, Assyrians, Suryan separately in the future Iraqi constitution. However, the proposition was withdrawn later and was not debated.
Mr. Johnson Aghajan, of the ChaldoAshur Organization - and the Iraqi Communist Party, and the current Minister of Finance in the Kurdish Regional Government, criticized Mar Delly, patriarch of the Chaldean Catholic Church for asking to include the Chaldeans as a separate ethnic group in the constitution and considered His Beatitude's action as an effort to divide the Syriac-speaking people.
Mr. Fuad Bodagh of the Chaldean National Congress (CNC), criticized Aghajan for his statement that Chaldean ethnicity and nationality was "made-up" and gave his reasons to prove otherwise. He then questioned Aghajan for accepting the Chaldean ethnic title during an earlier meeting of the eight political organizations.
Mr. Hikmat Hakim's speech was in line with Bodagh's and stated that the Chaldeans make 80% of the Christians in Iraq and that they possess academic, scientific, and financial influence inside Iraqi and abroad. He then inquired about the use of the title Chaldeans as a reference for all Syriac-spekaing constitutuents for the time being in the constitution.
Mr. Younadam Kanna of the Assyrian Democratic Movement explained the process of deliberations inside the Constitutional Commission and explained how hard it was for any Syriac-spekaing representative during the discussions. He pointed to the letter of the Council of bishops of Mosul in which they approved the ChaldoAssyrian title. He distributed a copy of the letter to the attendance. Mr. Kanna stated that others have supported the letter, including patriarch Mar Delli, Mar Ibrahim Ibrahim, Mar Shlimon Warduni and others.
Mr. Abd al-Ahad Afram of the Chaldean Democratic Union Party stressed on the acceptance of athe Chaldean ethnicity. He emphasized the separation of the two names, Assyrian and Chaldean, as two seprate ethnicities.
He stated that the compound title represents people and not ethnic and national titles and that he was against such titles.
Mr. Kaiser Odisho of the Assyrian Patriotic Party (APP), criticized all those who were bringing their own references to achieve narrow personal and organizational benefits at the expense of our people. He criticized those who at one time were supportive for unity with the compound title but were now referring at it as something that was affixed on them by others. He stated that the APP is supportive of the title (Chaldean Suryani Assyrian) and that the APP will not participate in further discussions.
The participants did not reach any acceptable compromise and departed until further notice.
Bride Killed in Attack by Unknown Gunmen in Baghdad; Assyrian Friend Wounded
(ZNDA: Baghdad) Yesterday, 22 July, gunmen fired on a car carrying the newlyweds who were married last Wednesday and their families, killing the bride while wounding her mother, groom and driver in the southern Dora neighborhood, of Baghdad according to police and medical officials.
The driver and friend of a wedding party, Marcel Ishoo (pictured here) received treatments for wounds after the car he was driving was attacked by unknown gunmen.
The bride, Salay, 22, and her groom, Wisam Abdul Wahad, were marreid last Wednesday and were being driven by an Assyian friend throught the Dora district of Baghdad, when a group of unidentified men attacked their car.
Mr. Wahad, 24, an Iraqi army captain, remains in the Yarmuk Hospital in Baghdad.
Last week over one hundred Iraqis were killed in several attacks in Baghdad and elsewhere in Iraq, twice as many as those killed in the attack on London's underground metro of a few days earlier.
Iraq's Christians Fearful of Islamic Law
Courtesy of Zenit News Agency
15 July 2005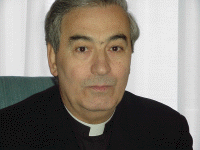 Bishop Andraos Abouna expressed his concerns that this new constitution could also include automatic discrimination against non-Muslims.
(ZNDA: London) The long-awaited constitution now being prepared in Iraq could effectively turn the country into an Islamist state, warns the auxiliary bishop of Baghdad.
In a letter presented July 14 to the British branch of the Catholic charity Aid to the Church in Need (ACN), Bishop Andraos Abouna expressed his concerns that this new constitution could also include automatic discrimination against non-Muslims.
The letter was signed by the leaders of nine Christian denominations, and it makes a desperate plea for equality of all religious groups.
Underlying the leaders' concerns are reports that Shiite Muslims -- Iraq's largest religious group -- are pressing for a permanent constitution that enshrines Shariah, or Islamic law.
The Church leaders are fearful that their faithful could become victims of the discrimination and persecution that Christians face in other places where Shariah is imposed.
Iraqi Christians Find Safety in Syria
Courtesy of the San Francisco Chronicle
19 July 2005
By Joshua E.S. Phillips
(ZNDA: Damascus) Seated in his parish office, Father Sarmad Yousef reflected on his hard choices: to disobey his archbishop by remaining in Syria or to return to Iraq, where his name has appeared on a death list.
"After the Americans came, I was one of the people telling the Iraqi Christians not to leave," he said. "After the violence started, I stopped telling them that."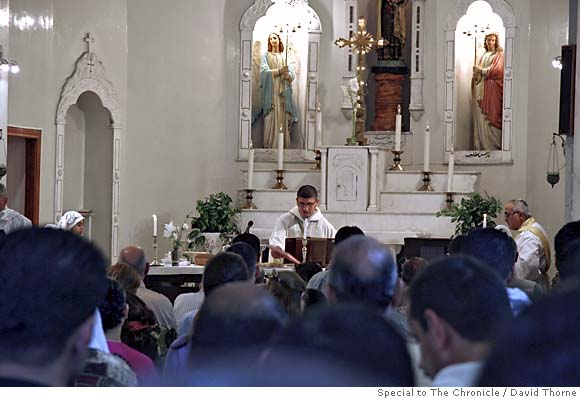 Father Sarmad Yousef, who left Iraq when he learned that his name was on a death list, celebrates Mass in Damascus. Photo by David Thorne, special to the San Francisco Chronicle.
Christians all over Iraq face a similar dilemma as relentless violence engulfs the country, some directly targeting them.
Staying in the midst of the threats is dangerous, yet leaving means abandoning communities, church property and a heritage with centuries-old roots.
Before the U.S.-led war, roughly 750,000 Christians lived in Iraq, out of a population of 25 million. Most were Chaldean and Assyrian, but there also were Armenian, Jacobite and Greek Orthodox Christians and a small number of Protestants. Most of them lived either in Baghdad or in northern Iraq around Mosul.
Since then, 15,000 to 20,000 Christians have fled to Syria, according to Christian groups, out of "about 700,000" Iraqis, most of them in flight from the war, according to the U.N. high commissioner for refugees.
Yousef, a 30-year-old Chaldean Catholic who came here in August 2004, was the parish priest of Baghdad's St. Pathion Church, with 800 families under his stewardship. Today, he occupies a simple office in Damascus, decorated with small portraits of St. Therese, the patron saint of his new church, cradling a bouquet of pink roses.
He says he actively supported the United States when coalition troops first entered Baghdad in April 2003 and helped organize community meetings on their behalf. Such support came with grave risks, and he narrowly missed two drive-by shooting attacks.
But when the Abu Ghraib prison scandal came to light, Yousef says, his view changed. Nor was he alone.
"Before that, Iraqis loved Americans," said Yousef, his eyes lowered. "Directly after that -- those photos, that scandal directly destroyed the dignity of Iraqis."
Muneeb, an Iraqi Christian parishioner of St. Therese who didn't reveal his last name because he said he did not want to attract local attention, said general resentment toward the Americans was transferred to Iraqi Christians. "Americans are Christians," he said, "so we're automatically considered to be part of them."
Christian-owned liquor stores and beauty salons were attacked. While kidnapping has soared -- both for terrorism and financial gain -- Christians felt particularly targeted since they are often associated with successful businesses and financial support of families living abroad.
With the rise of Islamic militancy, Muneeb said, his sister, a doctor, was ordered to wear a veil outside her home -- a requirement that didn't exist, he said, when Saddam Hussein was in power.
"I never thought of leaving Iraq," Muneeb said. "But as a minority, we have no support."
Emmanuel Khoshaba, a member of the Assyrian Democratic Movement, who regularly commutes back and forth to Iraq, is more optimistic. Through his job as the movement's Syrian representative, he promoted Iraq's Jan. 30 elections among absentee voters in Syria.
"Don't see the glass half-empty," said Khoshaba, who is the organization's Syrian representative. "Now, we have rights: We have our names, we have members of the National Assembly, and we have 35 schools that teach Syriac." Under Hussein, teaching Syriac -- the language used by Assyrians and other Iraqi Christians, and one of the Middle East's oldest languages -- was strictly forbidden.
"We have coexisted for thousands of years," Khoshaba said. "The problem was the repressive regime, and today we are in a transitionary stage. But one has to stay and sacrifice something for it."
There have been many examples of such sacrifice.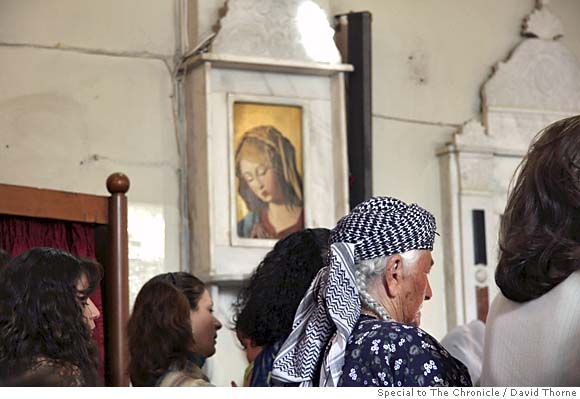 At St. Therese, in Damascus, Syria, about 90 percent of the parish's 2,000 families are Iraqi refugees.
One Sunday last August, a spate of bombings that struck five churches in Baghdad and one in Mosul left 11 dead and scores wounded. Yousef's church was spared, but he said Iraqi Christians increasingly had started to leave soon after.
When Yousef took a previously planned trip to Damascus, he learned his was one of 18 names on a death list. Thirteen of those people had been killed the previous month. "I decided not to go back -- I felt that I was too young to die," said Yousef.
He left behind friends, family and his parish. The archbishop of Baghdad instructed him to return to his post, but he stayed in Damascus to fill an opening at St. Therese.
Yousef's new church, wedged within Damascus' Old City of cobblestone streets and crumbling houses, overflows with worshipers during Sunday Mass. Of the 2,000 families now connected to St. Therese, 90 percent are recent Iraqi refugees.
Just outside the church doors, a group of parishioners from Yousef's old Baghdad parish discussed how their lives have changed.
"Life was better -- we didn't have any problems," said Jamila Tama, referring to the relative peace between religious sects under Hussein. "There's killing, bombing and kidnapping. We have nothing now -- even our house is sold."
Her son, Bassam Bahnam, was grateful for the haven in Syria. "But I have three boys who worked in Baghdad, and they're all unemployed now," he said.
Bahnam and his family want to return to Iraq -- when the violence ebbs. "Of course there's no place like home," said his younger brother, Hisham Bahnam. But he criticized Christian leaders' calls to stay in Iraq.
"They're asking us to stay, but they're not giving us any solution," he said. "Even Christian leaders need an army to protect them whenever they go outside."
George Abona, a former priest who attended a seminary with Yousef, agrees. "When my Christian leaders say, 'Don't leave your heritage,' what are they going offer me?" he said. "What will heritage do for me and my son?"
In Iraq, Abona worked for the United Nations for seven years, before and during the war, and was in its Baghdad compound when it was bombed in August 2003. He survived, but the blast killed his brother, along with the top U.N. envoy in Iraq, Sergio Vieira de Mello, and 20 other U.N staffers.
Then last October, he was kidnapped for 19 days. He was released after another brother paid a $20,000 ransom.
Despite all that, he said, "The security issue is not a big issue -- it's that I'm not ready to raise my son in an extremist Islamic society."
Syria has relaxed immigration rules for its Arab neighbors. But aside from Palestinians, refugees are not allowed to hold jobs in Syria, forcing most Iraqi newcomers to live off their savings. Government assistance -- especially health care -- is limited, and the refugees must return home periodically to get their temporary visas renewed.
Yousef tries to provide his new community in Syria with food and money for medical needs. The main reason he and other Christians have fled Iraq, he said, is "because we don't feel it is our country any more."
"I have bad memories now," he said of events since the invasion. "Most of my friends were killed there, and we only saw cruelty and blood. I don't think I'll ever be able to go back."
Protestant, Evangelical Churches are Growing in Iraq & Kurdish Region
Courtesy of the Baptist Press News
14 July 2005
(ZNDA: Baghdad) In the northeast of Iraq there is a haven for Christian activity as the two rival Kurdish governments grow in their toleration of Muslims becoming Christians; in the south, the evangelical church is growing rapidly.
In Baghdad, a total of 15 evangelical congregations have started since the removal of Saddam Hussein's regime in April 2003. Officially, only two evangelical churches -- both Presbyterian and led by Egyptian nationals -- existed in the capital during Hussein's rule. Now there are Baptists, Methodists and Christian and Missionary Alliance congregations, all led by local Iraqi pastors.
"The people are open like never before," tells Ghassan Thomas, pastor of a Christian and Missionary Alliance church in Baghdad. "It is because we have no peace. This is how we connect our message to the nation: I preach on the topic, 'How do we get peace?' and everyone listens, especially when I talk about the deeper peace that Christ brings."
Most of the members of the new churches come from the Presbyterian church, and some come from historic Christian denominations such as the Chaldean Catholic or Syrian Orthodox, which have been in Iraq for centuries.
"Muslims too want peace," Thomas said. "Many of them are frightened. When the hostages are killed, often a Koranic verse is used to justify it. So many Muslims are scared of their own God. When we preach that God is love, it is so liberating to them."
Southern Iraq is deemed too dangerous for foreign Christian workers, so most have pulled back to the more stable Kurdish region. More than 4 million Kurds reside in this northern mountainous region, which has enjoyed autonomy since the first Gulf War in 1991. Two Kurdish political factions control the area. Arbil is the main city of the domain of Massoud Barzani's Kurdish Democratic Party, and Sulemaniya is the power center of newly elected Iraqi President Jalal Talabani.
In both regions, Kurdish refugees are flooding back; there is little street crime and authorities have severely curtailed the activities of Islamic extremists. This has brought much prosperity to the area, which many believe is one reason the respective administrations -- in their courting of Western investment -- have markedly improved their defense of religious freedom.
Pastors' Reports
Just as the Jewish people were given a homeland, so it is God's will to give the Assyrians a nation of their own !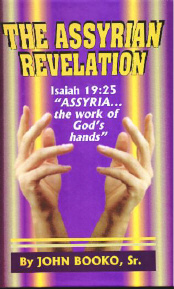 375 pages, $20 + S/H
To promote and prepare the way for the fulfillment of God's prophecy through Isaiah 19:23-25 for the establishment of the country of Assyria to be the work of God's hand to bless the world.
To order your copy write to:
200 S. Hooker Ave
Three Rivers, Michigan 49093, USA
or call 269-279-2672

Yousif Matty, a leading pastor of the Kurdish Evangelical Church, a denomination in the north comprising Kurdish and Arabic Christians, says "The last 10 years have been a golden time here, and it is set to continue with Talabani becoming president. He has been very strong on emphasizing the rule of law. Also, the Kurds have suffered at the hands of Islamists and have no love for them."
Congregations of the Kurdish Evangelical Church have a few hundred members, from both Muslim and Christian backgrounds. Matty runs four bookshops, two schools and other projects, and he received a $500,000 plot of land from the government to build his church. The government also has welcomed other Christian non-governmental organizations.
The other evangelical denomination in the north is the Kurdish Language Evangelical Church, which is exclusively Kurdish-speaking and made up primarily of Kurds.
"There is always persecution from the family when a Muslim becomes a Christian," notes the Kurdish pastor of one fellowship in Arbil. "That will not change anytime soon, but it used to be that the new convert would face persecution from the state also, yet this is less true today."
The influence of the Kurds, who represent 25 percent of the Iraqi population, is important to the future of the country. President Talabani has less power than the Shiite prime minister, but some Christian leaders believe that the best bulwark against a strongly Islamic constitution may be the influence of the Kurds.
Though Sunni Muslims, the Kurdish people are one of the least observant Islamic groups in the Middle East, and they regard the Arabs as having humiliated them for decades. Bishop Issac of the Church of the East in Dohuk said that he believes the Kurds will keep the constitution from becoming too Islamic.
"Sharia is really Arabic, and the Kurds will resist all attempts to Arabize the culture of Iraq," Bishop Issac said. "If we go the sharia route, it will be like in Iran where our church is less than 10 percent of the strength it was before Khomeini took power."
"It's not the end of the world that so many Christians have fled," Bishop Issac said, "because it has spread the Iraqi church over the world, and the new communities established in America and Australia are providing many resources we would not have received if we had all remained in the land."
Iraq Still in Crisis
The news is not all positive, of course. Iraq remains a country in crisis. At a recent conference for 70 Iraqi pastors, all had to travel early in the morning to avoid trouble on the roads. And although they emphasized that the streets gradually have become safer since the beginning of the year, church meetings throughout the south are held at 4:30 in the afternoon -- with everyone at home behind locked doors by 7:30 for fear of insurgent and looting activity.
Law and order still has not been adequately restored, nor have basic services. Patience has run out with U.S. and British forces' failure to restore stability after two years in the country. "No population will support an army that cannot protect it -- the goodwill has completely gone," one pastor said. Middle-class Christians also are continuing to emigrate in alarming numbers, as those in key professions such as medicine are targets for kidnapping and extortion. Some newer evangelical churches have been decimated by this exodus.
The Iraqi churches also face internal challenges, some priests from the historic churches have bullied the new evangelicals. In Baghdad, a priest from the Chaldean Catholics told those who had left his church to attend Baptist services, "We will not bury your relatives who attend our churches." Some leaders of the older church denominations have slandered evangelical congregations as part of a "Jewish conspiracy" to control Iraq.
Some church leaders see the splitting of the evangelical churches into so many new (and often foreign-backed) denominations as an indication of disunity, noting that not all missionary aid is well spent; some pastors have used foreign support to buy expensive cars and upgrade their lifestyle, leading to envy among other pastors.
Yet for all these challenges, the mood among 70 evangelical pastors who gathered during the spring was guardedly optimistic.
A pastor of one of the three Baptist congregations in Baghdad, who did not wish to be named, forecast three trends:
"One, the evangelical church will grow stronger, but many of its numbers will leave. However, that's not so bad. They will probably come back with more teaching and maturity and it will benefit the church in the long term.
"Two, the historic churches will get even more negative. I see them as the major persecutor of the evangelicals in the future. It is as it always was. I am translating a book called 'The Trial of Blood' which calculates that the institutional churches killed 50 million Christians from 315 to 1570.
"Three, the Islamic extremists will moderate, though it may take a generation."
A Poignant Encounter
Yet even when conflicts are at their sharpest, there are hopeful signs. Pastor Thomas tells of an incident that occurred when he received death threats written on cardboard after erecting a sign outside his church that said, "Jesus is the Light of the World." On the cardboard was scrawled, "Jesus is not the light of the world. Allah is, and you have been warned." It was signed, "the Islamic Shiite Party."
Thomas loaded up a van full of children's gifts from a Christian relief agency, together with some Bibles and medicines, and drove to the headquarters of the Islamic Shiite Party. When he came to the compound, he demanded to "see the big sheikh, I have gifts for him."
He was taken to meet the leader and introduced himself as a pastor.
"We respect you," the sheikh said.
Thomas said, "Christians have love for you, because God is love, our God is a God of love."
Again the sheikh replied, "We respect your God. We respect Jesus."
This was the opening Thomas had been praying for. He told the sheikh, "If you respect Jesus, would you let me read you His words?" He took out his Bible and read the words of Jesus from John's Gospel, "I am the light of the world." Then he brought out the cardboard with the death threat.
The sheikh read it and looked ashamed. He said, after a moment's pause, "We are sorry. This will not happen again. You are my brother. If anyone comes to kill you, it will be my neck first." The sheikh even attended Thomas' ordination as the pastor.
"No one is expecting the situation to improve for the better quickly," Thomas said, "but we believe that God is moving in these times, and that the future will be more peaceful, especially if Christians will befriend good Muslims and work together."
After Long Road to Freedom, Assyrian Interpreter
Returns to Iraq
Courtesy of the U.S. Marine Corps
18 July 2005
By U.S. Marine Corps Lance Cpl. Evan M. Eagan
II Marine Expeditionary Force (Forward)
(ZNDA: Fallujah) After fleeing from his native Iraq in 2001 and embarking on a journey, which took him through five different countries and eventually to the United States as a refugee, an interpreter with II Marine Expeditionary Force, Headquarters Group, II MEF (Forward), has returned home to aid Marines in the rebuilding process in the city of Fallujah.
Johnny, a name he uses in place of his birth name to keep his identity hidden, works in the S-4 shop of the II MHG headquarters office, translating documents and helping bridge the communication gap between Marines and local Iraqis.
Born in Baghdad, Johnny had a passion for cooking, which led him to attend culinary school in Al Qanat, Iraq. Upon his graduation from the school he was required to fulfill a mandatory military service, putting his personal plans of working as a chef on hold.
"You are only required to do 36 months in the Iraqi military, but in Iraq under Saddam (Hussein) you never knew how long they would keep you," he said. "One of my brothers was in for 15 years and another was a prisoner of war in Iran for 10 years."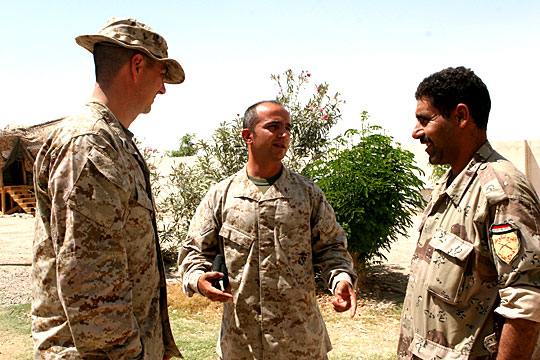 Johnny, an interpreter with II Marine Expeditionary Force, Headquarters Group, II MEF (Forward), returned to Iraq April 30, 2005, after fleeing to the United States as a refugee in 2001. Working in the S-4 office, Johnny translates documents and helps bridge the communication gap between Marines and local Iraqis. U.S. Marine Corps photo by Lance Cpl. Evan M. Eagan.
During his time in the service, Johnny was part of a recon unit during Operation Desert Storm in the early 90s, and fought in northern Iraq against the Iranians and Kurds.
After five years and eight months, Johnny was released from duty and he decided there were not many opportunities to better his life in Iraq. After a run-in with a federal agent under Saddam's regime, he decided it was time to leave the country and go to the United States.
"He (federal agent) made a big order at the restaurant I was working at and tried to leave without paying for it," said Johnny. "Then he told me, because I am a Christian, I don't need the money because I have family in the U.S. sending it to me. I got so mad that I punched him in the face and knocked him down."
As a result, Johnny was taken to prison, where he was interrogated and tortured because the agent said he was talking bad about Saddam's regime.
Although his brothers posted his bail 12 days later, he vowed he would get out of Iraq and make a better life for himself no matter what he had to do.
"When I was in Iraq I was nothing because of the government," said the 34-year-old. "I had no future there. There was nothing I could do."
When he got out of prison, Johnny obtained a fake passport and fled to Jordan, where he bought a fake visa in order to take a flight to Yugoslavia.
From Yugoslavia he walked across the border to Hungary with a small group of people.
"We were captured in Hungary and put in a camp kind of like a jail," he said. "They were going to do health examinations on us and other examinations which would have taken months, but I was in a hurry. Me, my nephew and two other guys escaped by jumping a fence of the camp. Once we got away we walked across the border to Austria where a charity made a meeting with the U.S. consular for us."
Johnny met with the consular at the U.S. Embassy in Vienna, Austria and told him his story.
"I received a phone call the next day and he (the consular) congratulated me on being a refugee to the United States," he said with a smile. "I got a visa and took a flight to the United States on April 25, 2001, and went to Madison Heights, Mich., to live with my sisters."
Shortly after arriving in the United States, which Johnny refers to as his rebirth, he found a job in a bakery working with two of his cousins.
"I liked working at the bakery because I had family there, but I quit after a year because they didn't know English," he said. "I wanted to learn but I knew that I wouldn't be able to do it there. I quit there and got a job at an Italian restaurant working with Americans and I started going to college to learn English and computer information science."
From the end of 2002 until late 2004, Johnny studied English, through college classes and conversations with co-workers, until he heard about an opportunity to work in Iraq as a translator for the U.S. military.
After six months of screening, Johnny was chosen for the position.
Arriving in Iraq April 30, he is proud to be back to see how his country has improved.
"This is a really good experience for me," he said. "I am so happy they got rid of Saddam. After 35 years of destroying the country, it will take time to be rebuilt. Everybody is happy, but many are still scared because of the insurgents. I can see that they want to help the Americans but they are afraid to do it because of the insurgents."
Looking back on his long road to the United States, and back to Iraq, Johnny said he has no regrets.
"I think it was all worth it," he said. "I would do it all over again in a second if I had to. I want to thank every American who came here and left their country to help the Iraqi people. I really appreciate that."