Assyrians Rally in California Capitol, Demand Stronger Role in Iraq
Courtesy of the Sacramento Bee
20 March
By Eric Sern

It might have been the most pro-American rally of those last Friday, the first anniversary of the start of the U.S. war in Iraq, with flag-waving, rounds of "God Bless America," even chants of "Long live George Bush."

For California's Christian Assyrian community, descended from the ancient empire in what is now Iraq, the toppling of dictator Saddam Hussein was long awaited and much appreciated.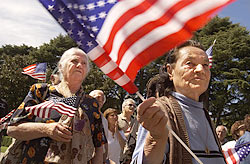 More than 100 Assyrians gathered in Sacramento, California to show their support for the U.S. intervention and to call for a stronger Assyrian role in the new Iraqi government. Most people at the rally bused in from Stanislaus County, where about 20,000 Assyrians have settled.
"They've only got half the job done," said Ann-Margaret Yonan of Turlock. "We want our national identity to be recognized as the indigenous people of Iraq."
In San Francisco, meanwhile, hundreds of people marched through the streets Friday morning, chanting and carrying signs to show their opposition to the U.S.-led military action in Iraq. Police arrested 19 protesters, including two men who were taken into custody for assaulting an officer.
The Governing Council of Iraq - a 25-member interim government that reaches across religious, geographic and ethnic lines - includes one Christian Assyrian. But California's Assyrians say that person is not a true spokesman of their people.
"We do not have standing there right now. Absolutely no representation. Nothing," said Sargon Dadesho of Ceres, founder of the Assyrian National Congress.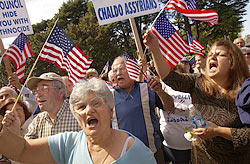 Assyrians are unhappy that the interim government has established a Kurdish province on their historic land, and they are calling for their own regional autonomy.
Next month, Dadesho is leading a delegation of Assyrians to Washington to meet with policy-makers involved in shaping the Iraqi government.
"It's a critical time," said Dadesho, pointing out that an interim Iraqi Constitution was signed this month and the United States has vowed to turn over the reins of power to Iraqis soon.
The struggle for a homeland comes as many Assyrian Americans cling to the remaining strands of their biblical-era roots, which includes a language similar to Aramaic, spoken in the hit movie "The Passion of The Christ."
"If I don't care, who would care?" asked Sargon Yousip, 24, of Modesto, a U.S.-born pharmacy student at the University of the Pacific in Stockton. "It's a nation that's almost extinct."
Lazar Piro: Assyrians Need Louder Voice in Iraq
Couirtesy of the Turlock Journal
25 march 2004
By Kimberly Horg
(ZNDA: Turlock) Lazar Piro, president of the Assyrian National Council, has a different perspective on the situation in Iraq than what is shown on television news each night.
Piro, who frequently travels to the Middle East for business and personal purposes, told a group of Turlock Rotarians Tuesday that Arab people are upset with Americans because of the government's support of Israel, but people in Iraq are pleased with the U.S. presence. Even so, Iraqis are concerned about getting their country back in order, he said.
"Most people in the United States don't exactly understand what is going on over there so it is good to have someone visit the Rotary Club who does," said Sharon Silva, CEO of the Turlock Chamber of Commerce.
Piro was born in Beirut, Lebanon in 1942 and came to the United States in 1979 with his wife, Francia. He studied business administration and began his career marketing and selling health products. He speaks English, French, Arabic, and Assyrian. He started Piro Trading International in Turlock during 1984 which specializes in dental and health care (which he exports internationally). Piro is the owner of the local franchise for Strings Italian Cafe and has been a resident of Turlock for 25 years.
He told Rotary members how he thought the U.S. should begin a democratic Iraq and gave an overview on the Middle East.
"Most of the people in Iraq agree that the people of Iraq must establish their own government and control," Piro said.
"The region is divided into three different areas. The arbitrary boundary lines have been drawn over many years and battles have caused grief, anger and political problems," Piro said.
As president of the Assyrian National Council, a coalition of 21 religious, social and civic organizations in Stanislaus County, Piro said he wants to promote the social, cultural and spiritual welfare of the Assyrian people in Stanislaus County. Stanislaus is home to over 20,000 Assyrians people who are direct descendants of the indigenous people of Iraq so many of the city's residents have relatives in Iraq, particularly in Northern Iraq and Baghdad.
He recently wrote a letter to President George W. Bush about the law of administration for Iraq regarding the Assyrian people to be reconsidered as a nation - not a community - in Iraq. A major concern of the council is that the law gives the regional government the territory which includes the northern part of Iraq. This includes Neneves which used to be the capitol of the Assyrian empire but this land was given to the Kurds instead.
"We were the indigenous people of Iraq so we would like to get a voice," he said.
The Assyrian and Armenian genocide that took place more a hundred years ago, in which many people were murdered because of their beliefs. The Assyrians and Armenians were among the first Christian peoples. In present times they have the right to practice their religion, but this was not always a freedom that they could enjoy. Even though a great number of people were killed, it is not widely known or spoken about.
In the Bible, Mesopotamia was where present-day Iraq is located ,so religion has always been a big part of the culture. The Middle East is the birth place for three major religions: Christianity, Islam and Judaism. Religion is a strong part of the culture in Iraq, so people have a clash of different values and different points of view, he said.
Because there is a mix of religions in the area, democracy in Iraq will take years.
"It is very difficult to put a democratic government in Iraq," Piro said.
Vatican Creates New Ecclesiastic Province of Raipur in India
Courtesy of the Fides Service
4 March
(ZNDA: Vatican) Vatican City (Fides Service) - The Holy Father, Pope John Paul II has, 27 February 2004, created the new Ecclesiastic Province of Raipur, dividing it from the Ecclesiastic Province of Bhopal (India). The new Ecclesiastic Province will comprise the suffragan dioceses of Ambikapur, Jagdalpur of the Syro-Malabar Catholics and Raigarh.

The Holy Father has appointed first metropolitan Archbishop of Raipur, Mgr Joseph Augustine Charanakunnel, until now Bishop of the same diocese.

The new Ecclesiastic Province

In India there are 19 Ecclesiastic Provinces of Latin Rite and a total number of 110 suffragan Dioceses, 10 of these are of Oriental Rite. The decision to divide the Ecclesiastic Province of Bhopal and create a new one Raipur came after the creation of the new Indian state of Chhattisgarh, with territory taken from the State of Madhya Pradesh, on November 1, 2000. The proposal was approved by the Bishops' Conference.

The Ecclesiastic Province Bhopal after the division will have the following suffragan dioceses: Bhopal, Gwalior, Indore, Jabalpur, Jhabua, Khandwa, Sagar of Syro-Malabar Catholics, Satna of Syro-Malabar Catholics, Ujjai of Syro-Malabar Catholics. It will have altogether an area of 297,169 sq. km, a population of 46,675,174, including 132,409 Catholics, assisted by 608 priests and 1,933 women religious.

The Ecclesiastic Province of Raipur will have an area of 135,242 sq. km, a population of 19.057.921, including 367.028 Catholics, assisted by 496 priests and 1,380 women religious and it will comprise the whole State of Chhattisgarh and have as suffragan dioceses: Ambikapur, Jagdalpur of Syro-Malabar Catholics and Raigarh.
Assyrian Monkey Fantasy Opens in New York
(ZNDA: New York) Assyrian Monkey Fantasy (in two movements) is a new theatrical fantasia written and performed by the Assyrian playwright and theatre director, Assurbanipal Babilla. It's composed of two monologues, "Confessions of a Latter Day Temple Prostitute" and "My Windows in Brooklyn or Welcome to America." The former is about Dora Dewberry, an aging, sex-starved film actress, told in first person by a man in a tuxedo. How much of Dora's lurid story is real and how much does it matter? The second piece is about an Iranian illegal immigrant holed up in a makeshift apartment, terrified of being deported. When a mysterious woman demands entry into his room and begs him to save her marriage, a tragicomedy of biblical proportions ensues.
Babilla is the author of forty plays, many of which were done at the Drama Workshop of Teheran in the 1970s. He fled Iran when the Islamic Revolution came. His most recent play was Something Something Uber Alles , which was a hit at FringeNYC.
Assyrian Monkey Fantasy is directed by Michael Gardner.
Brick Theatre: 575 Metropolitan Avenue
March 12 thru May 8
Fri - Sat at 8pm ; no perfs Apr 16 - May 1
$10
718-907-3457
Assyrian National Council in Chicago to Purchase Jewish Synagogue
Congregation Bnai Emunah's property at 9131 Niles Center Road in Skokie (suburban Chicago) is under contract for sale to the Assyrian National Council of Illinois, according to Bnaii Emunah president, Mort Winer.
Winer said the sale of the property should be completed on June 30. Congregation Bnai Emunah, a conservative Jewish synagogue, has been in Skokie for 50 years.
Skokie trustees last year rejected a zoning proposal from the synagogue that would have cleared the way for the construction of multi-family housing on its property.
In order to move ahead with the project, trustees would have had to approve rezoning for the synagogue property at 9131 Niles Center Road from B-1 commercial and R-1 single family residential to R-4 general.
But because trustees turned down the zoning change, they never heard details of the synagogue's site plan, which called for a 44-unit four-story condominium development on its 2-acre property.
Many residents who live near the synagogue raised concerns about excessive traffic in the area.
Although congregation members made a case that the development would fit the neighborhood, Winer this week said he has come to understand the Village Board's decision.
"It was the right decision," he said.
"After I sat down with the mayor and the reasons were explained to me, I now believe the village did the right thing."
Congregation Bnai Emunah once had a membership of 1,200. But the membership has dwindled, Winer said, which has been common for conservative Jewish synagogues in recent times.
The Assyrian National Council of Illinois would not have to go before the Village Board if the use of the Congregation Bnai Emunah building remains the same.
Turlock Assyrian Buys Giant Cross
Courtesy of the Turlock Journal
20 March
By Michael Cipponeri
(ZNDA: Turlock) Mr. Ramin Jacob of Turlock was inspired to purchase a 14-foot sheet-metal crucifix to share with the people of the city.

Ramin Jacob, owner of Jacob Auto Sales, was inspired to purchase the cross from when he saw a recent news report on CNN which explained that the cross was being targeted for removal by the City of Scottsdale, Arizona., after the city received several complaints concerning its location and size.

According to Jacob, he was moved by the plight of the artwork after viewing the CNN story just over a week ago.

"It was a quick, emotional decision. I saw the report and decided to purchase the crucifix, bring it to Turlock and give it a home here," he said.

Jacob paid $10,000, for the work, which had been initially priced at $16,000.

The Iranian-born Assyrian had recently been reminded of the importance of his faith after visiting with fellow Assyrians in Iran and viewing "The Passion of the Christ."

"I felt refreshed in my faith after watching the movie," he said. "It was very meaningful to listen to Jesus speak in Aramaic, which is very close to Assyrian. I could understand about 80 percent of what he said without reading the subtitles."

The businessman also spoke with City Councilman John Lazar about the prospect of placing the cross in town. City officials were receptive to the idea, though no formal agreements or meetings have yet taken place.

"I think that the work would be welcome here, and Mayor Andre seemed supportive of the idea," Lazar said. "We have many kinds of art displayed in this city and I think it's appropriate."

Jacob is not entirely certain yet what he will do with the cross, but knows that he wants to involve the Turlock public in the decision.

"I am open to suggestions. This is not something I want to do for myself," he said. "I felt that maybe I could touch more people this way. Our county is a very visual and rushed place. It could be a reminder of what He did for us."

Though the cross created some small amount of controversy in Scottsdale, neither Jacob nor Lazar feel that the conflict would follow the item here.

The cross, created by artist Bernard John Duke, remains on display at the Lyon Gallery. Jacob is currently looking to find a way to transport the object to Turlock from it's Arizona home.

[Zinda: Do you have a suggestion on how the cross could be displayed? Contact Mr. Jacob by at RJacob@jacobautosales.com, with the topic line "Reminder not to forget."]

AACC-Turlock Burlger Founds Unsuited for Parole
Courtesy of the Modesto Bee
(ZNDA: Turlock) Jeffrey Sanchez, serving a life sentence at Solano State Prison in California, was found unsuitable for parole this week. Sanchez appeared at a state Board of Prison Terms hearing March 16 at the prison, according to a statement from the Stanislaus County district attorney's office. Sanchez, 35, and three others committed an armed takeover-style robbery at the Assyrian-American Civic Club in Turlock in 1988. The four men took $648 in cash, jewelry and credit cards from patrons. Sanchez also shot a person in the back while the person was lying on the floor. The wound wasn't fatal. Sanchez had prior convictions dating to 1983. He can be considered for parole again next year.

[Zinda Magazine Stands Corrected! Last week it was mentioned that the Assyrian-owned public transporation company of Ezla Tours was the only transportation company targetted by the Kurdish separatists in Qamishly, Syria. The proprieter of this compnay has confirmed that other companies' offices were also attacked. The attack was on the offices in Hassake and not Qamishly. None of the privately-owned Kurdish transportation companies were attacked by Kurds. A Petrol (gas) station, owned by an Assyrian, was also planned to be attacked, but the action was stopped by the government forces.

Please note that Zinda Magazine does not support the exaggerated numbers of the Kurdish populations noted in last week's article.]