Only Armenia & Georgia
Bob Griffin
California
[In response to Peter BetBasoo's article, Islam and Assyria: an Impossible Coexistence, in last week's issue] there are only two nations which, as territories, have suffered under Muslim domination, and currently are Christian (or at least non-Muslim) countries. They are Armenia and Georgia.
Christianity First, Then Assyrianism
Ninos Lazar
Arizona
The guest editorial written by Mr. Youel Baaba is nothing but a complete mis-reporting of truth and nothing but a clear propaganda of anti-church forces.
I really can not imagine how could a well educated and known Assyrian person, such as Mr. Baaba, be so willing to say things that are not true at all. If anyone has watched any 3 or 4 minutes of any of Patriarch's visits to any city or village in Northern Iraq for the last few weeks, it was very clear and there is no way anyone can miss his insistence on the "Assyrian" name as a nation, and the Assyrian Church of the East as part of the original Church of the eastern group of Churches. I don't understand how can Mr. Baaba say that the Patriarch "did not dare" to refer to his Assyrian identity! The truth is that he mentioned that more times that ever, and more than anyone else has ever.
His message was very clear… Christianity, Assyrianism, love, unity. What else does you Mr. Baaba want?
If anyone loves his Church leader, would he really ask him to go to Baghdad in these days ?? How can Mr. Baaba ask His Holiness to go to the most dangerous place on earth today? Is that how much Mr. Baaba loves His Holiness?
Mr. Baaba asks His Holiness not to forget the past? How can we live with others peacefully if we keep remembering the past? Will Mr. Baaba be okay if the Kurds keep remembering how many of their forces have been killed by Assyrians? Or does he want them to forget and move on? Whatever he asks them to do, he first must do himself. And that's exactly what the Bible says, and that's exactly what His holiness is doing.
The truth is, no matter what the Patriarch does, or says, he will never be satisfied and Mr. Baaba will complain about it, because it does not go with his agenda. And I think Zinda should stop publishing such ill-motivated articles, that do nothing but spread hatred.
I have never been more proud of His Holiness than I am today.
As far as living and dying as Assyrian… It looks like Mr. Babaa's got it all wrong.. He says "I would rather live and die as an Assyrian rather than a Christian"! Christianity gives you eternal life, and you will only be saved if you believe in the name of the Lord. Assyrianism is our identity on earth and should be preserved for future generations… If you are truly an Assyrian, and you truly love your Church.. then you must be a true Christian First… Then you must be a true Assyrian. You must have both. You must live as both and die as both.
God bless our Assyrian Nation, God bless every person that's working for preserving this name.
A Response to Mr. Baaba's Guest Opinion in Zinda
Thomas Paul
Chicago
The pen is more powerful than the sword; it certainly is. But, seemingly at times many of our brothers and sisters flaunt a certain bravado and aim to show a prowess that we as Assyrians cannot afford to fake. The pen is used unwisely and misleads people to make emotional and improper decision. Mr. Baaba writes about what we should do, and the fact that he "would rather die an Assyrian instead of a Christian." Well, dying is what is happening to too many of our fellow Assyrians and Christians, and until he and I or anyone living in the comfort of their homes in the West can buy a ticket and pick up a rifle and join an Assyrian army in Iraq; we should abstain from making such bold statements. You will be called on it. My friend, in the end St. Peter will ask us if we followed the Assyrians or Christ. If we die and say Assyrians, then our place in paradise will be forfeit. Mr. Baaba might want to reconsider his position.
FOR ALL OF YOUR
REAL ESTATE NEEDS IN CENTRAL CALIFORNIA
YOU CAN COUNT ON
RENEE ESHOO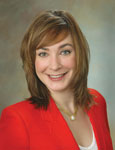 Prudential California Reality
600 East Main St. Suite #300
Turlock, CA 95380
Mobile (209) 380-2034
Office (209) 633-2745
Mention this Zinda ad & receive a
FREE HOME WARRANTY ($350 Value)
when you buy or sell with me.
Mr. Baaba clearly shows that he feels His Holiness has sold out the Assyrians; what interests me the most is that he has no reference. He has no such proof to make such an unfounded statement. I would say that the truth is contrary to his beliefs. He is criticizing one of the very few people who has spread the Assyrian name throughout the Earth. His Holiness has always said publicly that we are Christians who should never lose our identity as Assyrians. It was he who founded the Mootwa in Illinois, which is a political party not related to the Church to focus on the well being of the Assyrians. It was he who said to them go out and work for our people regardless of your religious denomination. It was he who said start in Illinois and then move to every city that has Assyrians and then create an American Mootwa leading the charge to protect Assyrians. Alas, this dream has not come to fruition, but that is not a result of His Holiness, rather a result of the weakness of those that are led to water but do not drink.
Mr. Baaba refers to the Christological Declaration signed in 1994 but, he incorrectly states that His Holiness recognized Mary as "Mother of God". This cannot be any more false. The Holy Apostolic Assyrian Church of the East's Holy Synod agreed that we respect the Roman Catholic reference which they use, but our Church believes that the Virgin Mary is the Mother of Christ. Yes, the reference of Mother of God or Christ is the single most significant reason for the break up of the Christian Church, but in the end this should not keep the body separated. Many times His Holiness Mar Dinkha IV has said that the Church is a body and the body cannot survive without all its limbs. To sign an agreement that allows Christian brothers to respect each others' choices, yet keeping the light of Christ alive in our hearts, is not a sin. Frankly, it is prudent and good natured. Finally, the Holy Synod of the Assyrian Church of the East did not move to phase II of the Christological agreement, because it stated that we must accept the supremacy of the Pope. It seems obvious to me that one of many factors for not moving forward is the fact that we would be a step closer to recognizing Mary as the Mother of God as such; the agreement failed. I'm confused about why Mr. Baaba would comment on this topic as he apparently would rather die an Assyrian than a Christian.
It is reassuring to see that Mr. Baaba knows some facts; yes, Simko did assassinate His Holiness Mar Shimun Benyamin, yes, the Kurds were significant players in the atrocities handed down to our forefathers, and yes our brothers, sisters, mothers, and fathers were massacred, robbed, raped, and decimated. What bothers me is that he insults the very spirit of these martyrs and uses them to attack His Holiness as if he or anyone in our nation doesn't know about these atrocities. He seems to forget the fact that these people, our forefathers, died first because they were Christian, and second because they were Assyrian, but he would rather die an Assyrian than a Christian.
I see, Mr. Baaba would rather we take a stand again, lose focus on peaceful coexistence by saying "they are on our land". It would seem to me that America cannot solve the Assyrian question, any more than they could solve Iraq's Pandora's Box, of the Tutsi massacre in Rwanda, or the genocide of the people of Darfur. So, if America won't help us, who does Mr. Baaba propose should? He would rather we take a foolish stand and then give the Islamic fanatics an excuse to set their sights on our People. By the way, he and I wouldn't be part of "our people" because we are sitting in the comfort of our homes where the rule of law is respected and treasured. I say to Mr. Baaba: you are wrong and His Holiness is trying to keep our people alive, and prosperous, but His Holiness will never sell his heritage or the Assyrian name. On the other hand, many of the political organizations that say they are speaking for us, will sell our Assyrian name in a New York minute. But I digress.
Mr. Baaba says that "Today, all people are entitled to these rights and we should be willing to pay the price for them." Okay, I see it; he is paying the price for it by logging into his PC and speaking his mind. May I ask Mr. Baaba, what price is too much to pay? Should 25% of our brothers die in Iraq, 50%, 75%; what number best suits Mr. Baaba? Rather than complimenting His Holiness for taking the risk to travel to Iraq, rather than respecting him for standing in front of cameras and saying to our brothers "This is your land, work it", rather than offering practical solutions, Mr. Baaba casts stones. Seems bravery has missed the target with Mr. Baaba.
In the end I say to Mr. Baaba: His Holiness Mar Dinkha IV, Patriarch and Sheppard of the Holy Apostolic Assyrian Church of the East is a blessed man. He was nurtured in the womb to be a holy man. He has dedicated his life to his church and people. He has endured sleepless nights, personal attacks and insults, all in the name of our Church and the Assyrian name, and people like Mr. Baaba contribute nothing. If he and anyone who claims to be more Christian, more Assyrian, more anything then His Holiness or the people that love him dearly can just wake up and get some perspective, we might start accomplishing more.
To all of you critics and stone throwers; let's try this: try to actually make a difference without attacking His Holiness, our Holy Synod, and our Church. Actually do something, teach something worthy of listening to, make a difference, try converting non-Christians to the Path of Christ, open a radio program that talks about the good you are doing, do something other than attack and insult. Stop spreading propaganda. I can't, not for the life of me understand why people like you waste everyone's time. While people are out there working for a better Church for a better Assyria; you criticize.
In Praise of Mr. Baaba's Daring Article
Voltaire E Warda
California
I like to congratulate Mr. Baaba's daring and challenging article about H.H. Mar Dinkha's trip to Iraq. Mr. Baaba spelled out what a large number of members of our Church of the East have on their minds, but are afraid to say it or are not in a position to say. We hope and pray to God that our dear Patriarch will have compassion towards the poor, suffering and displaced Assyrians in Iraq (Baghdad and other areas and NOT only North of Iraq), by visiting them and comforting them.

I don't like to compare persons but I have to tell you about Sabah Sadiq an Iraqi writer who wrote about the "the kidnapping and sexual harassment of Iraqi Christian girls". Mr. Sadiq(who I think is a Muslim person) writes about these savages that have been terrorizing young Christian girls in Basra and other cities in Iraq. In his final notes Mr. Sadiq is saying that he placed a telephone conversation to Al Mujahid(Crusader) H.H. Mar Emmanuel Deli. H.H. Mar Deli who stated "I shall be the last person leaving Iraq and he and his clergy shall die without leaving Iraq and shall resist these gangsters that the weak Baghdad Government is unable to protect our people in Basra, Baghdad and Mosul". I say our prayers and warm wishes we send to H.H. Mar Deli on such a great stand. We hope that after visiting Kurdistan, H.G. Metropolitan to Iraq Mar Gewargis will stay in Iraq and settle down and start helping our needy Assyrians in Iraq.

My question to our dear Patriarch is "When will he go to visit and console our Assyrians in Iraq, Syria and Jordan who are in dire need for His Fatherly Blessings and Love?"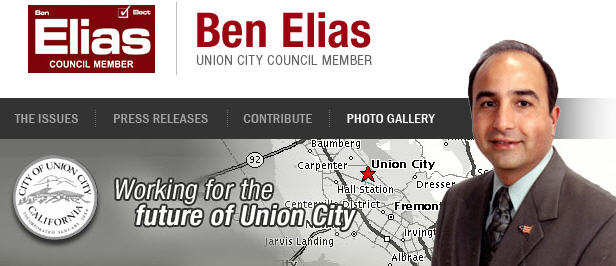 How Soon We Forget
Sargon Levi Gabriel
Canada
How soon we forget the atrocities of Kurds committed against our noble Assyrian people in Northern Iraq (Assyria) which most of you call Kurdistan. Wake up dear patriotic Assyrians and notice the contradictions of self-proclaimed spokesmen for our noble Assyrian nation that have mastered a deft form of double talk. They are saying what they do not mean and do not mean a thing they say. It is true that dishonesty has always been a part of the human experience, but doublespeak is a self-destroying and deterioration of honesty.
How soon we forget blaming ADM for calling our nation Chaldo and Ashur and when Sargis Aghajan is claming today the national rights for our nation calling it by the compound name, "Chaldeans, Syrians and Assyrians." Every Assyrian is praising him on TV and radio stations. The Pope of Rome, the ones who divided our nation in 1500, weakened us and created all this division and turmoil of today has now knighted Aghajan.
I am not a follower of Younadam Kanna, but a true believer in Assyrianism. I have said it many times if Younadam Kanna was found guilty, then we would have judged him once we got our full rights in Iraq. What we have done? We created scores of political parties with very few followers. That is why we gained no recognition. The only one recognized are the ones who sold their souls for KDP.
The tragedy of the Assyrians during the Simayle Massacres of August 1933 was planned and implemented by Bakir Sidqi, a Kurd who armed the Kurdish tribes and instigated. Assyrians were shot on sight, villages were looted, our noble women raped by the same Kurds that we are calling today our brothers.
GENOCIDE STUDIES WILL NEVER BE THE SAME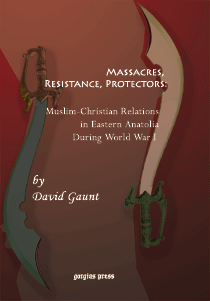 Click Book cover to Order Your Copy
How soon we forget what happened in Baghdede in January 13, 2005 the attacks by KDP of Masoud Barzani. Read Zinda Magazine's January 18, 2005 issue. One can read hundreds of atrocities committed by the same Kurds during the last five years, and approved by the nephew of Masoud, Nechervan Barzani who built his villa on Assyrian lands confiscated in Nuhadra (Dohuk).
Many patriot Assyrians raised their objection when thousands of Assyrians were prevented by Masoud Barzani's thugs from voting in Mosul. I even wrote a letter of objection to our Minister of Foreign Affairs in its time.
Why Masoud Barzani, Sargis Aghajan and Fawzi Hariri lured His Holiness Mar Dinkha IV Patriarch of the Holy Apostolic Catholic Assyrian Church of the East in the snare to believe that Kurds are building our villages and churches that were already destroyed by them and our Assyrian men assassinated in cold blood and our noble daughters raped by them, that Kurds and Assyrians are brothers?
According to the Kurdish governor of Nineveh by the name of Goran in Belfast Telegraph of September 27, 2006 issue, good friends of KDP, that 70,000 Kurds have fled Mosul. The deciding vote by the end of 2007 will decide which region will join the Kurdish Regional Government and Masoud Barzani needs all the support of all Christians in the Plains of Nineveh and in Kirkuk to vote for KRG. What happens after the 2007 vote to the Assyrians only God knows? We might be forced to call ourselves Christian Kurds.
His Holiness is traveling from city to city and from village to village in Northern Iraq (Assyria) convincing our noble people that Kurds are doing their very best in building our churches and villages. Thousands of Assyrians cheered deliriously. Men, women and children showered flowers on His Holiness from the rooftops. Mar Dinkha is indirectly by his actions convincing the Assyrian Christians in Northern Iraq (Assyria) to vote for KRG. By voting for KRG we are automatically giving our name and our Assyria to the warlord, Masoud Barzani, and his clan.
His Holiness did not dare to mention our Assyrian name while in Arbil. Our Assyrian name was even erased from the Church of the East. It was His Holiness that added that noble Assyrian name to our Church. He called us Christians, but not Assyrian Christians the name that all Assyrian nationalists are proud of.
There are hundred of thousands of Assyrians who belong to different denominations and not just to the Church of the East. Who appointed Mar Dinkha to speak on their behalf and to surrender our history, nationality and our claims to our ancestral homeland the beautiful Assyria the first country mentioned in the Holy Book to Kurds? Did he consult our elite Assyrians? Or he listened to his own clan who have sold their soul to KDP and decided to go.
I am bewildered that Dr. Sargon Dadesho who proclaims that he and Mar Dinkha are the guardians of the Assyrian national identity, with all the skills he has in predicting the outcome of events before they happen did not see why His Holiness was invited to Northern Iraq (Assyria) by the Kurds. Concentrate Doctor! You will be able to envision the final finale.
God Bless our noble Assyrian Nation.
2nd Annual "Meet and Greet" for ACSSU of Canada Students

Alhan Oraha
Canada
With the start of a new academic year and with our students going back to the classrooms, the Assyrian Chaldean Syriac Student Union (ACSSU) of Canada hosted its second annual "Meet and Greet" dinner to bring students from different schools and programs together. All Assyrian students attending Canadian secondary or post-secondary institutions were invited to the dinner, which was held at Semiramis Banquet Hall (Assyrian Society of Canada, Mississauga, Ontario) on October 6, 2006.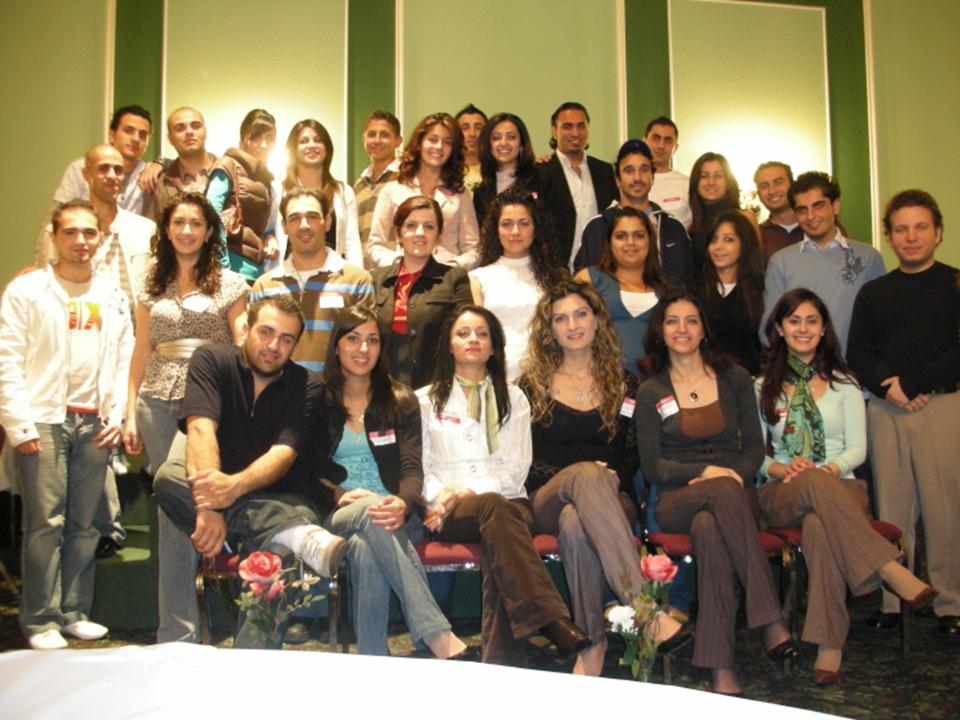 A group picture of our bright young minds
ACSSU of Canada takes pride in starting this tradition last year after realizing how important it is for Assyrian students from various institutions to meet and socialize with each other to share their experience and provide advice and guidance to those looking for it. Such gatherings serve as a means of academic inspiration for High School students to follow role models working hard to achieve academic success in our community. ACSSU never ceases to believe in the strengthening power of education on our nation.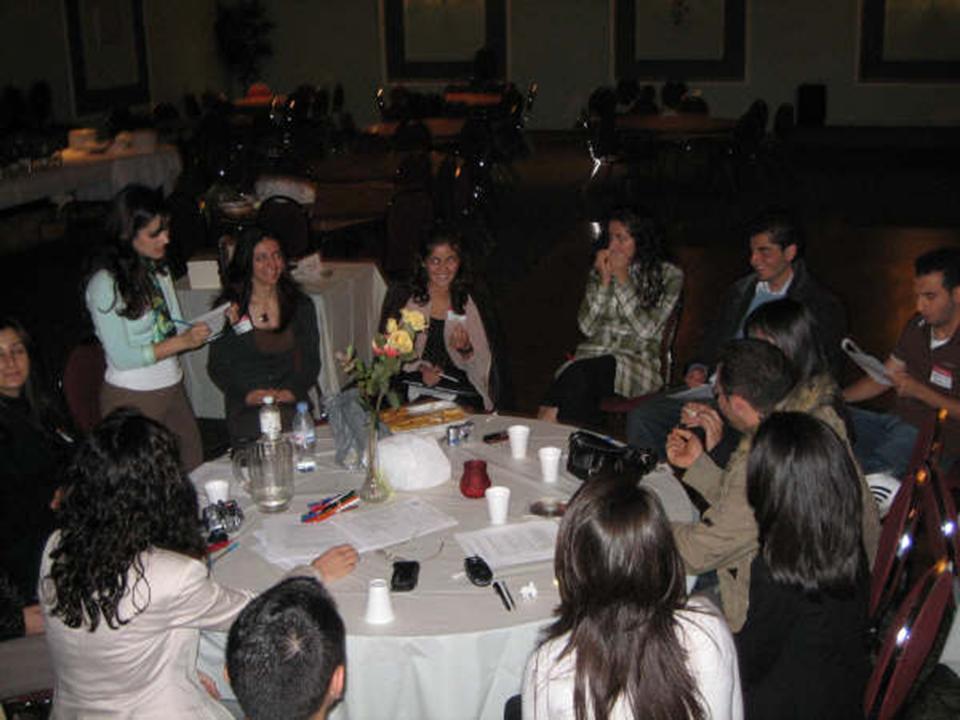 Students meet and socialize to share their experiences.
Students from McMaster University, University of Toronto, York University, Ryerson University, and other colleges and High Schools were in attendance. The evening started with a general body meeting in which the new ACSSU executive committee was elected. Alda Benjamen, elected for a second consecutive term as ACSSU of Canada president, along with Ashorina Shamoun, ACSSU of Canada's new Vice President, welcomed attendees and encouraged members to be active in strengthening ACSSU's growing network by building more branches covering more schools than the present ones.
After enjoying the delicious dinner, attendees participated in a "Student Hunt" game where they sought out and learned some interesting facts about other attendees and proverbially 'broke the ice' between everyone. The winner of the game was presented with Fred Aprim's latest book, Assyrians: From Bedr Khan to Saddam Hussein.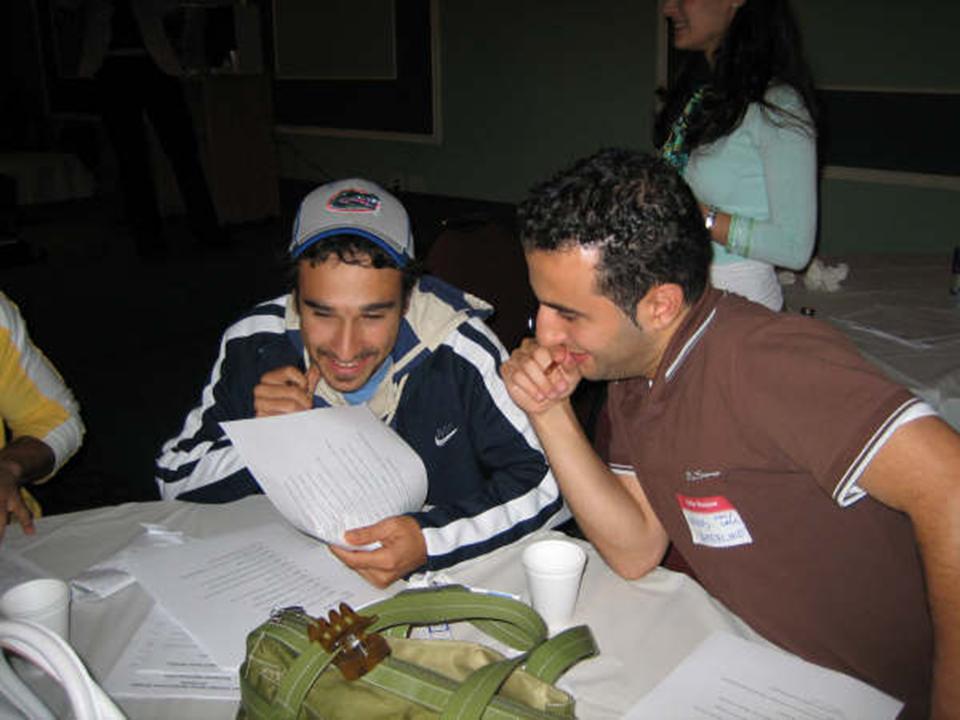 "Student hunt"
It was wonderful for students to meet and socialize with other students they would have never gotten a chance to meet under normal circumstances. High school students were able to ask about university/college life and post-secondary students were able to network with others in their program and/or school. The event was an overwhelming success and it was clear academic and social relationships were created and strengthened by the end of the night.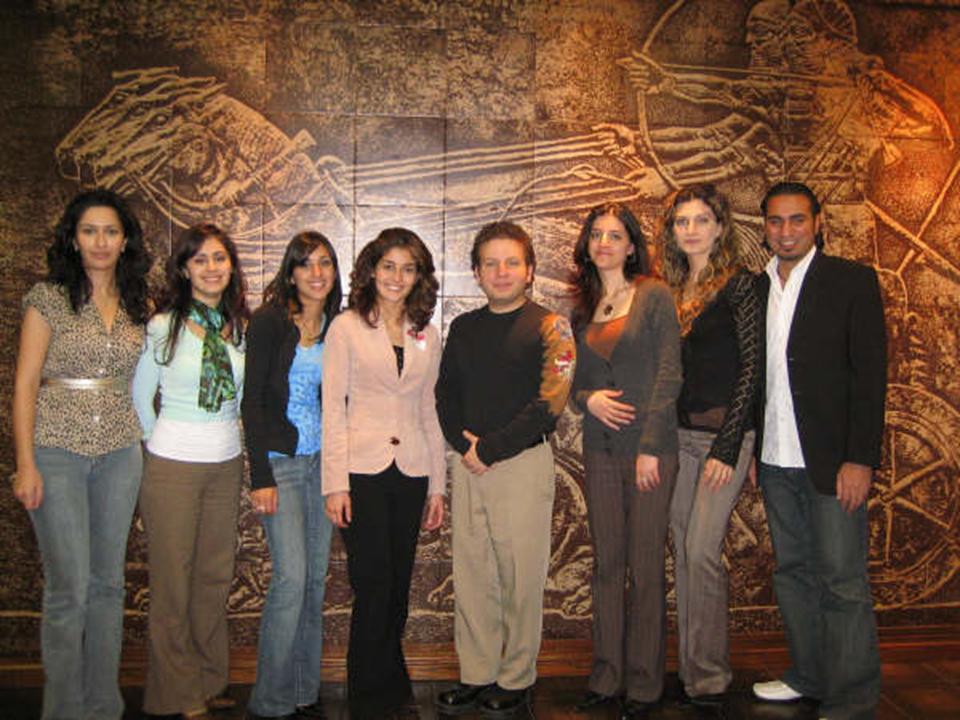 The new ACSSU executive committee for 2006- 2007 (L to R: Ashorina, Alda, Sandy, Renya, Sargon, Alhan, Lema, and Ninara)
ACSSU of Canada wishes a great and successful academic year to all of our students. We especially pray that our fellow students in our homeland have a safe and successful academic year as well. Happy 2006-2007 and good luck in your studies!
For more information about us or to contact us please click here.
"Don't Forget the Little Guy: Assyrians of Tomorrow"
Ashorina Shamoun
Canada
After reading the article "Neo-Assyrianism & the End of the Confounded Identity" by Wilfred Bet-Alkhas (click here), I am pleased to provide you with my own personal opinions and thoughts on it.
ARE YOU COVERED?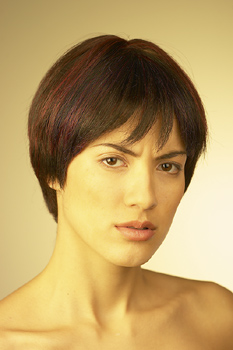 ATO INSURANCE
Click Photo For More Information
Auto

|

Homeowners

|

Business

|

Health

|

Life
Before I continue, I would like to say a few things about myself to clarify where my views are coming from. I graduated from the University of Toronto four months ago with an Honours Degree of Applied Sciences in Civil Engineering. I was born in Iraq but fled with my parents when I was three years old. I've lived in Canada for 18 years now.
Growing up, the only differences I was aware of between Chaldeans and Assyrians was literally the different dialects of speech. As I grew older I began to understand the significance of calling oneself Chaldean and understood the use of these two terms was merely symptomatic of religious division and not ethnic, since both in fact share the same language, traditions, and so on. The same goes for the Syriac Orthodox/Christian followers.
I was briefly part of the Assyrian Canadian Student Union (ACSU) in 2000 as a general member of at least 100 but did not play an active role in the group. I did however know a large number of the members, none of which were part of the Chaldean or Syriac churches. Not that they were excluded from joining, but there never really was a physical or even social connection between these groups of students. It was understandable because people, especially students, are most comfortable with people they are familiar with, (i.e. ones they see on a regular basis at social or community events). Be it through upbringing or environment, an invisible wall has unintentionally been built between these three sets of students, all of which are part of the same community.
Now that I am older and have been exposed to people of all ages within my community in Canada, I have realized how unique my generation is. We are simply more open-minded to other people and their beliefs. I believe this is because we are raised with certain Western ideals, such as multiculturalism and tolerance, not like our parents or grandparents who were born and raised in the Islamic dominated Middle East. We have yet to sink into the typical; "you're either with us or against us", mentality of our fellow Assyrians throughout the Diaspora. Our minds are still mostly untainted by political or religious bias, either because we are too young to understand the complete picture or we do not feel social responsibility to care because there are no external elements pressuring us to participate (i.e. violence, racism, etc.). Although there is of course influence and input from parents and elders, the entire cultural scene as it stands today in a 'democratic' Iraq is for the most part a big question mark to our Assyrian youth in the Diaspora. It is only acknowledged through ancient artefacts found in museums around the world, but stops short of creating a sense of urgency to save it or to investigate into its present state.
These uncorrupted minds create an incredibly unique situation of opportunity for the Assyrian nation as a whole because it gets (or will be getting) a surge of new ideas, new principles, and new approaches to old problems. Going back to my point on a person's comfort level in relation to their familiarities, there is now a chance for Assyrian youth to redefine their level of comfort, which includes members of all three churches our nation is apart of.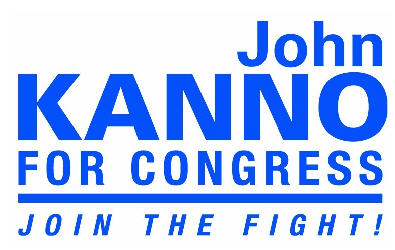 It begins by introducing familiar terms such as those used by their parents throughout their life; basically their initial 'idea' of identity in relation to their nation, (i.e. Assyrian, Chaldean, or Syriac). Once the initial contact is made and individuals realize the true meaning of these labels and realize they are in fact the same people with the same language, traditions, and ancestors, the rest falls into place. The seed of unity is planted in the disguise of a student group or a youth committee. The advantage is that these youth do not bring the grudges and stubborn ideas of their parents to the communal round table, just pure unadulterated cooperation. Cooperation based on understanding and encouraged by Western ideals of tolerance and multiculturalism. They are exposed to social issues and a sense of responsibility is created. How do we know this works? Best example is in Iraq itself. The youth recognized the sense of urgency brought on by constant physical and psychological attacks on their identity and have seized the opportunity to work together regardless of these religious labels. The ChaldoAssyrian Student Union is the foremost youth group in Iraq and membership numbers, which encompass those from all church denominations, dwarf all of the Diaspora combined.
Regardless of all these issues I want to make it clear that I am an Assyrian. I was born Assyrian, will teach my children and grandchildren Assyrian, and die an Assyrian. I love my nation too much to let it wither away with my parents and grandparents, although it seems that way with the condition they will be passing it down in. I am one of the fortunate ones, acknowledging my social responsibility now, not when it is too late. Not when we are only known as 'Christian Arabs' or even worse, 'Christian Kurds'. Others in my generation, however, will not realize the jewel that is Assyria until its too late, when there is absolutely no hope left and we are merely a name in a history book. I am fighting to keep this from happening by investing now so that I will reap the benefits in the future. If I can attract Assyrians who happen to identify themselves as Chaldeans or Syriacs because they have been raised to do so, but spark the belief of being one people under one nation, then I have done my part to make Assyria survive for a little longer. I will have influenced and, more importantly, educated an entire generation that will refuse to waste its precious time on this name issue or other issues based on technicalities and details when they can be fighting on the ground to reclaim our lost dignity as a people.
The fact of the matter is it will be myself along with these youth that will be taking over these political parties, church committees, and government positions in a few years time. Like it or not, the torch will be passed on to us and the future of our nation will be placed on our shoulders. Instead of extending the debates on the same issues we will attempt to overcome and not let the same obstacles that halted our parents and grandparents stop us from achieving unity.
The preceding was purely my personal opinion and does not reflect that of any organization I may belong to.
The Assyrian Woman at the Forefront of Community Activism
Helen Talia
Chicago
On Sunday, October 8th @ Northwestern University – Evanston, Illinois, the brave women (wives, mothers, daughters, sisters, even grandmothers) of the Chicago Assyrian community, supported by their husbands and children took the initiative of participating in this year's City of Hope – Breast Cancer Walk 2006 under one united name 'ASSYRIANS WALK FOR HOPE.'
This was a first for the Assyrian community to come together in a breast cancer walk, in support of new research and development in medical technology, and becoming familiar with laws that represent women in Congress, and legislations that affect women's health - insurance, surgeries, and treatments.
Cancer is no longer a statistic, but a fact, and its numbers are staggering. This year alone, over 200,000 women will be diagnosed with breast cancer, out of which 11,000 will be under the age of 40. Think it's too soon? There are reported cases of some patients who have had full mastectomy, chemotherapy and radiation by the time they are in their teens.
The Assyrian women are not immune to cancer. It leaves them no choice but to become proactive in early detection, knowledgeable in their choices of treatments, and outspoken about their own battle with breast cancer. The women of this year's 'Assyrians Walk for Hope' breast cancer walk took a stand by joining thousands of others in the walk to fight breast cancer. They made a difference!
Assyrian Word Processor: Babylon
Peter BetBasoo
Texas
Nineveh Software Corporation is now conducting Public Beta Test 1 of Babylon, a multilingual word processor with high level support for Assyrian. If you are interested in becoming a beta tester, visit NSC's website (click here).
Babylon Beta 1 supports English and Assyrian. NSC is looking for Assyrians who know the language to test the Assyrian component of Babylon. For those who do not know Assyrian, they may test the English components.