Mar Bawai Soro Rejects Decision of the Assyrian Bishops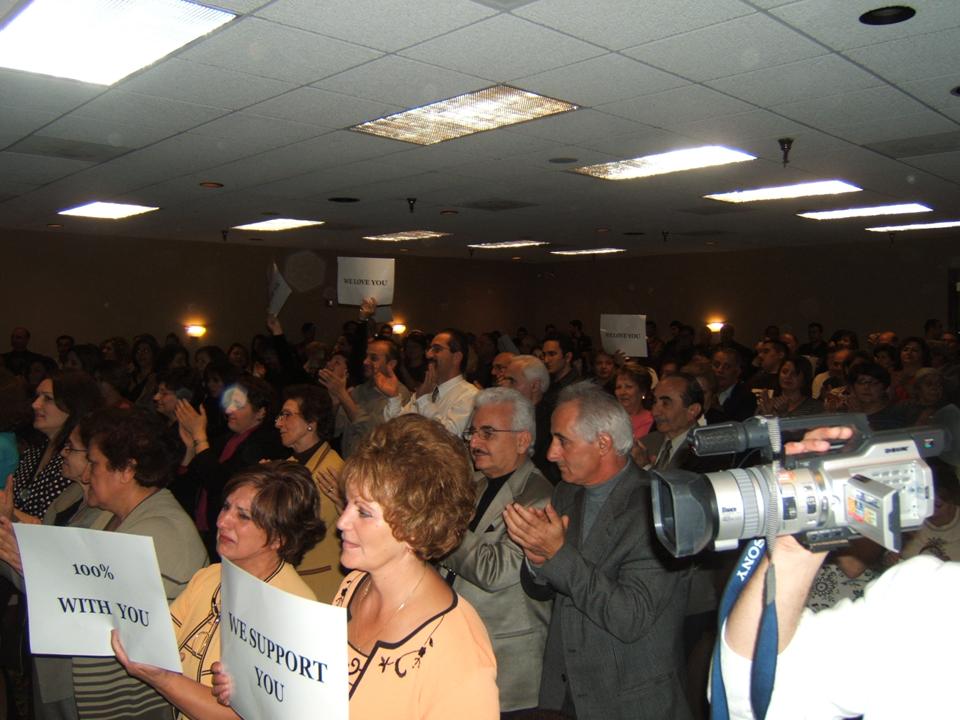 Members of several different Assyrian and Chaldean churches in California, holding banners of "We Love You", gathered at San Jose International Airport to welcome Bar Bawai Soro to his Diocese in San Jose.
(ZNDA: Chicago) On Friday, 11 November 2005, 12 noon Chicago time, there was a shattering of the Assyrian Church of the East as we know it. The moral standards displayed by the Metropolitans and the bishops of the Church were contested by His Grace Mar Bawai Soro, bishop of the Western U.S. diocese when he chose not to respond to a letter signed by the bishops attending the Holy Synod in Chicago this month.
In a letter signed by Mar Dinkha IV, patriarch of the Church of the East, three Metropolitans and seven bishops of this Church, Mar Bawai Soro was accused of challenging the authority of the Patriarch and preventing His Holiness from visiting the St. Joseph's cathedral in San Jose, the bishopric seat of Mar Bawai Soro. As punishment for this digression from the canons of the Church as interpreted by the attending bishops, Mar Bawai Soro was given two options:
To leave California and preside over the Diocese of Iran and Russia
To be suspended for two full years, relieved of all his bishopric duties with further restrictions including inability to correspond with other Churches, attending meetings and conferences, and communicating with any sources of media.
Mar Bawai Soro, who is expected to announce his decision during the Sunday Mass at his cathedral in San Jose tomorrow, has rejected the decision of the bishops on the basis of the graver violations of other bishops whose digressions were overlooked by the Patriarch.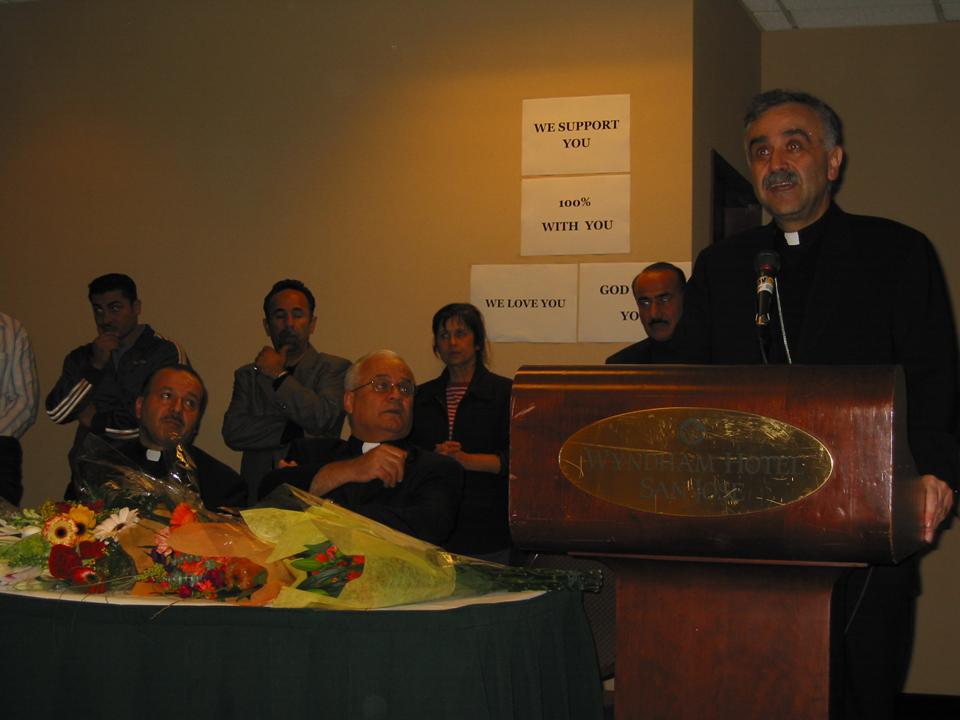 Mar Bawai Soro speaks to an audience at the Wyndham Hotel in San Jose shortly after arriving from Chicago.
It is not known what the future holds for the St. Joseph's Cathedral and parish in San Jose as Mar Meelis Zaia and Mar Gewargis Sliva, bishops of Australia and Iraq respectively, are expected to arrive in San Jose and take over the properties of the Church from Mar Bawai Soro and his followers.
One parishioner in San Jose who wished to remain unidentified told Zinda Magazine that he takes the decision of the Holy Synod as offensive to the Assyrians from Iran, since the leadership of the Church in Tehran is now considered an act of punishment.
Others commented that the highly charged situation in San Jose is not necessary and a bishop is being rebuked because of the political issues tied to the activities in Iraq and outside of the Church's jurisdiction.
In his response to the Patriarch, Mar Bawai Soro notes the adulterous act of another bishop, namely Mar Aprim Khamis (click here), which was delicately handled by the Church and the actions of Mar Meelis Zaia in Australia (click here) resulting in the financial harms to the Assyrian community in Australia, which are yet to be reviewed by His Holiness. Mar Bawai also points to the fact the Mar Gewargis in Iraq in 1993 refused the orders of His Holiness to initiate the process of engaging the two branches of the Assyrian Church of the East toward the final unity.
On Friday evening, an enthusiastic crown of nearly 300 parishioners welcomed Bishop Mar Bawai Soro at the Minetta San Jose International Airport on his return from Chicago.
Some observers commented to Zinda Magazine that the bishops' decision will soon result in the structural disengagement of the Church in the Diaspora and evolve over time with entire dioceses realigning and affiliating with one another. A legal action against Mar Bawai Soro for the return of the properties in California to the Church of the East is expected.
Chaldean Synod: Bishops Present Pope with Reformed Liturgy
Courtesy of the AsiaNews
11 November 2005
(ZNDA: Vatican) The final version of the reformed liturgy of the Chaldean Catholic Church was presented to the Pope yesterday. The Holy Father also received all the Chaldean bishops who are currently taking part in their Church's special synod that began on November 8 in Rome.
This synod comes seven months after the last one that took place in a Baghdad. Its focus was almost exclusively on the liturgy and private law, overshadowing more political issues that some bishops had highlighted in the period leading up to it.
"There was no way of discussing anything else," a source close to the synod said. "Reforming the liturgy was the main issue. We had been working on it for seven years and everyone expected the meeting to come up with final version."
Mgr Rabban al-Qas, Bishop of Amadiyah (northern Iraq), also took part in the sessions. He confirmed this version of the events.
"At the beginning of each session, we spoke a little of the situation in our country, but the issue that took most of our attention was religious, not political," he said.
"We are working on reforming the mass, and then we'll propose a new liturgy for feast and week days. Once the Vatican approves it, it will be implemented on a trial basis for three years in various dioceses," he explained.
A source involved in the synod said that the proposed changes "aim to maintain the tradition whilst introducing modern elements for pastoral purposes".
Mass will have a "more organic structure" preserving changes made over the centuries, and adding new words to some moments like the anaphor.
"With the Vatican's green light, the new mass will be gradually explained to the faithful and priests. A trial period will then begin at the parish level and the process will end with a new synod vetting whatever problems that may emerge and deciding a definitive version," the same source said.
From what Bishop al-Qas's said, it would appear that some of the issues that seemed urgent to some bishops before the synod had to take the back seat.
In a recent interview with AsiaNews, Mgr Louis Sako, Archbishop of Kirkuk, had stressed the need to discuss at a synod level how the Church might take courage and propose a direct line of communication with the government, how it might deal with Christian emigration, and how it can cope with the "growing proselytizing activities of Evangelical Churches in Iraq".
Chaldean Patriarch Emmanuel III Delly spoke on relations between Christians and the government, saying that they were good. "The fact that the President [Jalal Talabani] came here to see his Christian compatriots is proof of that. We are one people and must not be divided by confessional labels," the Patriarch said.
Still, as Christmas approaches threats to the security of the Christian community increase. December 7 of last year two bomb attacks were carried out against two Chaldean churches in Mosul.
Mosul's Bishop, Mgr Rahho, who attended the synod, said however that "we shall remain unmoved in our churches and face any danger that may come our way."
Talabani Promises Pope Equality and Respect for All Religions
Courtesy of the Religion News Service
10 November 2005
By Stacy Meichtry

(ZNDA: Vatican) Iraqi President Jalal Talabani met with Pope Benedict XVI on Thursday and pledged to guarantee the rights of religious minorities amid concern that Iraq's proposed constitution institutionalizes Islamic law.
"I explained to his holiness that the Iraqi constitution will consider all Iraqis -- Christians included -- equal and will respect all religions," Talabani said at a news conference after the meeting.
"All kinds of freedoms will be guaranteed for all," he added without going into detail.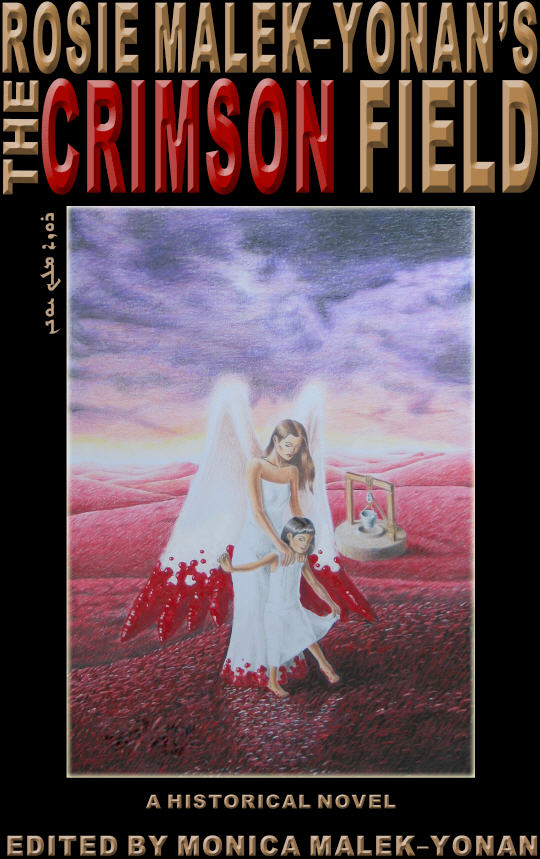 Tour Itinerary
Sunday, November 13 - 11:00 a.m.
Book Signing - After Holy Mass
Mar Givargis Church
7201 No. Ashland Ave., Chicago, IL 60626
Sunday, November 13 - 5:00 p.m.
Assyrian National Council of Illinois
2450 West Peterson Ave., Chicago, IL 60659
(presented by Assyrian Academic Society and
Assyrian American Civic Club of Chicago)
For More Information Click Here
Religious freedom in Iraq has been a top concern for Vatican officials following the recent approval of Iraq's draft constitution, which regards Islam as Iraq's official religion and "a fundamental source of legislation."
Iraqi Christians represent about 3 percent of Iraq's population with 800,000 faithful, most of whom belong to the Eastern-rite Chaldean Church, which is in communion with Rome.
More than a dozen Chaldean bishops are currently in Rome conducting a synod expected to advise the pope on Christianity in Iraq.
Talabani said his 20-minute private meeting with Benedict centered on Iraqi democracy and quoted the pope as saying the constitution represented "progress" in Iraq.
According to a draft of the constitution that was approved during an October referendum, Iraq guarantees "the full religious rights of all individuals to freedom of religious belief and practice."
But the document also calls for judges and experts in "Islamic jurisprudence" to sit on Iraq's high court -- a clause that many critics regard as an opening to place Islamic clerics in control of Iraqi law.
"It's very dangerous to say that (Iraqi law) must be compatible with Islamic law," said Chaldean Archbishop Louis Sako of Kirkuk, in Iraq, who joined Talabani at the conference.
"Either Islam or democracy. You have to choose," Sako added.
Muslim countries that base their legal systems on the Shariah, or Islamic law, often outlaw the converting of Muslim citizens to other religions. Some interpretations of the Quran suggest if such converts refuse an opportunity to recant, they should be put to death.
According to Dhimmi law, an Islamic code that applies to Jews and Christians, non-Muslims are allowed to practice their faith but are still subject to Islamic rule. The tension often occurs when Christians act on biblical commands to spread the gospel, and share their faith with Muslims. The Vatican did not release a statement after the meeting, which took place with strict security measures that shut down traffic along the Via della Conciliazione, the main conduit into Vatican City.
The Vatican was an outspoken critic of the war in Iraq under Benedict's predecessor, John Paul II.
Following a meeting with Italian Prime Minister Silvio Berlusconi on Tuesday, Talabani said, "War is not the best way, but it was the only way to topple Saddam Hussein."
Vatican Secretary of State Cardinal Angelo Sodano sent a telegram to King Abdullah II of Jordan on Thursday, expressing the pope's condemnation of the triple bombings that killed up to 59 people in Amman, Jordan, Wednesday.
Sodano said Benedict was "deeply saddened" by the attacks, which he described as "cruel acts of violence and disrespect for law and human life."
The terrorist group Al-Qaida in Iraq issued a statement that claimed responsibility for the bombings.
St. Aphraim's Syriac Orthodox Church in Alexandria
Brings Community Together
Courtesy of the Connection Newspaper
10 November 2005
By Lea Mae Rice
(ZNDA: Washington) The walls are bare and the congregation sits in chairs instead of pews, but for the members of St. Aphraim's Syriac Orthodox Church in Alexandria, northern Virginia, the important parts are there — stained glass windows, the gold-domed altar and the people.
At a St. Aphraim's service Sunday, Nov. 6, the small church was filled with sound as the nearly 50 congregants sang hymns and prayers in a language as old, they said, as Jesus Christ. Switching back and forth between Aramaic, English and Arabic, the congregants celebrated one of the first services ever at a metropolitan D.C.-area Syriac Orthodox church. Some had come from as far as Baltimore or Richmond to get to their new house of worship.
For Burke resident and St. Aphraim's member Simon Shammas, however, driving in the car for a few hours is worth having a place to worship. In the Washington D.C. area, about 150 families worship in the ancient religion, whose members started out in Turkey and migrated all over the world. But up until four weeks ago, they had no church in which to worship.
"When we had to go to other churches, we felt welcome, but we didn't have our own," said Shammas. The D.C. Syriac community often organized services at Catholic, Greek Orthodox or Coptic churches, but these were often scheduled around the other churches' services, he said, at odd hours of the afternoon or evening.
St. Aphraim's changed all that. "Once we know that we have our own church, it makes it a little better," said Shammas. "We are proud of our new church."
Syrian Orthodoxy is, according to its members, the most ancient of all Eastern Orthodox religions. Its members are concentrated in Middle Eastern countries but can be found across Europe and the Americas. Forty Syriac Orthodox churches are located in the United States.
As far as belief is concerned, said Shammas, Catholicism and the Eastern Orthodox religions are similar to Syriac Orthodoxy. But the traditions in the Syriac Orthodox service have roots from the days of Jesus Christ, said Shammas, such as a special round bell, shaken by the altar server at intervals throughout the Mass, the liturgy itself, and most profoundly, the language.
St Aphraim Syriac Orthodox Church
6200 Indian Run Pkwy
Alexandria, VA 22312
Phone: (703) 354-9800
Syriac Orthodox masses are celebrated in Aramaic, the same language said to have been used by Jesus Christ. Although Aramaic is a rare language, said Simon Shammas, many people still speak it fluently at home, he said.
"A lot of the congregation reads and writes [Aramaic]. Some know things by heart," said Shammas. "My parents spoke Aramaic in the house every day."
According to congregant Jamil Namman, it has been two and a half years since Syriac Orthodox community members first started planning for a church they could call their own. Progress was slow for a while, said Namman, but the members of the Syriac Orthodox community worked together, donating decorations, supplies and hours of free time to make the church look the way it does.
"Everyone helped," said Namman. "Everyone pitched in a little. It's not some huge cathedral, but everyone helped out."
It took a while to make the former Baptist church, located off Indian River Run, look like a Syriac Orthodox church, said Fred Shammas, Simon's brother and deacon at St. Aphraim's. As in the other Eastern Orthodox religions, Syriac Orthodox churches use icons rather than statues to decorate the walls of their holy space; at St. Aphraim's, stained glass windows depict St. Aphraim, the Virgin Mary, and scenes from the life of Jesus.
The only window left that is not a stained-glass picture is a large triangular one above the church's main doorway. After seeing the success of the community and the church, said Father Eli Shabo, the archbishop offered to donate the money for a new window.
"We believe in God, that God will provide," said Shabo, who travels from New Jersey every other weekend to celebrate Mass for the D.C.-area Syriac Orthodox community. "People want to pray in the capital of the United States."
Even when no church existed to speak of, community members still got together for services.
"That is the one thing about the Syriac Orthodox community," said Namman. "Whatever means we have, we always try to establish a small church so that God can be with us."
"[Members of the Syriac Orthodox religion] like to live around each other, like any other community," said Simon Shammas. "Having our own church is going to bring a lot of other people to the area."
For Rita Mallouh, who comes from Baltimore with her father Chris, a deacon, the Syriac Orthodox community is like "a second home."
"I like it because it's our own church," she said. "We eat here. We have barbecues."
Malek Masoud, who comes to St. Aphraim's from Rockville, Md. with his wife Lisa and son Spencer, agreed. "It's a small community, and everyone is scattered," he said. "having something to come to every week is really special."
Los Angeles Landmark, The Citadel,
Re-Opens After $52 Million Expansion
Courtesy of the PRNewswire
10 November 2005
(ZNDA: Los Angeles) Only in Los Angeles can you drive to an Assyrian palace to buy blue jeans and leather goods. The Citadel Outlets, Los Angeles' first factory outlet center, has the distinct honor to be located behind the famous Assyrian Castle wall and building, which once served as a backdrop in the movie Ben Hur. The Citadel opened in November 1990 as a mixed-use project which includes a retail outlet center, a food court, five office buildings, and a 201-room Wyndham Hotel.
Citadel Outlets, Los Angeles' only outlet shopping center, announced on 10 November the completion of its $52 million expansion and the addition of more than 35 new stores, increasing its square
footage from 147,000 to 275,000. The grand re-opening celebration kick off on November 12 featured a holiday performance by two time Grammy-Award winner Jon Secada, the first tree lighting celebration in Southern California at 5:30 p.m., and a weekend of holiday activities for all Los Angeles residents.
Citadel Outlets' vast expansion has increased its square footage from 147,000 to 275,000. More than 35 new stores are now open, including Anne Klein, PUMA, Tommy Hilfiger, Casual Male, BCBG, DC Shoes Factory Stores, Le Creuset, Sunglass Hut Outlet, Papaya, Calvin Klein, Eddie Bauer, Charlotte
Russe, Reebok, d.e.m.o., Guess, Zales Outlet, Ecko Apparel, Wilsons Leather Outlet, Pac Sun, Billabong, Perfumania, Shoe Pavilion, Pampered Nails, Ruby's Diner (opening soon), Panda Express, Hot Dog on a Stick, Rocky Mountain Chocolate Factory, and more. The addition of these stores has solidified the center's appeal across a multitude of categories -- women, men, children and
teens.
As part of its expansion, in May of this year Citadel Outlets transformed the exterior of its iconic castle walls with the installation of four double-sided, high-tech LED (Light Emitting Diode) screens. The screens project high-impact, high-definition images and messages daily from 5:00 am to 11:00 p.m., reaching millions of commuters traveling on Interstate 5 through Los Angeles each month. Atop each screen sits a "lamassu," a winged bull, that some believed to be a spiritual being with the head of a human, the body and ears of a bull, and the wings of an angel or bird. In Assyrian times the lamassu were placed on each side of palace entrances to guard against evil spirits.
In 1918, Adolph Schleicher founded his Samson Tire and Rubber Company in a tiny wood-frame factory in Compton, California choosing "Samson" because it symbolized strength and endurance. Ten years later, Schleicher wanted to include a Samson and Delilah motif, thus modeling the plant after a
7th Century B.C. ancient Assyrian palace including a 1,350-foot-long (later expanded to 1,750) crenulated concrete wall decorated with heraldic lamassus and bas-reliefs of Babylonian princes carved into the stone between impressive pillars and towers. This Assyrian landmark had the distinct honor of serving as a backdrop in the Academy Award-Winning movie, Ben Hur.
Early History of the Citadel
1918: Adolph Schleicher started his Samson Tire and Rubber Company in a tiny wood-frame factory in Compton, choosing "Samson" because it symbolized strength and endurance.
January 1928: Adolph Schleicher, owner of Samson Tire and Rubber Company, embarked on development of a new factory in East Los Angeles -- one that would become the largest manufacturing facility under one roof west of the Mississippi.
Schleicher wanted to include a Samson and Delilah motif. Thus the plant was modeled after a 7th Century B.C. ancient Assyrian palace including a 1,350-foot-long (later expanded to 1,750) crenulated concrete wall decorated with heraldic griffins and bas-reliefs of Babylonian princes carved into the stone between impressive pillars and towers. The design, dedicated to the civilizations of Sumer, Akkad and Babylon, conveys strength and style.
January 23, 1929: Ground broke for the $8 million Samson Tire and Rubber Company plant, the largest tire manufacturing facility on the West Coast (attended by 12,000 people).
At the behest of Schleicher, the original architects (Morgan, Walls and Clements) designed the wall in the style of King Sargon II's palace. Sargon was a Babylonian King with a 23-acre palace and Schleicher's plant, coincidentally or by design, covered the same amount of land.
The portion of the wall that fronts the office building features genii, winged guardian figures protecting individuals from evil. The plant entrance featured another form of genii -- winged bulls with human heads -- also intended to guard the interior as those on Sargon's palace.
October 29, 1929: Stock market crashed
May, 1930: Samson Tire and Rubber Company plant opens with no public ceremony and with capacity to produce 6,000 tires and 10,000 tubes a day.
January, 1931: US Tire and Rubber Company purchases and takes over the newly completed Samson Tire Company.
September, 1960: Adolph Schleicher, owner of Samson Tire and Rubber Company dies.
1962: US Tire and Rubber Company becomes Uniroyal Tire.