H.E. Markose Mor Koorilos Passes Away
Courtesy of the Malankara Voice & the Syrian Orthodox Christian Digest
31 May 2005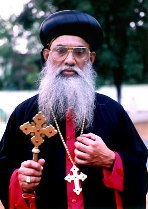 H.E. Markose Mor Koorilos
(ZNDA: Kerala) H.E. Markose Mor Koorilos, the Metropolitan of Niranam and Trivandrum dioceses of the Malankara Syrian Orthodox Church passed away at 9.45 am IST, on 30 May. He was the former head of the Dept. of Syriac at the Malankara Syrian Orthodox Theological Seminary, Mulanthuruthy. The Metropolitan was 59 at the time of his death. He was suffering from lung related disease for quite some time. The mortal remains will be laid to rest at the St. Mary's Church, Pangada, Kottayam.
The late Metropolitan Markose Mor Koorilos was born in the Ramanthara family of Nattassery, Kottayam on 6th October 1946. He completed his B.A Degree from C.M.S College, Kottayam and G.S.T from M.D.Seminary, Kottayam. Late Mor Gregorios Geevarghese ordained him Priest. He served as the vicar of the churches in Kurichy, Pangada, Bahrain, Roorkela and Bhilai. He was also the Head of the Dept. of Syriac at the Malankara Syrian Orthodox Theological Seminary, Mulanthuruthy and Chief Editor of the Journal of the Kottayam Diocese. He was ordained Ramban on 6th August 2000 at the St.George Simhasana Church, Perumpally. On 14th January 2001, H.H the Patriarch of Antioch and all the East Moran Mor Ignatius Zakka I Iwas ordained him Metropolitan by name Mor Koorilos, at the Patriarchal Cathedral in Ma'arat Saydnaya, Damascus, Syria. Mor Ivanios Mathews, the Metropolitan of the diocese of Kandanad was also ordained along with him.
The Jacobite Syrian Christian Association meeting held at Puthencuriz on 6 July 2002 which approved the present constitution of the Church was convened and presided by H.E. Markose Mor Kurillos Metropolitan. It was this historic association which elected the present head of the Indian Church Aboon Mor Baselios Thomas I, as the Catholicos and Metropolitan Trustee.
Most of the young priests of the Malankara Church are students of the late Metropolitan. H.E. has also served as the Metropolitan of Kollam and Thumpamon dioceses for almost two years from 2001 to 2003. The funeral of Mor Koorilos which is to be held at the church at Pangada where he served for many years, will be presided over by H.B. Catholicose of India Aboon Mor Baselios Thomas I and the Metropolitans of the Church.
Ishtar Satellite TV to Begin Broadcasting from North Iraq
(ZNDA: Baghdad) A new satellite television program will soon broadcast from North Iraq in Syriac, Arabic, and Kurdish languages. The question raised is whether Ishtar TV is an independent media or a propaganda machine of the ruling Kurdish parties in the north.
In a recent interview with Ankawa.com, Mr. George Mansour, the general manager of Ishtar Television Production Company, emphasized the objectivity and autonomy of his television programs and its complete bias to the aspirations of the Assyrian people inside and outside of Iraq.
The station, Mr. Mansour added, will work "for the sake of our people's unity with all our branches. It will work as well to spread the spirit of forgiveness and brotherhood with great transparency between our Assyrian, Chaldean, Syriac people" and other Iraqi groups including the Kurds, Arabs, Turkomans, Yezidis, Mandeans (Subbiyyen), Shabak, Armenians and others.
Mr. Mansour also stated that Ishtar TV enjoys the financial support of "a few of our good people who believe that it is necessary to have a democratic and objective dialogue based on the people's legal right to disagree." He continued: "We believe that the station is an obligation towards our country and people and that it is going to be distant from everything that obstructs our work that is moving towards the unity of our great nation."
When asked if he had any final remarks, Mr. Mansour stated that Ishtar Satellite TV is looking optimistically to the future and "calls upon our people to unite their efforts and reconsider some of the stands that do not serve our people's cause and its unity."
Mr. Mansour then expressed his great gratitude and ample appreciation to Prime Minister in the Kurdistan Regional Government, Mr. Nejervan Barazani, for the letter he sent to him. In his letter Mr. Barazani emphasized the importance of "the establishment of a satellite TV that takes an interest in the Chaldean Assyrian Suryani affairs, and to the brotherly relations between these and our Kurdish people in particular and Iraqi people in general."
In his letter, Mr. Barazani continued to state: "While I thank you for this marvelous step, I stress on this civilized endeavor, which is going to have, undoubtedly, a positive impact in the spread of brotherly spirit, forgiveness, and peaceful coexistence between all the fabrics and components of the Iraqi people. This I say especially when the establishment of the intended station is completely independent from the political tendencies, narrow sectarian, ethnic, religious inclination. We are ready completely to provide all necessary conveniences and needed moral support to ensure the success of this ambitious project."
Zinda Magazine has learned that the staff of Ishtar TV was trained in Amman, Jordan where earlier this year some 150 Iraqi television directors, cameramen, graphic designers, sound and lighting engineers, editors, reporters and photographers were taught picture editing, camera and sound recording skills, non-linear editing, creating graphics, lighting and safety, broadcast technology and recording equipment maintenance. The intensive training program was also sponsored by the British Broadcast Company and took place between 15 February to 31 March 2005.
The training program also involved a two-week study tour in the United Kingdom for 20 senior Iraqi media managers, editors and journalists.
Other Assyrian radio and television staff who received this training included Shrara Radio and Ashur TV.
Picnic an Assyrian family reunion
Courtesy of the Modesto Bee
31 May 2005
By Melanie Turner
(ZNDA: Modesto) Old friends greeting each other with a kiss on each cheek. Women picking grape leaves off the banks of the river. Men playing backgammon.
All of these activities are characteristic of the Assyrian culture. And they are just some of what could be found Monday at an all-day picnic at Modesto's Tuolumne River Regional Park.
The picnic, which draws Assyrians from across the country and beyond, each year marks the finale to an annual four-day Assyrian State Convention, with events in Turlock and Modesto.
In its 39th year, the event is something of a family reunion for many of the more than 1,000 who were expected to gather in the park Monday.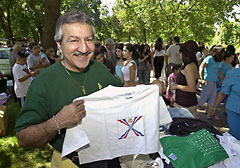 Marodeen Ebrahimzadeh of wawallap.com sold -shirts bearing the Assyrian flag. Photo by Ted Benson.
Lenard Isaac, 42, has attended the picnic each of the past 24 years he's lived in Turlock.
About a dozen of his first cousins showed up from Los Angeles, he said. There are 32 people in his immediate family alone — brothers and sisters and their children.
"So anytime you throw a party, there's 32 people at least," said Isaac.
Family is a central part of the Assyrian culture. The annual picnic is a way to help families stay tight, even in the United States where people often live fast-paced lives miles apart.
Robert Avanes, in town from Dallas, said he comes every year to see his parents and other relatives.
"I like to hang out with my own community because I believe in my culture and its values," he said. "They mean something."
He proudly showed off his mother's homemade dolma (meat, rice and spices wrapped in grape leaves) and a rice and berries dish, as well as her homemade sugar cubes, which Assyrians suck on while drinking hot tea.
"Homemade is the best," said 22-year-old Richard Avanes, Robert's brother.
The Assyrian family from Modesto also had relatives in from San Jose, Los Angeles and Holland.
Robert Avanes was proud that his 14-year-old cousin, Aldrin Yousefian, purchased a T-shirt decorated with the Assyrian flag.
"I adore that," he said, hugging Yousefian. "This is excellent."
Yousefian admitted he's not fluent in the Aramaic language that his elders speak, but he's working on it.
Proud of Their Heritage
Across the park, 21-year-old Linet Thomas of Turlock, who was helping sell the T-shirts, said they are hoping that the shirts encourage young people to be proud of their heritage, and others to ask questions.
"Not a lot of people know about (the Assyrian culture)," she said.
Besides keeping the culture going, Assyrians know if they show up to the Memorial Day event there's a good chance they'll bump into an old friend or relative, or meet someone who knows a family member.
"We just met and we already found out that he speaks to my mom's uncle," said Thomas, who was helping Marodeen Ebrahimzadeh of Los Angeles sell Assyrian artifacts and T-shirts.
It's also a time for Assyrians to catch up.
"We take notes on who's getting fatter, who's losing more hair," Ebrahimzadeh said. "It's kind of fun. Plus we see the next generation."
Assyrians reflected Monday on where the culture has been, and where it's going.
Keeping Their Culture Alive
The good news, Ebrahimzadeh said, is that the Assyrian people have kept their language and culture for close to 7,000 years, despite scattering the globe since the Assyrian empire fell in 612 B.C. The Assyrians say their nation's ancestral homeland included northern Iraq, northern Iran, south-eastern Turkey and southern Syria.
Assyrians, who are Christian, say that religion-based conflicts over the decades have kept them on the move.
"We are survivors," Ebrahimzadeh said.
While Assyrians are safe in America, he said, they also fear that their culture could be disappearing here.
"Our kids are not speaking the language any more," he said. "Once you lose the language, you lose the culture."
Still, the United States provides Assyrians with jobs and the opportunity for a higher education.
Thomas said she graduated from California State University, Stanislaus, a year ago at age 20. She said her parents fled Iran because children were being kidnapped to become soldiers there.
"We knew we wanted to come to America," she said. "The land of freedom and opportunity."
Two Assosiations Unite in Sweden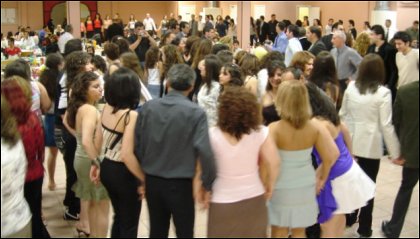 Over 400 guests attended the May 28th party at the Mesopotamian Hall in Jenkoping, Sweden to celebrate the joining of two Chaldean & Assyrian associations, now called Ishtar.
(ZNDA: Jenkoping) On 28 May, during an entertainment party celebrating Woman's Day in Jenkoping, Sweden, it was announced that the Akkad and Ashur Societies had united to form one society, now called Ishtar.
400 members from both organizations attended the event. Mr. Jacob Chanko, on behalf of the Church of the East welcomed the celebrants and recited a poem glorifying the Chaldean and Assyrian women for their steadfastness and sacrifices in keeping and raising their families. Mr. Wilson Eshai from Australia and the keyboardist, Eshu Praidun George, provided the entertainment. Singing and dancing continued until midnight. Gifts were presented by the Assyrian Church of the East Ladies' Auxiliary to 80 married women. The party ended at 4:30 a.m.
There were many tearful eyes at the Mesopotamian Hall when the unity of the two associations was announced. Only 140 members were expected to attend and over 400 guests arrived, many waiting for over an hour to be seated.
One man , with tears in his eyes, commented that he had never seen such a happy day. Another member said: "It is a glorious and memorable day for me."

Zinda: Report compiled by Y. P. Youkhanna in Sweden. Photo by Y.P. Youkhana.