Volume XII




Tel 202-349-1429

|

Fax 1-415-358-4778

|

zcrew@zindamagazine.com

1700 Pennsylvania Avenue. NW Suite 400 Washington, DC 20006 U.S.A.

"Refugees in Dargaville" by Christina Conrad

Assyrian Refugees in Istanbul:

Does Anyone Care to Know?

1915 Gen.: Hypocrisy as Cornerstone of the Kurdish Narrative
Abdulmesih BarAbraham
My Supermom
Nahrain Gewargis Cokeley
Fate of the Assyrian Refugees in Istanbul Uncertain
Kurdish PM Welcomes Chaldean Patriarch, Pledges Freedom
Violence Robs Iraq of Christian Heritage
Statement of ADM - North America on Newly Formed KRG
Lost Page in History, Finally Discovered
Chaldean Cultural Center Coming to Southeast Michigan
New Book: The Words of Jesus in the Original Aramaic
PBS Show Manipulated Genocide History

Click to Learn More :
ZINDA CALENDAR
ZINDA ARCHIVES

Alkhas - St. Vincent - Soltani present: "Urmie"
Helen Saint Vincent
Three Years in Review
The Road to Assyrian Autonomy in Iraq - Part I
The Illusion of Democracy
Alfred Alkhas
Sargon Sapper
Dr. Kolo Kamal
The Assyrian Festival: One Cross. One Flag. One Nation.
Rosie Malek-Yonan
The Genocide of 1915:
Hypocrisy as a Cornerstone of the Kurdish Narrative
A Guest Editorial
Abdulmesih BarAbraham
Germany

I much appreciated Nuri Kino's guest editorial appearing in the May 6, 2006 issue of Zinda Magazine, and his perceptive comments about Kurdish selective amnesia. Nuri draws from personal encounters in Sweden (where he currently lives), and other exchanges in the course of his travels to Hasno Kifo (Hasankeyf, in Tur Abdin) the home of his ancestors.

One could view these fleeting portrayals as interesting anecdotes to be relegated to the filing drawer. But to do so would be a mistake. Mr. Kino's observations, illustrated by the comments of Kurdish figures (both in Sweden and in eastern Turkey), are a sad reminder of the centuries-long intransigent mindset of many Kurds towards their neighbors, such as the Assyrians (also known as Syriacs or Chaldeans).

Assyrians in Hasno Kifo were indeed among the first wave to be annihilated in the Western region of Tur Abdin during the 1915 Genocide. Before the sword fell on them, they witnessed the horror of the killings of the Christians in Diyarbekir and other cities of the region. Gallo Shabo, whose report is soon to be published among other eyewitness reports by Jan Beth Sawoce of Nsibin Publishing, was a prominent Assyrian figure and fighter during 1915 in Tur Abdin. He relays us the following first-hand account obtained from eyewitnesses:
"While we were sitting on the banks of the river Tigris, we witnessed how groups of respectable figures were transported by small boats. One of the guards accompanying the groups was seen taking the gold, the money and even the clothes of the doomed men before he and the others shot them dead. The guard was called ´Amar [Omar] son to ´Ali Rammo [Kurdish tribe leader] and Perikhane [his mother]. This ignoble guard did not have any scruples whatsoever robbing and killing the Christians."

"The corpses were disposed of in the river Tigris. The Christians in Hasno Kefo [Hasankeyf] saw the corpses floating on the surface of the river and began to fear for their safety. In spite of all these atrocities the Christians could not believe that genocide would occur on that large scale. There was a kind of tacit belief that these atrocities were directed to some categories of Christians. But the renewed killings indicated that the Turks were aiming at getting rid of all the Christians. The Kurds were a willing ally to the Turks in their despicable pursuits."
Other reports indicate that after the Kurds killed the Christians of Hasno Kifo in 1915 – apparently including among them the relatives of Nuri Kino - the Mukhtar of the village and his men lusted for still more Christian blood. Led by the Mukhtar, they answered further Jihad calls and moved on to participate in the siege of 'Iwardo near Midyat a few months later. From an elevated position the Mukhtar was able to shoot at and kill more Christians, until a commando of three Assyrian men went after him and killed him. One of the three men was Musa Qashro (Abraham) – the Grandfather of my mother.

Nuri Kino's description of Baksi Kurdo seems to fit the stereotype of many Kurdish intellectuals. In Sweden, his current home, Mr. Kurdo seems to present himself as someone highly committed to Western-style democracy, and one who treasures human rights. But on closer scrutiny, his comments offer a different picture. One has to conclude that Mr. Kurdo is either an uneducated person or, more likely, someone hopelessly afflicted with the virus of extreme nationalism. Nuri Kino's essay is well-presented, but the facts he recounts are by no means unique. I believe that many Assyrians in Europe and elsewhere can attest to similar encounters such as those Mr. Kino has shared with us. In over three decades of activism representing and speaking for Assyrian organizations in Central Europe, personally I had the sad opportunity of many such encounters.

In October 2005 the Institute of Oriental Studies of the University of Potznan/Poland organized an international academic conference on "Non-Moslem Minorities of Iraq: History, Culture, Problems of Survival". Some of the scholarly presentations during this two-day conference concerned the ChaldoAssyrians. In one presentation, a PhD student from the University referred to the role of the Kurds in the Semile Massacre of August 1933. Another speaker addressed current human right violations by Kurds in eastern Turkey and Iraq. I spoke myself on the current situation of ChaldoAssyrians ("ChaldoAssyrians in Post-Saddam Iraq – Between Hope and Fear"), making it a point to discuss the fraudulent actions of Kurds in the recent elections in Iraq, while pointing to the problem of the occupied Assyrian villages in North Iraq.

The reaction of some of the Kurdish attendees at the conference was regrettable, though not surprising. The bill of particulars aimed at Kurdish mistreatment of minorities in their midst certainly raise doubt on the general image of the Kurds as innocent angels who have done no harm to others, and who invoke a virtual monopoly on the role of the most victimized people in the Middle East. While showing no sign of apology or remorse, these Kurdish attendees started attacking the speakers and the organizers of the conference, questioning sources of the presenters in an aggressive partisan style rather than in a scholarly dispute.

Extreme nationalism undermines the very pluralism and the diversity that ought to be prized at all strata of Middle Eastern society – whether cities, communities, or states. The ills of extreme nationalism exist today in various corners of the globe, but they certainly exist in extreme form in Turkey and Iraq. In both of these countries, the Kurds are not only victims, but they are also a serious part of the problem. According to Rolf Ekeus, the former High Commissioner of OSCE, "extreme nationalism arises when the 'fetish' of nation overtakes all other considerations…such nationalistic narcissism too often spawns chauvinistic policies that provoke fear and hatred in others".

It is apparent that Kurdish nationalism became more virulent in the face of extreme Turkish chauvinism which, until recent times, denied the very existence of non-Turkish people in Anatolia (for example, referring to Kurds as "mountain Turks"). In more ways than one, we see Kurdish nationalism adapting characteristics similar to those of the monster it was combating (for example, referring to them as Christians only or even 'Kurdish Christians'). It can even be argued that unlike the Turks, Kurdish society appears more receptive to intolerant Islamic concepts. The emergence of Kurdish nationalism has negatively impacted the Assyrians in a similar way as Kurds felt under Turks and Arabs. In other words, the existence of Assyrians is threatened, their basic rights are trivialized or denied, their land is grabbed or occupied, and their history is falsified.

Kurdish intellectuals consciously or unconsciously repeat misstatements for which they were criticizing Turkish, Iraqi, and Persian intellectuals since the 1970s. The latter were very internationalist, though ignorant of the minorities in their backyard. From an Assyrian perspective Kurdish intellectuals behave in the same way today. Manifestation of chauvinism among the Kurdish intelligentsia (particularly in Turkey) is very much linked to the problem of denial of the Kurds' role in the Genocide of 1915, side by side with the Ottoman State. The Kurds lament Turkey's failure to acknowledge the Genocide, while at the same time the Kurds themselves are consistent deniers of the Kurdish role in the same bloodshed. In other words, a classic case of the pot calling the kettle black.

The Kurds should stop denying their role in the perpetration of the 1915 genocide. Moreover, today's Kurdish intellectuals reveal appalling insensitivity concerning the continued discrimination towards minorities such as Assyrians, repeated violations of minority rights in Kurdish populated areas of Turkey and Iraq. We can only hope that one day soon they will confront their conscience.

My Supermom
Nahrain Gewargis Cokeley
Illinois
To say that I am proud of my mother is an understatement. It has been almost three long years since she began her first graduate class at the University of Illinois in Chicago (UIC). She has had a life-long ambition of receiving a Master's Degree after college. Yet, somehow through life's situations, this was not possible. She has been given the opportunity to pursue her dream now and has made sure to take full advantage of this chance. It has been amazing to watch my mother go through this process; to be witness to her incomparable work ethic. She is one of the hardest working people I know, if not the hardest working.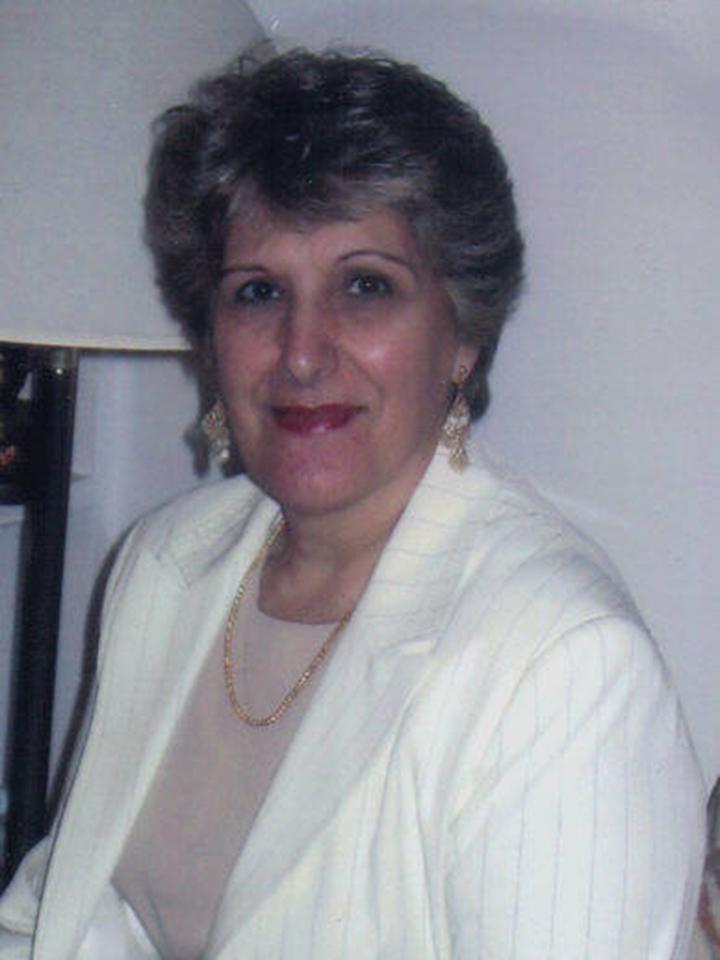 Juliet Gewargis earned her MS from UIC earlier this month.
At age sixty, with three adult children and an undergraduate degree she earned in Baghdad, Iraq, pursuing her Master's in education in the U.S. higher education system has not been an easy task. She has had to write papers, work on projects, give presentations, read books and articles, research topics, and take tests, all while working as a full-time teacher. Needless to say, she has been overwhelmed, stressed out, and constantly worried.
Yet, my mother has always managed to make those A's that she unwaveringly strives for, not without her share of sacrifices, however. On multiple occasions, she has relinquished sleep, staying awake until one, two, three o'clock in the morning to finalize her work. And this she would do, at times, after an evening class, which would follow a full day's work. She has meticulously adhered to the assignments' instructions and has made sure that every question has been answered and every topic covered. It is easy to see my mother's true determination and willpower to accomplish the goals she has established for herself, an admirable feat even more than usual, given the fact that she has experienced what others may perceive as hindrances. Yet, she sees them as obstacles to overcome; she has done just that.
For the past three years, my mother has continually deprived herself of many family gatherings, outings, and parties; generally taken herself away from any social life. She has often played hostess to her papers and books during those late evenings of reading and revising. Being a dedicated student, she has utilized every bit of time she has had to her studies, in order to achieve at the same level of the graduate students in her courses. However, she has frequently performed above their level and has had them approach her for assistance, by which she is taken aback in astonishment.
In addition to being a steadfast student and teacher, she is also a devoted wife and mother. While she has taken on this arduous process of completing her graduate work, she has continued to carry out her traditional routines. She has kept her home tidy and clean, done the laundry, cooked the daily meals (oh, what delicious meals!), and completed the overall household chores. I have asked myself frequently, how is one human being able to accomplish so much at one time? I am not quite sure what the answer is. Perhaps it is with the grace of God and her strong fortitude that she has tackled each day with vigor and humility. She has come to the end of her studies with immense pride and a sense of tremendous triumph. She has fulfilled a dream that she has had for over three decades, and that is saying a great deal about her character, her spirit, and her willingness to struggle to come out on top.
Personally, my mother has been a constant supporter in my life. She was the one who encouraged me to pursue my graduate work soon after graduating college because she thought if I waited too long, I would lose interest. She has been a solid backer and has always pushed me to go further to try to reach my potential. I have always admired her for being a caring and loving mother. But now I am proud of her accomplishments as a student, in addition to being Supermom. I look up to her not only as a mother, but also as a woman. She inspires me to be more than I am and to persistently strive to make my aspirations into realities. She may not know this, but every day I am in awe of her remarkable strength, her beauty as a human being, and her overall essence. She has been, and continues to be, a wonderful example of a strong and determined woman.

Juliet Gewargis's graduation took place at the UIC Pavilion on Friday, 5 May 2006 in Chicago, Illinois. Our staff at Zinda Magazine wishes a Happy Mother's Day to our zCrew moms and Assyrian moms everywhere. Mothers, we wouldn't be here were it not for you. Thank you!
U R M I E CD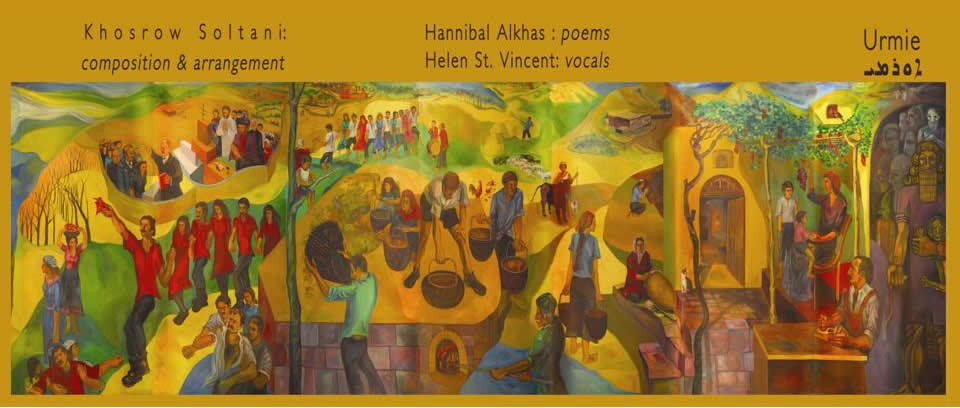 T h e H a l l u c i n a t i o n s o f a n A r t i s t
Fate of the Assyrian Refugees in Istanbul Uncertain
Afram Barryakoub, reporting from Sweden
(ZNDA: Stockholm) The exodus of the Assyrians from Iraq has steadily increased in propotions due to the unrest following the toppling of Saddam Hussein's regime. In Turkey, and especially in Istanbul, as in Damascus and Amman, there are now several thousand Assyrian refugees uncertain of their fate.
George Oraha Mansur, one such refugee, has taken the role of an informal spokesperson for the Assyrian refugee community in Istanbul. According to Mansur there are more than 700 families which make between three to four thousand Assyrians in this Turkish city, bordering Europe.
But there are many different estimates on the number of the Assyrian refugees in Turkey. The United Nations body for refugees, UNHCR, estimates the total number of Iraqi refugees and asylum seekers in Turkey at 2200 people in a recent report. The UNHCR's "2006 Country Operations Plan", however, indicated that there are only 1547 Iraqi refugees and asylum-seekers in Turkey.
To add to the confusion, Father Francois Yakan, an Assyrian priest living in Turkey who has devoted himself to helping the refugees, estimates their numbers to be between six and seven thousand.
The entry visas of these Assyrian families have already expired and they remain in Turkey as "illegal" immigrants. Reports indicate that some of these Assyrian refugees have lived as illegal immigrants in Turkey since the First Gulf War in 1991 or even as far back as the Iraq-Iran War (1980-1988).
These refugees seek asylum from western countries, to grant them Residence Permits, as many of them already have relatives in Australia, Canada, USA and Europe. Western countries continue to reject the requests of these Iraqi refugees. The UNCHR writes in its 2006 report on Turkey: "Most resettlement countries have frozen the processing of applications by Iraqi refugees, leaving them with no clear solution in view."
This has fueled frustration among the Assyrian refugees, as Iranian and African refugees are receiving transfers to western countries and other types of assistance, while they remain trapped in a nightmare of international debacle.
The Assyrians from the USA have proposed a plan for the resettlement of these refugees in the Nineveh Plains of Assyria. But when asked many of these refugees, tired of living in uncertain conditions, are hesitant to return to a country with no clear future.
"It is impossible to return now because of the situation in Iraq. I think no one here has plans to return back because they have nothing to return to", says George Oraha Mansur.
Many of the Assyrian refugees have come to realize that they may have to remain in Turkey for a very long time. And therefore their main request is now to have Turkish residence permits in order to be able to find jobs, send children to school and feel secure.
The refugees recently declined an offer from the Turkish authorities to disperse and move to different parts of the country. In return, the authorities would assist the refugees in finding jobs. Fearing that it would leave them more vulnerable and that they would abandon one another's support, the Assyrian refugees turned down the proposal.

According to Mr. Mansur these refugees are living under harsh conditions and are treated badly by the Turkish authorities.
"We are not receiving help from anyone right now. There is a lot of talk but no help. Financial support is not our aim, but we have some very poor and sick people who need money right away, he says.
Meanwhile, the two major Assyrian political parties, ADO and Zowaa, admit that they have no concrete plans to assist the Assyrian refugees except for a joint statement soon to be released.
On the other hand the Swedish Committee for Assyrians in Sweden has launched a plan to assist the refugees in different ways. Having already been in direct contact with the refugees in Istanbul, Anneli Enochson, a member of this committee and a member of the Swedish Parliament, has already discussed the issue with Iraq's ambassador to Sweden.
Ms. Enochson will soon be discussing the Assyrian refugees issue with the Swedish Foreign Minister, Jan Eliasson, and a letter will be presented from the Swedish Committee for Assyrians to different international organizations to inform them of this issue.
Apart from the above political activities, the Swedish Committee for Assyrians is organizing a donors conference in the city of Gothenburg in mid-August. The aim is to collect funds from Churches and other religious institutions to send to the refugees in need.
Kurdish Prime Minister Welcomes Chaldean Patriarch and Pledges Religious Freedom
Courtesy of the Kurdistan Regional Government News Bureau
8 May 2006
By Falah Mustafa Bakir
(ZNDA: Arbil) Prime Minister of the newly-formed Kurdistan Regional Government, Nechirvan Barzani, on 7 May welcomed the Chaldean Catholic Patriarch His Beatitude Emmanuel Delly and his delegation of bishops from Iraq and other parts of the world, and reiterated his government's firm commitment to protecting and expanding religious freedom in the Kurdistan Region.
Patriarch Emmanuel III Delly, who is based in Baghdad, met the Prime Minister and the Minister of Finance Sarkis Aghajan Mamendu with his delegation of the Bishops of Basra, Beirut, and California, the Papal Nuncio of Iraq from Baghdad, and priests of Ainkawa.
Patriarch Emmanuel III welcomed the Prime Minister's commitment and congratulated him on the formation of the new unified Cabinet and agreed that relations between the Regional Government and the Chaldean community in the Kurdistan Region be conducted on the basis of friendship and tolerance. The Patriarch praised Prime Minister Barzani and the Kurdistan Regional Government for establishing personal security and political stability.
Prime Minister Barzani encouraged the delegation to remain in close contact with him and his government, and approach him with any problems or issues related to the Chaldean community.
"Maintaining good relations with the various and diverse religious communities is very important to us as a government, and to the people of the Kurdistan Region. We value the social, cultural and religious contributions of our Chaldean community; they help to strengthen our moral character and add richness and diversity to our culture," the Prime Minister said.
Prime Minister Barzani highlighted the peaceful and harmonious historical relationship among national and religious groups in the Kurdistan Region. He assured the Patriarch and his delegation that in accordance with the Constitution of Iraq, and in keeping with the principles and ethics of the people of the Region, the Kurdistan Regional Government would fully support conditions and opportunities for all peoples to lead peaceful and prosperous lives.
Violence Robs Iraq of Christian Heritage
Courtesy of al-Jazeera
14 May 2006
By Firas al-Atraqchi
(ZNDA: Baghdad) The flight of religious minorities escaping violence in post-war Iraq is threatening to rob the country of its once diverse Christian heritage.
In the early 1980s, Iraq's Christian population numbered 1.4 million but economic strife brought on by the war with Iran and UN sanctions after the 1991 Gulf War pushed some in the ancient community to emigrate.
Nevertheless, the Christian community continued to enjoy religious freedoms in the majority Muslim country until the US-led invasion of 2003, says Adli Juwaidah, a former director of cultural relations in Iraq's ministry of higher education.
"The relationship with the [former Baathist] ruling regime was good and it trusted them, but it is important that significantly this was because the Christians did not interfere in politics and did not have political ambition," he told Aljazeera.net.
But after the fall of Baghdad in April 2003, the Christian community found itself under attack and tens of thousands have since fled the country in fear of religious persecution.
"The days of officially preached religious tolerance during Saddam's rule are gone and freedom to worship now gives way to fear about an impending Islamisation of Iraq," a United Nations High Commissioner on Refugees (UNHCR) study of Iraqi Christians said in 2004.
On August 2, 2004, more than a dozen Christian worshippers were killed when five Armenian, Assyrian and Chaldean churches came under coordinates attacks in the capital Baghdad and the northern city of Mosul.
Nine other churches were attacked before the end of the year.
Shop owners threatened
DAVID YOUKHANA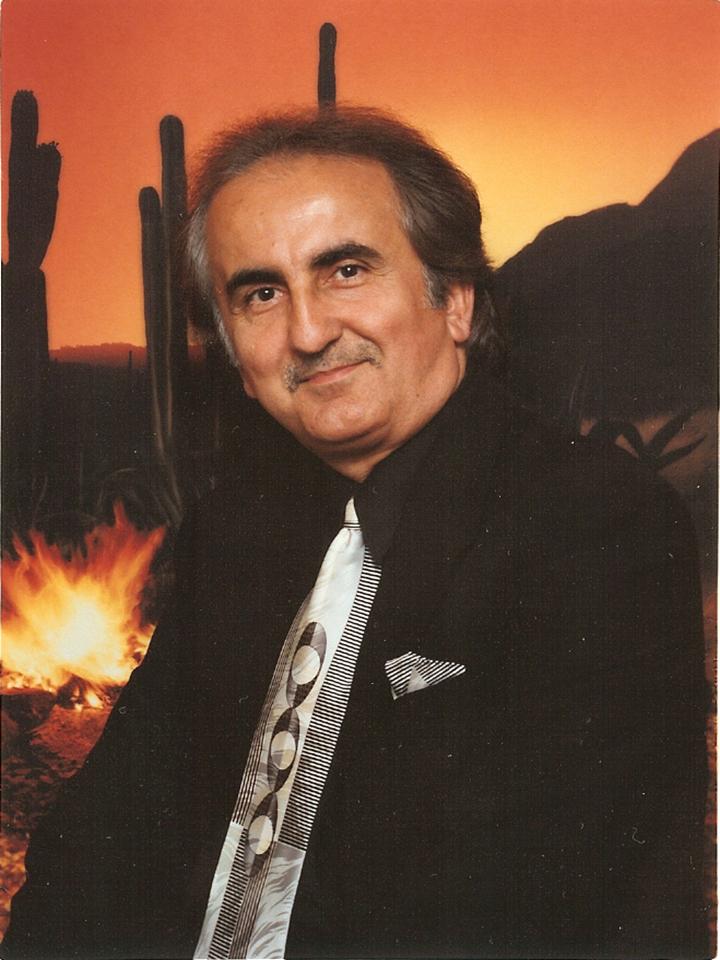 ARIZONA


Real Estate-Relocation-Investment
Broker / Owner
Certified Commercial Sales Specialist
Babylon Realty
Glendale, Arizona 85310
Click Photo For More Information
In addition to church bombings, Christian shop owners selling alcohol have been targeted by groups trying to enforce Islamic laws.
Stores selling music tapes and CDs, mostly owned by Christian merchants, have also been firebombed and their owners told to stop "corrupting Islamic society".
In 2004, leaflets were left at the homes of Christian families warning the "men of the households" to adhere to Islamic law and ensure that women were dressed "conservatively", which often refers to Islamic attire.
Young Christian women have reported harassment and intimidation in the streets to don veils or scarves to cover their hair.
Fayrouz Hancock, an Iraq-Australian computer programmer now living in the US, says Iraqi Christians are fleeing "because of the difficulties of practising their faith and leading normal social lives in a country that has turned conservative due to the threats from extremists".
She also blames the breakdown in security in the country.
In early May, the United States Commission on International Religious Freedom (USCIRF) warned that religiously motivated attacks signalled "an exodus that may mean the end of the presence in Iraq of ancient Christian and other communities that have lived on those same lands for 2,000 years".
Michael La Civita, assistant secretary for communications for the Pontifical Mission, a Vatican development agency working in the Middle East, says there is no "outright" persecution of the Christian community.
Social discrimination
However, "there is social discrimination of Iraqi Christians. And since the collapse of central authority (beginning with the second US-led invasion), Iraqi Christians have been targeted by extremists", La Civita told Aljazeera.net.
"As a result, large numbers of Iraqi Christians are leaving Iraq, settling in Jordan, temporarily. Because Middle Eastern Christians are typically middle class, well educated, speak a number of European languages and have family in the diaspora, they find refuge in the West."
Exact figures of how many Christians have left since the US invasion are hard to come by. The Iraqi government has not issued any figures on the community and many who have left do not register with any refugee or aid organisations.
"Western sources seem uninterested in writing about their number or situation," says William Warda, an Assyrian researcher and webmaster of Christians of Iraq, a website that monitors news and information on the community.
"Christians of the Middle East have practised a pacifist form of Christianity and have always strived to live in peace with their neighbours regardless of their religion," he said, adding that the Iraqi Christians are afraid to complain fearing retaliation.
Terrified community
Soon after the August 2004 church bombings, reports from the Iraq-Syria border indicated 40,000 Iraqi Christians had fled to Damascus and Aleppo, with thousands more crossing into Turkey.
La Civita says figures from the Holy See indicate less than 300,000 Catholics (Chaldean, Syriac and Armenian Catholics) remain in Iraq.
"The days of officially preached religious tolerance during Saddam's rule are gone and freedom to worship now gives way to fear about an impending Islamisation of Iraq"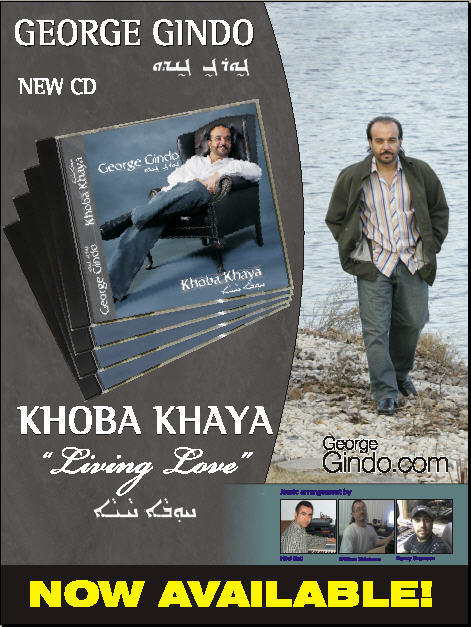 To Download & View "Khoba Khaya" Trailer click here
(10 MB)
UNHCR report

NA, a 35-year-old Christian woman in Basra, who agreed to be identified by her initials only, is alarmed by the new Iraq and the militias which roam the streets of her once beautiful city.
A few weeks ago, as she walked to her church a few blocks from her home, she and a female friend and their children were accosted by two men on a motorbike who shouted anti-Christian slurs.
"The police were standing there without trying to prevent them from harassing us, I was terrified, not only for myself but for the whole group and especially the little ones," she said.
The men on the motorbike left once the entourage entered the sanctuary of the church.
But Basra area churches are also declining in number.
Death threats
In previous weeks, two churches closed when their reverends fled for Jordan after receiving death threats.
"The number of Christian families leaving is growing," NA says.
"I don't know the exact number, but from around me each month more than 10 families are fleeing, and that's just the families I can see at the Catholic Church."
While she says she refuses to don the headscarf, she will leave the country at the first chance she gets.
"I fear for my life because they are killing people without any reason, and making others leave their jobs just because they are Sunni or Shia and the Christians in here are like a very weak old person ... we don't know what to do or where to go," she told Aljazeera.net.
Sectarian havens
With Baghdad and other cities unofficially becoming demarcated into sectarian neighbourhoods, Christian families have found themselves particularly vulnerable.
While the cities of Mosul and Falluja, for example, are considered Sunni safe havens and Karbala and Najaf are Shia safe havens, there are no regions where Christians are a majority and therefore could escape to.

The result has been that many have left the country entirely.
Furthermore, Christians do not have the support of militias which many Sunnis and Shia are afforded because of tribal affiliations.
"At least the Kurds, Shia and the Sunnis [have] well equipped militias to protect them from wholesale attacks against them, and they have allies who will come to their help if there is a civil war," Warda said.
Friar Yousif Thomas, a Chaldean Catholic in Baghdad, says all-out sectarian conflict means Christians will be caught in the middle.
"If a civil war is declared between Shia and Sunni, it is comprehensible that Christians cannot defend themselves. The choice of going out is very bitter for the majority of them, but do they have any other choice?" he says.
Grim future
Despite the difficulties in practising their faith and threats, an Iraq bereft of Christians is difficult for the community to grasp.
Christians pre-date Islam by some 700 years and have lived in the area known as Mesopotamia (modern day Iraq) since St Thomas the Apostle preached in 30 CE and founded the East Syriac Church.
"I can't imagine an Iraq without Iraqi Christians, says Hancock.
"Iraqi Christians contributed to Iraq with their skills and loyalty to the country. It is sad to watch what happened to them for the last three years."
Statement of ADM - North America on Newly Formed KRG
The following is an unofficial and unauthorized translation of the Assyrian Democratic Movement's statement on the recent appointment of the 5th Kurdistan Regional Government on Sunday, 7 May 2006. Translation from Arabic is courtesy of Mr. Fred Aprim. To view the original copy in Arabic, click here.
---
ADM Information Bureau
USA and Canada Branch
7 May 2006
First, we congratulate Prime Minister Nechirvan Barzani on the formation of the Fifth Kurdistan Regional Government (KRG) on Sunday, May 7, 2006, a unified government comprised of 27 Ministers. We hope that this new cabinet is a step to enforce security, stability and religious and ethnic tranquility and coexistence and to remove all traces and oppressive policies, arbitrariness, and marginalization that were practiced against the nations that lived in the region of Iraqi Kurdistan during the years of darkness and oppressiveness and especially during the Saddamic Ba'athists regime.
We agree with what was expressed by Prime Minister Nechirvan Barzani during the casting of confidence vote on the new cabinet when he stated that the present situation requires a unified stand to face challenges and to defend the demands of all ethnic groups that live in the Iraqi Kurdistan region and back up their hopes that they struggled for them.
However, the new cabinet did not take into consideration election deservingness and the will of our ChaldoAssyrian Suryani nation and how they voted during the 1992 or recent 2005 elections. The disappointment was because the Kurdistan Democratic Party (KDP) insists on not honoring or respecting the free will of our people. This does not serve the friendly relations between our two peoples.
The insistence not to respect and honor our people's elections or the results of the elections is an insistence to continue with applying political pressure on our people. It is an insistence to continue in trespassing against our lands and villages, which does not go along with the repeated statements of Masoud Barzani who stresses that no one is above the law.
We ask Mr. Masoud Barzani, President of the Kurdistan Region, and Mr. Nechirvan Barzani, Prime Minister of KRG, to reconsider their policies towards our ChaldoAssyrian Suryani nation to enforce tranquility between our nations. We stress that the efforts to marginalize and eliminate the role of the Assyrian Democratic Movement and its position during the shared struggle years along with the Kurdish nationalists, progressive democrats, and Kurdistani groups will not prevent us from our tireless work to enforce the ethnic unity of our people and to put into effectiveness the role of the supportive masses that gave its loyalty and put its trust into the honorable history of the ADM on both ethnic and national fronts. We will do this in order to channel all efforts and energies to reinforce the principles of a land under law that honors civic society and to lift wrongdoings, prejudice, injustice, and other results from the past years unfair actions.
Lost Page in History, Finally Discovered
Rebecca John, reporting from the United Kingdom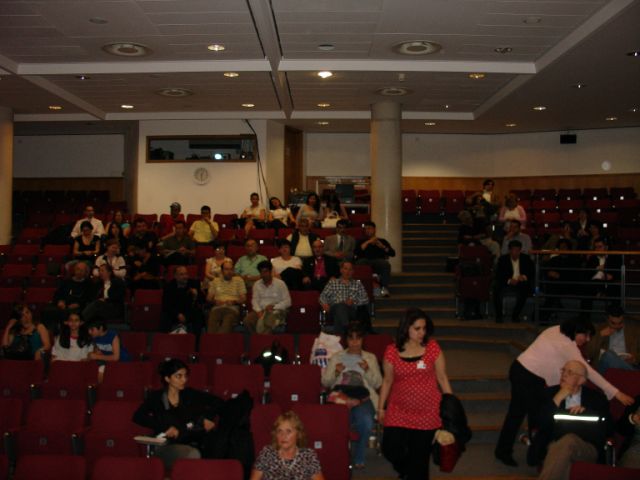 Attendees arriving to the Genocide Conference at SOAS in London.
Tragedy, loss and prejudice are only a few words we can use to describe what the Assyrian and Armenian Christians suffered at the hands of the Turkish Government. Only now, ninety-one years after these murders, violations and acts of inhumanity took place, has this dark period in history come to light.
The Genocide of the Assyrian people (also known as Chaldean Christians and Syriacs) has been given the cutting name 'SEYFO', which translates to mean 'sword'. This name was given to represent the brutalities the Assyrians suffered as a result of refusing to accept the policies of the ruling government which was seeking to 'Turkify' the Christian people of the land. The self-proclaimed aim of the Empire was to create a Pan-Turkish state,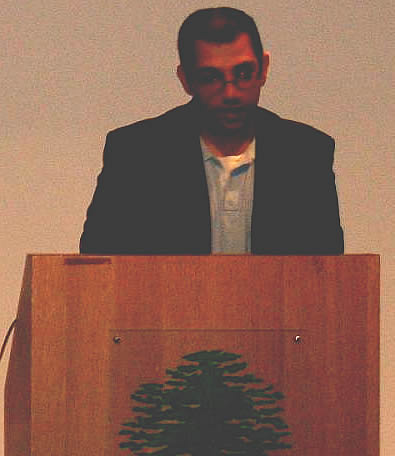 Nineb Lammasu speaks about the aftermath of the Genocide.
or perhaps more importantly, a state where the only religion was Islam. To achieve this ideal, the Turkish Government created laws with the sole intention to make life for the Christians as difficult as possible. By law, Christians could not take part in any political issues, Assyrians could not speak their inherited language and taxes for the non-Muslims were more than ten times higher than those who were Turks and Muslims. Those too scared to stay in the villages they were born in, fled to safety by foot to neighbouring countries (most of which died on their journey from exhaustion and hunger). Assyrians refusing to leave their homes and deny their faith became targets for the Turkish Government, which led to the most horrific event in Assyrian history: The Slaughter of thousands upon thousands of Assyrians and the forced deportations of many more.
Assyrians and Armenians have taken it upon themselves to educate people of this Genocide which is often referred to as the 'the lost page in history'. Firodil Institute has been spreading the word of SEYFO with the help of Government MP's and by organising 'Genocide' events. The most recent and successful event took place on 10th May 2006 at SOAS University (School of Oriental and African Studies) and proved to be a powerful learning experience for those who attended. Mr Lamassu of Firodil Institute, who is an Assyrian himself, spoke of the disturbing effect that the Genocide aftermath had on him: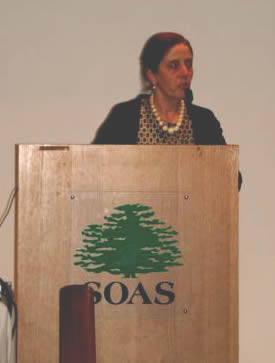 Dr. Erica C.D. Hunter of the Dept. for the Study of Religion in the School of Oriental and African Studies.
" I grew up listening to stories of an uncle who had to watch his six-month-old child be thrown into a burning clay oven. Juxtapose the tragic tales I grew up with, with what normal children of normal environments grow up to; and you will realise why the crimes of 1915 must be recognised as genocide ... I am an Assyrian, I am the genocide and the genocide is me: to deny it you are killing me twice!"
Guest speakers at this event included academic researcher, Sabri Atman and winner of the 'Golden Palm' award, Swedish-Assyrian Journalist Nuri Kino. Not only did both speakers shed some light on the Assyrian and Armenian Genocide historically, but they also spoke of these prejudices still living on in Turkey today. Mr Kino explained how Assyrian Christians are still referred to as 'pigs', and how the slaughtering of Assyrians are discussed with a sense of achievement. Turkey's attitude towards the Christian People has raised a question mark over whether Turkey should be allowed to join the European Union (EU). This proposal has sparked a fear of history repeating itself for the Assyrian and Armenian people, as many fled their homeland to escape the Genocide Turkey subjected them to. Nuri Kino gave his opinions on this matter: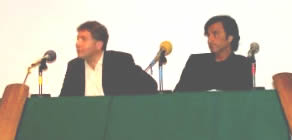 Assyrian Genocide scholar Sabri Atman (L) and journalist and filmmaker, Nuri Kino.
"Turkey claims, yes, Armenians, Assyrians have been killed in 'war'. I have evidence it was a plot, a plan to rid Turkey of Christians, non-Muslims…Turkey must face up to the Genocide towards the Assyrians and apologise."
Mr Kino himself lost various members of his family during the Genocide with his grandmother being the sole survivor from a tribe consisting of over three hundred people. His documentary 'Assyriska a National Team without a Nation' was the winner of the prestigious 'Golden palm' award (awarded for the first time for a non-American and a non-fictional film). It was however, Kino's first documentary 'A Cry Unheard' that set him on the road to success, as he followed the Genocide road, interviewing survivors and performing extensive research. This experience he claims was both stressful and upsetting which even took a toll on his health.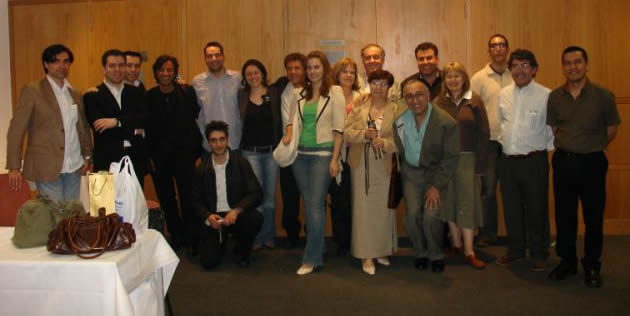 Assyrians who attended the Genocide Conference at SOAS in London on 10 May 2006 gather for a group photo.
Ninety-one years later, news of this haunting Genocide is finally being spoken of, not with fear, but with sheer will and determination to force the Turkish Government to admit and apologise for what happened to the Christians in their country. After almost a century of lost lives, tragedy and grief, the Assyrians feel they deserve recognition and an apology, not for the sake of a "lost" nation, but for the justice of a nation that was stolen.

For more information on upcoming events or on any issues raised contact Rebecca at Rebecca_john84@hotmail.co.uk or Firodil Institute at info@firodil.co.uk.
Chaldean Cultural Center Coming to Southeast Michigan
Associated Press
14 May 2006
(ZNDA: Detroit) Construction of a museum dedicated to Chaldean culture will soon begin in southeast Michigan.
The 25-hundred-square-foot Chaldean Community Cultural Center is scheduled to open in Oakland County's West Bloomfield Township in 2007. It will include artifacts, photos, writings, newspaper articles and other displays documenting the history of Chaldeans.
About 100-thousand Chaldeans live in southeast Michigan.
New Book: The Words of Jesus in the Original Aramaic
Reverend Stephen Andrew Missick
Texas
I have been concerned about how most Christians know nothing about the Aramaic language and nothing about the Assyrian Christians so I decided to do something about it. I have written a book entitled "The Words of Jesus in the Original Aramaic: Discovering the Semitic Roots of Christianity." It is based on a series of lectures on the Aramaic Christian Heritage that I have given in the Houston area.
The book is intended to be for anyone who would be interested in the subject of Jesus Christ and his teachings. My main audience hopefully will be American Evangelical Christians. Perhaps Assyrians can use the book when a curious person asks them "What is an Assyrian?" or "What is the Aramaic language?" I included a section on the Passion of the Christ for those who were exposed to Aramaic through Mel Gibson's film.
I served in Iraq in the war and I have lived in and visited Aramaic villages in Syria, particularly in the Khabour River Valley region.
Book Summary

Although Bible scholars have called Aramaic "the Language of Jesus" most Christians have never heard of Aramaic. However, anyone who has read the Bible has been exposed to Aramaic whether he or she knows it or not. "Abba, Father" is Aramaic. Golgotha, the place where Jesus was crucified is Aramaic for "Skull-Place." Names such as Thomas, Barnabas, Martha, and Magdalene are all Aramaic names. "Maranatha" is a short Aramaic prayer that is left un-translated in the New Testament. Translated from the Aramaic it means, "Our Lord, Come!" After the release of Mel Gibson's movie "The Passion of the Christ," which was filmed mostly in Aramaic, more people have been exposed to the Aramaic language than ever before.

Aramaic is an important but often over-looked tool in discovering the mind of Christ. This book is an introduction to Aramaic biblical studies and to the last Christians who still speak the ancient Aramaic language, the Assyrians of Mesopotamia.

This book also explores the Aramaic behind Christ's words, such as in the title Christ used for himself, the Son of Man, which is Barnasha in Aramaic, and looks at important people in early Aramaic Christianity, such as James the Just and Mary of Magdala.

Author Profile

Reverend Stephen Andrew Missick graduated from Sam Houston State University in Huntsville, Texas and has attended Southwestern Baptist Theological Seminary. He has extensively studied the Aramaic language, Aramaic literature and Biblical studies and the Christian Churches of the Aramaic tradition.

He has several articles on the history of the Assyrian Aramaic Church published in the Journal of Assyrian Academic Studies. He is the writer and illustrator of the weekly cartoon strip, "Chronicles: Facts from the Bible".

Reverend Missick served in the United States Military in Baghdad in Operation Iraqi Freedom during 2003 and 2004. He has traveled throughout Middle East several times visiting Christian communities in Egypt, Iraq, Syria, Lebanon and the Holy Land.

The village depicted on the cover is Maloula, an Aramaic-speaking Christian village outside of Damascus, Syria.

The book is now available from Xulon Press (click here) and will soon be on Amazon.com and BarnesandNoble.com.
PBS Show Manipulated Genocide History

On Monday evening, April 17, many PBS-affiliated television stations in the U.S. - including nine of the top 10 TV markets - aired an hour-long documentary title "The Armenian Genocide", produced by the independent, New York-based filmmaker Andrew Goldberg. Within a few hours after the airing of this program, Zinda Magazine responded to PBS with a letter demanding an explanation for the complete denial of the hundreds of thousands of Assyrians and Greeks who also perished during the Seyfo Genocide of 1915. Below Zinda publishes another important letter submitted in reaction to the broadcast of the aforementioned PBS show. PBS had not replied to Zinda Magazine's inquiry at press time.
---
Lisa Kashish, Board of Directors
Helma Adde, President
Dyarbakir Tur Abdin Assyrian Association
New Jersey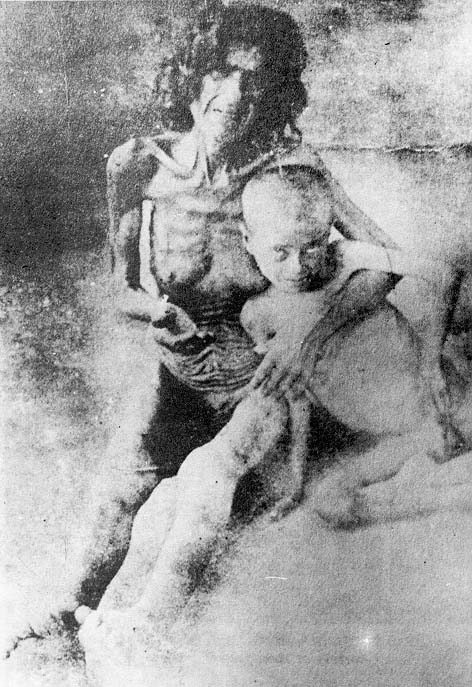 Starving mother and son during the Seyfo Genocide of 1915.
The airing of "The Armenian Genocide" left me, and I am certain, thousands of Assyrians and Greeks, as well as historians and genocide scholars (who had not been solicited by Two Cats Productions or its private Armenian financiers) wondering why Oregon Public Broadcasting and its PBS affiliates would promote the airing of a "documentary" which did not document the 1915 -1923 Christian Genocide of Assyrians, Greeks and Armenians by Ottoman Turks, but, rather, dismantled and manipulated this vital piece of world history. "The Armenian Genocide" completely isolated and exclusively presented the Armenian COMPONENT of this Christian genocide of the three Christian populations which co-existed and suffered together at the hands of the Ottoman Turks, not merely as if it were independent of and unrelated to the genocide of the Assyrian and Greek Christian populations, but, as if Assyrians (approximately 750,000 victims) and Greeks did not exist in the genocide at all. As a result, Oregon Public Broadcasting, its PBS affiliates, Two Cats Productions, and the private Armenian financiers of "The Armenian Genocide" acted as perpetrators of propaganda and GENOCIDE DENIAL, precisely the same offenses of which the Ottoman Turks and the current Turkish government are deemed guilty by the three said Christian populations, today, as well as by the international community. Moreover, they have employed precisely the same means by which to carry out this assault on Assyrians and Greeks; they have engaged in an intentional rewrite of history via deliberate omission of essential information, and promoted this historical rewrite to the general public through mass media manipulation.
I urge Oregon Public Broadcasting, its PBS affiliates, Two Cats Productions, and the private Armenian financiers of "The Armenian Genocide" to demonstrate a sincere interest to educate the public about the 1915-1923 Christian Genocide of Assyrians, Greeks, and Armenians by amending their denial of the genocide perpetrated against the Assyrians and Greeks, via the airing of a full-disclosure documentary of this tragic part of world history. To not do so would leave a serious injustice done to Assyrians, Greeks, and the general public that has looked to public television for an accurate, unbiased, and ethically presented historical documentary. It would also keep the said entities in their current position of having aligned themselves with and enabled Turkey in its internationally scorned campaign of genocide denial.
Alkhas - St. Vincent - Soltani present: "Urmie"
Helen Saint Vincent
California
Scattered all around the world with no land of their own, the Assyrians have not all been able to study their mother tongue and learn it well enough to understand fully their own literature and poetry. Through this CD, it is my dream to bring to the people of our nation the forceful, dynamic poems of one of our beloved contemporary poets, Hannibal Alkhas, and the old, almost forgotten, melodies.
I would like to give special thanks to Hannibal Alkhas for his unflagging support and encouragement and for his belief in me. I dedicate this CD to him as an expression of appreciation for his many years of friendship and for his wisdom and guidance throughout the years.
Special Thanks to Mr. Khosrow Soltani, his musical contributions have significantly enriched this project.
In this CD, one can often sense the mutual influence of the music of the Assyrians and that of the many peoples they have lived among as neighbors - Kurds, Turks, Arabs, and Iranians.
Helen St.Vincent
• Mr. Khosrow Soltani, a bassoonist, is a graduate of the Vienna Academy of Music. He has played for many years with the Tehran Symphony Orchestra and the Austrian Radio Orchestra . Since 1976 he has been a distinguished member of the Vienna Old Instrument Ensemble (Les Minstrels). Because of his sincere dedication and profound love of music, Soltani has not confined his talents to a limited area, but has paid special attention to Iranian and now to Assyrian music. Mr. Soltani shows unique skill in playing Eastern and Western wind instruments. He is founder of "Shiraz Ensemble" in Europe, 1981. He arranged the music on this CD and also composed several new pieces. On this CD, he plays Sorna, Korna, Neilabak and Duduk (Shabiba).
• Mr. Majid Derakhshani, a graduate in music from Tehran University, currently lives in Germany and teaches music. He also arranges and composes music and cooperates and works with European and Iranian musicians. Lately he arranged an Orchestra (Khorshid) in Tehran that included 33 musicians . On this CD he plays Setar.
• Mr. Ardeshir Kamkar, on Kamancheh, is a Kurd and a member of the famous Kamkars family. He received his degree in music from Music University.
• Mr. Karim Ghorbani, a cellist, is a graduate of the Tehran Music University and a member of Tehran´s Symphony Orchestra.
• Mr. Hamidreza Ojaghi, also a Kurd, is a graduate of Music School and plays Davla (a big tabla).
• Sound Master: Alireza sheybani is a graduate of the Music School and member of Symphony Orchstra Tehran.
• Edit: Fars Media, Cologne, Germany,2005
• Painting: Hannibal Alkhas, A part of Assyrian Story
• Graphic : Helen St. Vincent


"Urmie" CD will be available for sale at the upcoming Assyrian State Convention of California, held in Turlock between 26-29 May 2006. Zinda Magazine is a proud sponsor of the "Urmie" CD and other fine Assyrian musical and artistic projects in 2006.
Three Years in Review
Alfred Alkhas
California
Since the fall of the tyrant regime in April 2003, many important events passed on Iraqis and on the Chaldean Assyrian Suryoyo people in specific. We had first the appointed Iraqi Governing Council that was established from 25 members for short term in which we had one rep, then we had the transfer of power from the CPA to the first Iraqi government (PM Iyad Allawi), then we had two national elections to create the first Iraqi elect government (PM al-Ja'afari) and the current permanent cabinet (PM al-Maliki). During all these historic events we had only one slate (a-Rafidayn) in the Iraqi House of Representatives (Parliament) representing the Assyrian Chaldean Suryoyo people that was able to win the majority of our votes. However, we had also few members in the same House who won their seats from running the elections under other slates (Arabic & Kurdish) of whom we did not see or hear any effective role or voice. During the same period we had also some other type of representation in the KRG for the same slate (a-Rafidayn) in addition to other groups who won again for running under other non-national slates.
Unfortunately, and despite the fact that all the doors were open widely for any political group or party to participate in the new political process, whom all without any exceptions appeared later to be incapable of winning any significant votes or support from the people; these groups chose to work by all means against the only eligible elected slate (a-Rafidayn) to undermine its efforts rather than to show their support and solidarity with the winning slate in the new process of practicing national responsibility in a free and democratic system for the first time in our modern history. The irony in this unpatriotic stance of these political groups was that they didn't even wait to see any fruits from the new democratic experience nor they tried to evaluate any actions or decisions made; instead, they started their negative campaign of criticism against our only rep in the Iraqi government from day one to undermine every step taken and speech delivered or visit made or even every letter written.
Well, Iraqis in general won't bother about how we treat our own elected reps, however they could have also noticed and documented these shameful and disrespectful acts to be dealt with in future time, because they are busy and deeply involved in their own internal serious problems. While on the other side in the northern part of the country, we have the Kurds with completely different story being relatively in more stable and settled political environment. It has been known for fact that the Kurds are planning for the future separation from Iraq and this would require them to demonstrate much more tolerance to other minorities living with them in the same region for various reasons being under international monitoring and to provide more local stability and gain the trust of the people. Here comes the role of smart long term planning backed by strong and effective media tools side by side with the full investment in 'nursing' our increasing irrational national conflict, which we have created for idiotic reasons. The Kurds won't need anything more than few extremists from either side to agitate any conflict, by just favoring one group and excluding the other to ensure their full domination on the political process. We already helped them in the first step by creating and maintaining the conflict for which they need only to foster and the result is what we have seen so far, which is quite impressive! This, in fact, is the extreme example of hitting two birds with one stone, because the Kurds from one side, having our so-called representatives already being members in the Kurdish parties who are eventually working for the Kurdish agenda, won't even need to discuss or consider any concessions towards the recognition of our national rights, while on the other side, the Kurds would be dealing in much more ease and comfort with weak, divided and disorganized 'so-called' opposition that is close to be dismantled completely.
These ineffective political groups, realizing yet not admitting, their incompetence and weak influence on the public, found no other way to take initiative from the ADM other than to first; bring the church, knowing her great impact on religious people especially as extreme as we are, to be part of the political conflict, and second; surrender their fate completely to the Kurdish agenda. For which, either one of these two irresponsible acts would have satisfied the Kurds to their content not mentioning the increased benefit in providing both factors available to the Kurds! The direct and obvious result of this act was for the Kurds to choose some ineligible individuals to be part of the KRG government whom were carefully picked from two major groups, those who work officially for the Kurds as prominent members of KDP to promote the so-called Kurdish 'reformed' image, and from those who did not have any national agenda and hence preferred to adopt and promote the Kurdish agenda instead! This disturbing result would only reflect our serious political awkward and clear evidence on the dangerous intentions of the Kurds. This unacceptable situation demonstrates, at the same time, the Kurds unmatched power to marginalize any national political group being ADM today or any other group tomorrow and to prevent such national powers from having any significant role in determining the future of the nation.
The other possible reason for excluding the ADM from this Kurdish cabinet or anyone in the future could be interpreted as a counter act or 'punishment' for to the active role of the ADM. This role was reflected in the effective efforts made in various European countries to expose the Kurdish continuous violations in the region whether being related to the misconducts or illegalities during the past elections or the confiscation of our villages or the unequal treatment to our people in the region. Examples of such distinguished ADM efforts are those we had in the debate of the House of Lords on the Nineveh plains last year and the recent reports prepared by various EU representatives who visited the region recently addressing these violations and illegalities.
Kurds, by excluding ADM from the political process, are in fact sending clear message, of the red line they have set, for every political group working in the region that nobody will be allowed to be part of the KRG now or in the future unless being part of the bigger goal of promoting Kurdish agenda on the expense of all other minorities national aspirations. The most disturbing outcome of this suspicious Kurdish so-called 'rebuild campaign' would be the total dissolve of our people ambitions and be part of the Kurdish propaganda, which would lead eventually to support the KRG in the same way the Iraqis were fooled by the Ba'ath propaganda to support the tyrant regime.
But the saddening and puzzling thing is this unexplained hypocrisy of some intellects and politicians whom either preferred to be neutral and have been completely silent toward such acts or those who rode the extreme to even justify the acts of these collaborators, being known members in the Kurdish parties, and praise their 'distinguished service' to the nation! While at the same time, these same intellects and politicians are continuously accusing the ADM, till this very day, of treason, incompetence and misconducts and all types of name calling and personal attacks targeting everyone starting from its leadership just for dealing or working with the Kurdish authorities during the past 12 years where the ADM had to choose either to work at its best to gain whatever was possible under those abnormal conditions or to halt all its political activities until a later time.
There is only one sad conclusion about this entire unpleasant and shameful situation that we are facing today which is; the outstanding domination of our, ever undefeated, self destruct capability to erase any remaining national awareness and aspirations from the hearts and minds of the people. This destructive and evil nature is manifested in the self interest preference and egoism, surpassed all the Kurdish efforts to divide and conquer the nation and at the same time undermined every national effort made so far to gain any political benefits or to reinstate any national rights.
No one regardless the capacity being individual or organization, politician or clergy, educated or illiterate, in any time and for any reason can justify the work with the enemy as an excuse replacement to our internal disputes or disagreements. History always labeled such heinous acts as betrayal, unpatriotic and opportunist.
The Road to Assyrian Autonomy in Iraq
Sargon Sapper
Illinois
Our ancient Assyrian nation was unmatched with pride and loyalty. It remarkably served civilization by providing humanity with a wide spectrum of culture, science and technological invention. It is now nearly 26 centuries since enemies of our nation gathered momentum and ultimately succeeded in defeating the Assyrian empire. Surprisingly, from an Assyrian point of view, very little information is available regarding the events of this period. We continue to assume that our nation was, prior to this event, heavily burdened by internal division, and that this division served as the catalyst for the abrupt deterioration and the fall of our great empire.
Then, afterward, specific circumstances seem to have prevailed. Our people were unable to free themselves from the tightly controlled grasp of their oppressors. There was a significant reduction in the areas inhabited by Assyrians. Lands were taken from owners by force. Much smaller in population, Assyrians became almost powerless. We were not entitled of government protection, subject for change and exchange with serious consequences, ranked by occupants as the lowest possible priority in our own country, conscripted like slaves or taxed head by head. The Assyrian ethnic history, national language, and the heritage of our forefathers have all been exposed to distortion, fraud and groundless propaganda by the archenemies of the Assyrian people. Some historians, quoting the untruths which they have mistakenly assumed to be true, have falsely provided validity to these lies. Nevertheless, Assyrian's survived and started creating new means to hold out against hardships surrounding them from every angle.
As centuries passed, Assyrians, having suffered for committing no sin, are still waiting patiently for the opportunity to regain their names, identities, self control and life in an environment where equality prevails and justice becomes a common practice. So, we seek to find a legal way that to ensure our nation be treated equitably in our homeland.
I believe Assyrians sincerely and collectively believe in the unity of Iraq. None of us desires partition of Iraq's various factions or the division of Iraq along sectarian religious lines. But now, as Iraq sits on the brink of a comprehensive civil war, not all of Iraq's inhabitants seem to agree. In fact, if civil war does erupt, Iraq will be ripped apart along the sectarian lines between its religious and ethnic factions. The Assyrians have no role in any internal political problems, nor will we play a part in a civil war in Iraq. Unfortunately, we will surely be the victims of it. Therefore, during these new turbulent times resulting from operation Iraqi-freedom and U.S. occupation, we must establish a firm political plan to safeguard all sectors of the Assyrian nation in Iraq.
It is time to address centuries of Assyrian suffering from religious oppression and ethic cleansing. We were exposed to tragedies and massacres. Today Assyrians and the homeland of our forefathers, continue to be subject to the ugliest of tragedies in all aspects of daily life. In some districts, for example, Assyrian families are forced into the Islam religion simply to be safe. It is clear to all observers; stability in Iraq is far from being accomplished. Difficult issues involving political, religious, social, economics and law and order remain unresolved and need to be properly addressed. Iraqi political leaders, the government and the national assembly, are unable to find permanent and successful solutions to these difficult problems. They unfortunately seem more part of the problem and less a part of the solution.
A few years ago, the United States played a major role in freeing the Iraqi people and succeeded. Afterwards, they had the opportunity, in conjunction with Iraqi leadership, to find real solutions to the internal problems in Iraq. Alas, the opportunity was wasted. A plan to protect Assyrians, and all other ethnic minorities, and help secure their futures and rights, was never addressed, even though a successful precedent had already been established. After all, the U.S. protected Kurds and Shiites when these populations needed protection. The Kurdish autonomy in Northern Iraq has proved successful there and in other United Nations member countries.
There is a way to achieve this humane and noble goal for Assyrians in Iraq. Congregate them into their forefathers region of the country that is commonly known as "the Assyrian triangle" part in Ninevah province and part in Dahok. Of course, Assyrians have previously demanded self administrative or autonomy of their region. But now, more than ever, it is imperative for the future of the children in our homeland that the administrative, political, and cultural rights guaranteed in the Iraq new constitution be executed into law without reservation. A nation that grants all factions equal rights and responsibility should be more functional than one which does not. Building a free Iraqi society should be an on going commitment to motivate people and is what is best for Iraq at large, and best for all citizens of Iraq.
Since the circumstances surrounding the crisis in Iraq became very dangerous the Assyrians, as an ethnic people and as Christians, need to be protected from inhumane and unjust acts directed at them. If not soon, there may some day be no Assyrians or Christians in Iraq. For this reason, three plans must be considered to handle the Assyrian question in Iraq. They are:
Safe haven. A safe haven is a designated area in which temporary protection for persecuted people is offered through approval of the United Nations. A safe haven plan definitely is not the right solution for the Assyrian question in Iraq.
Self administration of the region. The self administration of a region involves a number of districts in a geographic region inhabited by an ethnic group organized by a special law in accordance with a state's constitution giving people the authority to administrate the region and protect themselves. A self administrative regional plan is an acceptable solution for the Assyrian question in Iraq. However this plan can only succeed if it is effectively protected and it is regional administration is linked directly to the central government of Iraq.
Autonomy. Autonomy defined is the right of self government. Local ethnic people of a given region are given sole power in accordance with the state's constitution to govern and protect themselves. Regional government is linked directly to the central government of the state. Autonomy, in my personal opinion is the preferable and everlasting solution for handling the Assyrian future in Iraq.
The Illusion of Democracy
Why Is The Democratic Game So Dangerous To Our Identity & Existence
as Christians and ChaldoAssyrians?
Dr. Kolo Kamal
Belgium
Since the fall of the dictatorship regime in April 2003 our ChaldoAssyrian people are passing through a historical moment of revival and creation of a new nation. This moment shall decide how our new history is made and how our existence and destiny in the future are shaped. The choices we face could be either a successful carving of our place in the new Iraq or accepting a minor degradable place that can be easily eroded, but this time would unfortunately, be forever.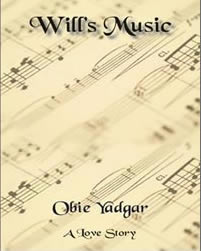 We have been drawn to the charms of the new democracy like a butterfly attracted to the burning flame. This new democracy that is supposed to protect us and give us back our ancestral historical rights in homeland, we the Christian minorities in Iraq could be the very coffin that is going to contain our destiny, identity, language and existence. Democratic elections, essential and beautiful as they are to any society, could be in certain context of ethnic, religious and social fabric very delusional and misleading. Human rights conventions or the new constitution and historical right to ancestral land, could simply be not enough to secure our rights as a historic ethnic and religious part of the new Iraq, because the political history of our country painfully shows that that is the case and that this very political history of Iraq since the formation of the new Iraqi state after the First World War echoes till now with lessons mixed with the blood of our people.
At that time, in the early decades of the 20th century, we had a very nice constitution, full of rights, and we had Christian and Jews members in the parliament and ministers in the governments. Yet this constitution and ministers did not give us right to our language, did not protect us from being massacred in Semele, 1933, and did not recognize our historical ethnicity as descendants of two great civilizations. Paradoxically, the others robbed our role and as well as our heritage. That same constitution did not save our villages and our people from killings, deportations, destruction, humiliation and living like complete strangers in our own historical homeland. We had beautiful resolutions from the so-called "Revolutionary Command Council" of the Baathist regime giving us the most beautiful bundle of "cultural rights" in the early 1970's, yet our Syriac voice represented by a radio station from Baghdad reached Baghdad only and did not celebrate its first birthday for it fell dead and the cause of death was: suffocation. Yes! We were also given the right to issue a magazine in our own Aramaic language! We were very happy at the time, that our language through which civilization, science, and philosophy of the ancient Greeks reached to our beloved Muslim cousins, was finally seeing some light on library shelves in Baghdad, only that we should have known Arabic language quite well to read it. Yet the constitution and the very nice resolutions were there, on paper.

The new Iraqi society
Any one who thinks that the new Iraqi society will automatically insure the rights of our people will be committing a great mistake. The new Iraqi society is one where each faction is fighting and struggling to the utmost for his faction with military militia to back their claims to power and to obtaining more rights on the expense of the others. We should believe in this otherwise we shall loose everything. We have now ethnically divided sectarian society and government: Muslim Majority, Arab Majority, Shiite Majority, Sunni Majority, Muslim Arab majority, Muslim Kurds and Muslim Turkmen, take your pick.
We are surrounded and encircled by majorities! It is clear where we stand, and what we face. Being politically naïve will bring about our destruction. A majority that really seeks the protection of the rights of the Christian minorities will not try to Islamize the Iraqi society and will not set a political, social, cultural and psychological siege on the Christian minorities. The role and duty of the majority, because they are the majority, whether by ethnicity or religion, should be the protection of the minorities. We as the minorities CAN COMPETE neither in power nor in numbers with them. The Iraqi majorities comprehend this fact in depth. But do we? When the majorities set the rules of the "democratic" game: elections and constitution, they were very much aware of their power and influence to change the rules and even overwrite them to meet their goals. The deprivation of large percentage of our people from using their right to vote in the last general assembly elections is a stark reminder of the power of the majority that can easily manipulate our interests and fate with no major payback consequences to them. The signs are there and we should read them well.
The Iraqi politicians, with very, very rare exceptions together with Muslim religious leaders abstain from mentioning our people by their ethnic name or religious adherence, and this is strangely echoed and replicated in the Arab Muslim political speech and to the very highest level. The Secretary General of the Arab league, just recently, abstained from directly condemning the terrorists' attacks on our churches while he was very generous in his words and terminology in condemning the attacks on the Muslim shrines on Samara. To confirm this, and very explicitly, the speaker of Egyptian President in his comments to TV channels on the Shiites of Iraq on Wednesday the 12th of April, he specified by name: "Arabs, Kurds, and Turkmen, Shiites and Sunnites and others". Of course we are the others, us the ChaldoAssyrian Christians. The speaker deliberately took his time in pronouncing these Iraqi components. Misreading these signals as worthless or meaningless will only encourage the majorities (and they are so many!) to overwrite us and eliminate us from the historical, ethnic, religious and political map of Iraq. These signs should be taken for what they represent and should be interpreted accordingly in using the very good manual of previous bitter experiences of our people with the various governments, parties, movements or religious factions. They all started with very smiling and friendly faces and ended with committing massacres against our people.
Democracy as is for others is not the same for us. For others the new democracy is a route to power, to wealth, to control and to spread ideology, whether political or religious. For us democracy is a way of self preservation, of identity, language, history and dignity and our rightful share in our homeland. The inability to form the new Iraqi government after several months from elections is as ridiculous as is dangerous. This inability of the winning factions to create a government of national unity rings the bells of danger for us. The single most important signal that it sends to us and should be understood by us is that there is a bitter fighting on dividing not on uniting. If this is the majority's way of government, then what is going to be our share? We are neither Muslims nor Kurds, nor Arabs, nor Turkmen! What is our cover? And who is going to cover us? We should understand that we are ALONE. All the other factions can enter in alliances or pacts because for very simple reason: they have either a unity of religion or of ethnicity and both of these are used cleverly even by Muslim-ethnic minorities. We have no common ground with other factions but our Iraqi nationality, citizenship and clean and uncorrupted patriotism and love for our homeland and strong and pure spirit of sharing this country with our compatriots. How much is this worth in the current greediness for power and wealth? The answer is given by our modern history: Nothing!
We and democracy: Why is it dangerous to our very existence?
Certainly nobody in his full senses would believe that the existence of certain population or certain religious ethnic minority would be menaced by democracy. This would be insane! Democracy is the shield that should protect human rights, spreads social justice, freedom of expression, and preserves identity and languages of people. This is all beautiful, but not in the current Iraqi society. It could have been quite bright and promising for our ChaldoAssyrian Christians if it were not for the recurrent images from the nearby history. In this current "democratic" Iraq, the majorities will always win the elections: Islamic factions (Kurdish, Arabs) or Ethnic parties Arabs and Kurds. We shall get what these majorities give us or leave for us. Our space is limited by their ever expanding space, Islamic or ethnic.
Our space is eroded by their space due to the very unbalanced and unique case of Iraqi society. What happens if our population is forced into absorption by the majority factions? To whom shall they vote? To our ChaldoAssyrians candidates or to the majority factions? What happens if our people are gradually centrifuged out of the voting game? What happens if the internal centrifugal force that pushes our people deliberately out of their country succeeds in continuing the exodus of our people from Iraq? The result to these assumptions would be catastrophic on our existence in Iraq. Democracy can give us, we the minority in a Muslim majority, some rights, but will never insure permanent preservation of our existence and identity. Again learning from history and from present actual events. Democracy might give us one or two seats in the parliament now, but what of tomorrow? Do we have assurances or guarantees? NONE of whatever.
Where is the door of hope? And what should we really want and DEMAND forcibly and loudly. First of all we must know and let others know that we are the only, the unique, the natives, and the indigenous people of Iraq. There is no other faction, what so ever that can claim similar right to the land and history of Iraq as we do. The proofs are everywhere for whoever is in denial or in doubt. This unique original right to land gives us the right to reserved seats in the parliament according to our history and numbers. This original right to land gives us the ultimate right to uncontested safe haven in our ancestral land. Putting us into the election machine is meant to destroy us. WE have to demand and acquire right to land, right to parliament and right to government.
The Assyrian Festival
One Cross. One Flag. One Nation.

Rosie Malek-Yonan
California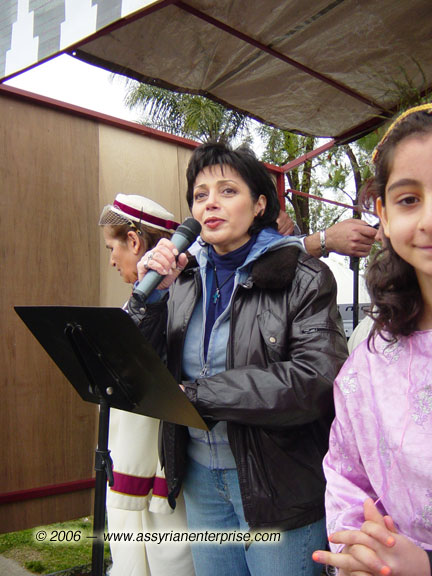 Rosie Malek-Yonan welcomes the crowd at the Assyrian Food Festival. Photo courtesy of the Assyrian Enterprise.
On Saturday, April 22, 2006, a crisp early dawn greeted the Assyrian volunteers that began to arrive at St. Mary's Parish in Tarzana, California at the Assyrian Catholic Church of the East for the Sixth Annual Assyrian Food Festival and Carnival. This year, Father George Bet-Rasho, the parish priest decided to hold the festival in the street on Lindley Avenue just outside the church grounds. The goal was to invite the non-Assyrian communities to meet their Assyrian neighbors and through the experience of the festival, introduce our Assyrian culture, food, dances, music, and history to them.
But before the giant block party could get underway, there was still so much to be done that it seemed an impossible task that things would be ready by noon when crowds were expected to arrive. It wasn't just little last minute details that were being tended to. There was still construction going on. The stage was just being built. The floats for the Assyrian Parade were still being assembled. Tents were being erected for all the vendors who waited impatiently to begin unloading their goods.
I stood in the middle of the street and looked up at the overcast sky. The clouds loomed overhead threatening to let lose at any minute. The forecast had called for rain that weekend. I had my private chat with God as I'm sure every volunteer had done to ask for good weather.
I was asked to be the Emcee for the two-day event. My table with copies of my book The Crimson Field would be set up later next to the stage. My sister, Monica, would tend to that. So there was just one thing to do, roll up the sleeves and get to work. Don't ask. Just do. Help anyone who looked like they can use an extra pair of hands.
But being a performer myself, naturally my attention kept gravitating towards the stage. They need a whole day to build that thing, I kept telling myself. But a voice in the back of my head would whisper, have a little faith.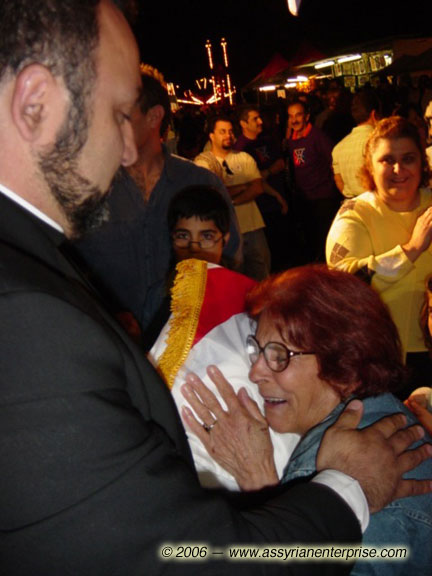 Woman kissing Assyrian flag
In a few short hours, just before noon, Lindley Avenue was transformed into an inviting Assyrian Festival and Carnival setting with tables draped to the floor in starched white linen topped by umbrellas for shade, rows of tents for the vendors, food and drinks, carnival rides and games, and a petting zoo for the little children. Generators kicked in humming. Cables running the length of the street provided power to all the tents. The Carnival rides went into motion. The high energy raced through the grounds. And the stage… well, the raised stage was finally erected and its walls covered in wallpaper with Assyrian designs while the band didn't lose a beat setting up their instruments underneath its awning.
The smell of kabab cooking on open fires filled the air. For days, the ladies' auxiliary from the church had been preparing Assyrian foods like dolma and booshala.
As festival attendees began to arrive, I glanced up at the sky. The clouds hung around teasing us.
Don't you dare, I whispered to them. I should like to take credit for the warning I gave the clouds because rain never fell despite their threat as they suspended largely overhead. But I think it was the prayers of all of us led by Father George that the weather behaved and fully cooperated.
Soon Lindley Avenue was full of festival attendees as the local police patrolled the event on bicycles. Their presence was not only for the safety of everyone but it also gave the Assyrians an opportunity to show to them who we were as a people and community. We even got the Los Angeles Police Department officers dancing and relishing Assyrian food!
The pulsating music was energetic and nonstop as the dance floor overflowed with spiraling lines
of sheykhani and janiman weaving in and out of one another as the khigah was led by the symbolic wave of a kerchief. Non-Assyrian participants lined the outskirts of the dance floor watching and the more daring ones, tagged along at the end of the line stumbling to find their feet. Many were photographing the Assyrians dancing, as if wanting to capture for the first time a newly discovered culture that was undoubtedly older than their own.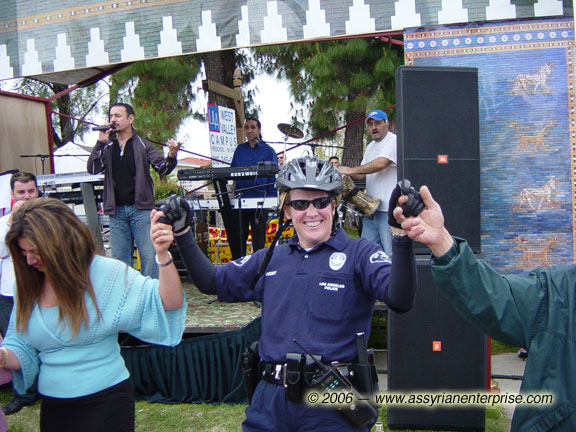 Los Angeles Police Department officer enjoying khigga at the Assyrian Food Festival; Walter Aziz singing in the background. Photo courtesy of the Assyrian Enterprise.
By late afternoon, the street was packed as our Assyrian youth lined up in position for the beginning of the Assyrian Parade. As the Emcee, I gave a description of the historical aspect of the floats. The parade opened with the march of the flags to a cheering audience. Two young children from the Assyrian American School at St. Mary's sang the American national anthem followed by the Assyrian national anthem performed by the choir at St. Mary's Parish. While I was on stage describing the floats of King Ashurbanipal Library, Hamurabi, Queen Shamiram's ride on her Chariot, the Hanging Gardens of Babylon, the Epic of Gilgamesh, Mesopotamia the Cradle of Civilization, Cuneiform and Assyrian Writing, Lamassu, the Assyrian Bride, the Wheel, Christianity in the Assyrian Nation, my attention was focused mainly on the non-Assyrians in the crowd of parade watchers. I knew I had a captive audience. I was speaking directly to them. They were the ones that I was hoping to educate through the festive environment of the parade. I think we more than succeeded in two days to accomplish just that in great part because of the vision of Father George in organizing such a successful event at a public venue.
The junior and senior Assyrian dancers of Domara Dance Troop under the direction of my long-time
childhood friend Domarina Betpoulice performed several Assyrian dances dressed in traditional costumes courtesy of Domarina. For several months, every weekend, Domarina commuted from San Jose, in Northern California to Los Angeles, in Southern California to work with the young dancers in preparation for the festival.
Singers Walter Aziz, Isaac Isaac, Bulbul, Ramsin Sheeno, Yurik, Atour, and the Nineveh band provided the music and entertainment. But no Assyrian Festival would be complete without the shrill of the zoorna and the rhythmic thumping of the davoola. Brothers Gelyana on zoorna and Rozef on davoola provided this authentic sound that is an integral part of our traditional Assyrian music.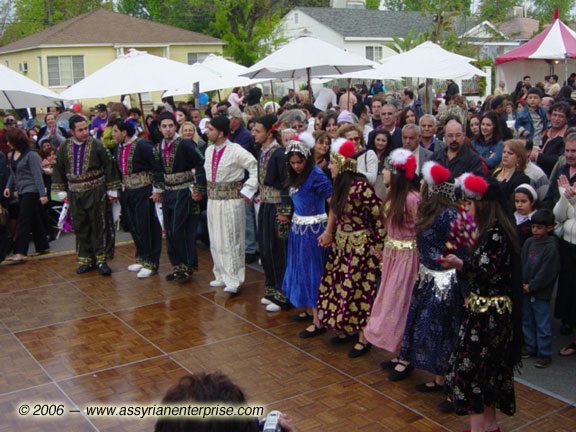 Doomara Dance Group entertaining the crowd at the Food Festival. Photo courtesy of the Assyrian Enterprise.
Sunday, April 23, 2006 was even more crowed with people. Many of our friends from St. Paul's
Catholic Assyrian Chaldean Church attended the festival after Holy Mass. The Festival was the true spirit of what it is to be an Assyrian. There were no boundaries dividing us as a nation.
There were no politics and no church conflicts discussed. There were no fights and no disagreements. There were no prejudices. We were one Christian Assyrian nation united and at peace with one another.
A Persian woman who lived in the neighborhood, curious as to why the streets were blocked off made her way to the festival. She asked what the event was and if it were okay for her to stay.
My sister welcomed her and said, "The festival is for all those who wish to know who Assyrians are." The woman called her family and they stayed until the end of the festival that lasted well into the night.
We didn't set out to change the world. But for two days we most assuredly left a positive image of who we are as a people. That in and of itself is an accomplishment worth the recognition.
At the end of festival on Sunday night, the Assyrian flag was held up by its four corners by young boys in traditional costumes and paraded through the crowd. A woman stood just beneath the flag. She looked up at our Assyrian flag. Tears welled in her eyes. For me, this was the defining moment of the Assyrian Festival. As the flag was lowered and folded and handed to Father George, my friend George leaned in and whispered, "This is who we Assyrians are: one cross, one flag."
Indeed. Being an Assyrian is just that. One cross. One flag. One nation.

Rosie Malek-Yonan is the author of The Crimson Field, a historic novel which won Zinda Magazine's "Event of the Year 6755" title last month.

Thank You
The following individuals contributed to the publication of this issue:
| | |
| --- | --- |
| Mazin Enwiya | Chicago |
| Nahrain E. Kamber | California |
| Youkie Khaninia | Arizona |
| Nineb Lamassu | United Kingdom |
| John Michael | United Kingdom |
ZINDA Magazine is published weekly. Views expressed in ZINDA do not necessarily represent those of the ZINDA editors, or any of our associated staff. This publication reserves the right, at its sole discretion, not to publish comments or articles previously printed in or submitted to other journals. ZINDA reserves the right to publish and republish your submission in any form or medium. All letters and messages require the name(s) of sender and/or author. All messages published in the SURFS UP! section must be in 500 words or less and bear the name of the author(s). Distribution of material featured in ZINDA is not restricted, but permission from ZINDA is required. This service is meant for the exchange of information, analyses and news. Any material published in Zinda Magazine will not be removed later at the request of the sender. For free subscription to Zinda Magazine, send e-mail with your name, address, telephone number to: zcrew@zindamagazine.com.
ZINDA means "Spark of Fire" in modern Syriac (Assyrian); Zinda's Red Swoosh is a rendering of the seventh letter in the Assyrian alphabet, letter ZEN, and the first letter in the word "Zinda". For more information about the Assyrian culture and heritage write to Zinda Magazine.
Zinda Magazine™ Copyright © Zinda Inc., 1994-2006 - All Rights Reserved - www.zindamagazine.com