Volume XII




Tel 202-349-1429

|

Fax 1-415-358-4778

|

zcrew@zindamagazine.com

1700 Pennsylvania Avenue. NW Suite 400 Washington, DC 20006 U.S.A.
G
E
N
I
R
O
A Star is Born

A Worldwide Response
Wilfred Bet-Alkhas
Sargon Dadesho and the Diploma Mill
A Zinda Magazine Investigation
Kurdish Minister Has No Objection to Assyrian Admin Area
As Killings Increase, Chaldean Official: All of Iraq is in Danger
Vatican to Muslims: Practice What You Preach
Concern in Holland Over Return of Assyrian Refugees to Syria
Dr. Khosroeva Receives "Assyrian Scholar" Award
A Christian Response to Anokeen Varani
Kanna's Next Move
Bring on the Future
Desparately Seeking Nina

Click to Learn More
ZINDA CALENDAR
ZINDA ARCHIVES

Rosie Malek-Yonan to Appear at UC-Berkeley
Because They Hate
Syrian Authorities Follow Path of Asylum Seekers in Holland
A Zinda Interview with Dr. Donny George
Brigitte Gabriel
Toine Heijmans and Nuri Kino
Ramin Daniels
Geniro
A Worldwide Response
Slowly Iraq is falling apart. What the Bush administration calls a sure path to democracy is nothing but a symphony of anarchy and chaos. While the Moslems in Iraq – Sunni and Shi'ai – are ruthlessly butchering each other and destroying the magnificent historic mosques, and the Assyrians in America are consumed over the property rights of a diocese in California, the Kurdish leaders are busy erecting the foundations of a new nation-state between Turkey and what will be left of Iraq after an ensuing civil war. The crisis, which has been for some weeks in existence, seems irreversible. The "Syriana" spoken of furtively at the State Department may soon become a reality and the greatest sufferers of this geo-political transformation will once again be the Assyrians.
As the embassies of Denmark were burning around the world, the representatives of the Christian world – including the Vatican – merely offered a reminder to the journalists of their moral responsibility not to instigate hatred. If the United Nations and the world government bodies would not take serious steps to combat threats against the lives of those who knowingly or unknowingly offended a religious leader or symbol, what assurances do the Assyrians in Iraq have should their Moslem neighbors decide to punish them in retaliation for the "Crusaders' Invasion of the Islamic Lands"? None.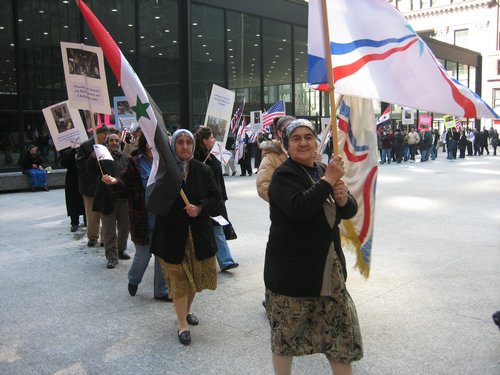 Assyrian Peaceful Demonstration Condemning Bombing, Burning and Destroying Assyrian Churches in Iraq - Chicago, on 22 February. Photo courtesy of Ramsen Neesan.
In last Friday's Prayer in Tehran, one senior Moslem Cleric called for the burning down of every Christian church and Jewish temple around the world to punish America and Israel.
In Egypt, another cleric called for the worldwide adoption of Islamic governments in which all other religions are to abide by the rule of Islam.
Similar voices were once heard in the dusty streets of Istanbul and on the minarets of the mosques all around the Ottoman Empire in 1914. The West turned away from these sounds of fury and hatred and ignored the cries of the millions of Assyrians, Armenians, and Greeks who became victims of the first genocide in the 20th century. Those voices are here again – this time louder and more fervent.
If Iraq disintegrates into a Kurdish north and Arab south, the Assyrian-Chaldean-Syriac nation will be forced to polarize accordingly, further weakening our social infrastructure. The result will be a mass exodus of the surviving families to Europe, America, and Australia, an evacuation many times larger than those experienced in the 1970's and 80's.
We have reached a decisive juncture in our historic journey: we either encounter every voice of hatred with louder rejoinder or we prepare for a massive rescue effort to save our Christian brothers and sisters in the Middle East. Since apathy or silence are no longer an option and the Middle East is as much a homeland for us as to any Arab, Israeli, Kurd, Turk and Persian, then we have but one course of action – not to turn back our cheeks.
The world must hear the voice of the Assyrians – no matter how determined Washington may be to silence us because of its fear of fomenting resentment in the Moslem world. No mass exodus of our people should ever be forced upon our people living anywhere in the Middle East. Moslems and Christians in that region share the same bitter-sweet history, somewhat similar traditions, dreams, and visions of future. There is enough space for all of us to share and to prosper.
What Washington may not know is that the same clerics and zealous imams preaching hatred toward Christians around the world view many of us as their Iraqi, Iranian, Turkish, and Syrian neighbors. The governments of these countries differentiate between a Danish cartoonist in Copenhagen and an Assyrian-Iranian writer in Qazveen. One mocks Mohammad, the other respects the Prophet – not out of fear, rather out of reverence.
Determined to pursue a firm course of constructive action, Zinda Magazine calls on every Assyrian, Chaldean, and Syriac individual, church, and organization to march in a one-day, worldwide public demonstration of support for the peaceful co-existence of Christians and Moslems in the Middle East. The purpose of these public demonstrations will be "to preserve the peace and promote the equality of the Christians in the Middle East".
It is essential that marchers include both Christian and Moslem groups, who share a foresight for equality of human beings regardless of religion and creed. Organizers should contact Moslem groups to join in this historic march to Washington and the capitols of the Middle Eastern countries.
Zinda Magazine will be listing the names of all participating groups and organizations on a separate website. A tentative date for this enormous worldwide peace demonstration is set for Saturday, April 1st, 2006.
From a deluge of twisted information about the Moslems' hatred for Christians in the Middle East that is showering upon the world, a few facts stand out backed with some evidence of authenticity. If a civil war is instigated by the enemies of peace, Christians will be sacrificed for retaliation against the militant western forces. It is incumbent upon us to demonstrate our nonaligned position as vital ingredients of any successful Middle Eastern society in which we may forever be outnumbered by our Moslem neighbors. Let us pray that Iraq will remain as one, home to its Assyrian, Arab, Kurdish and Turkeman populations, and a model of peaceful co-existence of all children of Abraham.
Sargon Dadesho and the Diploma Mill
Special Zinda Magazine Investigative Report
Sargon Dadesho is a man quick to judge and to convict other Assyrians on his worldwide AssyriaSat television program. For years he's stood with his backs towards a bookshelf filled with books and has brandished his professional and educational "doctorate title" for the whole world to see.
To his followers he is "Dr." Sargon Dadesho, yet no one has been able to furnish proof of Dadesho's educational records pointing to his successful completion of a post-baccalaureate degree from an accredited American university where he is said to hold a degree in the biological sciences from a northern California university. Until now!
Further investigation into one of the most charismatic activists in the Assyrian politics and the winner of Zinda magazine's '6754 Person of the Year' title has revealed something completely different.
Prompted by a call from the U.S. State Department to our offices in Washington D.C. our staff launched a comprehensive investigation into the academic background of Mr. Sargon Dadesho.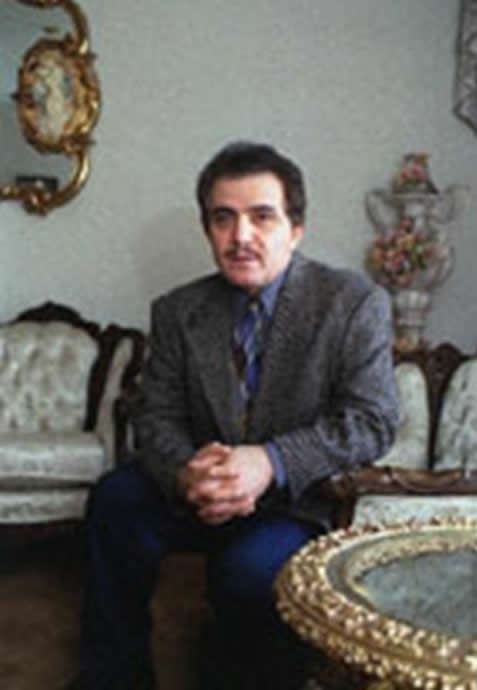 Mr. Sargon Dadesho
A few days prior to the arrival of Mr. Yonadam Kanna, the current representative of the Chaldo-Assyrian Christians of Iraq in the National Assembly, Mr. Dadesho was making direct calls asking several officials to prevent the arrival of Mr. Kanna, whom he was identifying as an ex-Baathist. The State Department officials contacted our office to obtain more information about Mr. Dadesho and were advised of his role as a commentator on an Assyrian television program. Zinda Magazine also explained that Mr. Dadesho does not hold a doctorate degree from an accredited university as he claims.
To prevent any clashes between Mr. Kanna's supporters and Mr. Dadesho's dozen or so followers in California's Central Valley during Mr. Kanna's visit Zinda Magazine informed advisors close to Mr. Kanna not to release the information about Mr. Dadesho's calls to the State Department until Mr. Kanna's return to Baghdad. Other than a bomb threat call in Turlock, during Mr. Kanna's visit to the Assyrian American Civic Club of Turlock, no other serious incidents were reported. Mr. Kanna is now back safely in Baghdad.
To confirm the information provided to the State Department Zinda Magazine bagan an investigation into the academic background of Mr. Dadesho - a task commonly followed by the news agencies to confirm the data provided on public figures in the U.S.
On the Bet Nahrain Democratic Party's website, Sargon Dadesho proudly and unashamedly boasts in his resume that he allegedly received his Ph.D. degree in Physiological Sciences from Pacific Western University from 1973 to 1976. [1]
The address and phone number of Pacific Western University is given as: 600 N Sepulveda Blvd, Los Angeles, California 90049, (310) 471-0306.
A US college search engine did not reveal much about Pacific Western University . The only fact gleaned from their website was the fact that they were a "for-profit" University. When attempts were made to contact them to discuss their former student, the University receptionist was reluctant to provide any answers or discuss any of their former students. Further research with the US government revealed startling new evidence about Pacific Western University. [2]
Zinda investigation also revealed that the Admissions office of the University of California, Davis holds no information on Mr. Sargon Dadesho as a recipient of a PhD degree in Physiological Sciences between 1973 and 1976.
In a May 11 report entitled "Diploma Mills," the U.S. General Accounting Office disclosed how hundreds of federal employees–including some with senior-level posts–had obtained degrees from unaccredited outfits like California Coast. The GAO investigations, conducted at the request of the Senate Committee on Governmental Affairs, noted that, in some instances, advanced degrees were obtained in an effort to secure promotions. [3]

A portion of the resume displayed on the BNDP website describing Mr. Dadesho as a recipient of PhD degree in Physiological Sciences.
'These mills are described by GAO as non-traditional, unaccredited, postsecondary schools that offer degrees for a relatively flat fee, promote the award of academic credits based on life experience, and do not require any classroom instruction. Kennedy-Western University, California Coast University and Pacific Western University are examples cited by GAO.
Purporting to be a prospective student, our Zinda investigator placed telephone calls to three schools that award academic credits based on life experience and require no classroom instruction: Barrington University (Mobile, Alabama); Lacrosse University (Bay St. Louis, Mississippi); and Pacific Western University (Los Angeles, California). These schools each charge a flat fee for a degree. For example, fees for degrees for domestic students at Pacific Western University are as follows: Bachelor of Science ($2,295); Master's Degree in Business Administration ($2,395); and PhD ($2,595). School representatives emphasized to our undercover investigator that they are not in the business of providing, and do not permit students to enroll for, individual courses or training. Instead, the schools market and require payment for degrees on a flat-fee basis. [4]
In the world of academia, faking credentials is not looked upon graciously. In fact anyone caught blatantly faking their credentials is shunned and ostracized. This is a far cry from the professional world where there are even reports of people, who have faked their credentials, receiving criminal convictions. A recent example which made public news in the U.S. was the immediate resignation of the CEO of RadioShack, David Edmonsdson, who lied about his completion of a theology degree on his resume.
Mr. Sargon Dadesho, who unlovingly refers to this publication as 'Zibla Magazine" (zibla is rubbish in Assyrian(Syriac)" is lovingly advised by our staff not to flaunt his faked credentials out into the academic or professional arenas where he will surely be revealed as an impostor. Instead he ought to continue to broadcast his Assyrian satellite television - which we affectionately refer to as the Assyrian Comedy Central - secure in the knowledge that his dozen or so loyal Assyrian listeners are unwilling to either question or challenge his forged credentials.
References
1. http://www.bndp.net/anc/sargon_dadisho.htm
2. http://www.uscollegesearch.org/pacific-western-university.html
3. http://www.gavinsblog.com/2004/05/12/us-report-pins-down-bogus-degrees/
4. http://www.freerepublic.com/focus/fr/1223614/posts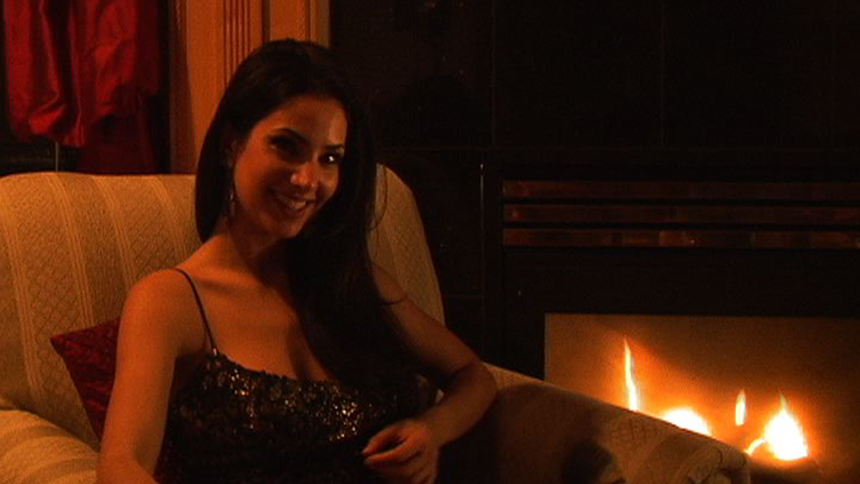 Made Possible by Lamassu Productions in association with Ashur TV
4 March on Ashur TV
12:00 p.m. (California Time)
Kurdish Minister Has No Objection to Assyrian Christian Administrative Area
Courtesy of the Assyrian International News Agency
Reporting from San Diego, California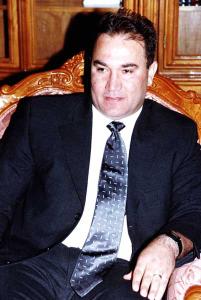 Dr. Muhammad Ihsan Sulivany
In a public forum organized by the Kurdish Center for Human Rights on February 18th, 2006, the Kurdistan Regional Government's Minister of Human Rights, Dr. Muhammad Ihsan Sulivany, discussed their latest findings of mass graves filled with hundreds of victims of the Saddam Hussein regime. The victims were mostly Kurds belonging to the Barazani clan of the late Masoud Barazani, but also included 37 Assyrian (also known as Chaldean and Syriac) Christians belonging to the village of Harireh, neighboring the Barazani villages. The ministry's research shows the heroic stand that these Harireh Assyrian Christians took, along with their Kurdish neighbors, despite the option given to them by the Saddam Regime to denounce the Kurdish stand and be set free, as their wives and children had already done.
In an answer to a question from the participants on the potential of improving human rights abuses against the minority Christian population and having an administrative area for the Assyrian Christians of Iraq, the Minister answered: "To my knowledge, there are efforts by the KRG underway, in some villages, including Dairaboun and Ainishkeh to pay Kurdish families 10,000 each to leave these ChaldoAssyiran villages and return them to their rightful owners". The minister also added that "We have no objection towards the gathering of Christians, wherever they so choose, nor do we object to the creation of a new province for them in the Nineveh Plain, to gather all Iraqi Christians from around the world to return to their homes and villages".
As Killings Increase, Chaldean Official Says
All of Iraq is in Danger

Courtesy of the Catholic News Service
23 February 2006
By Carol Glatz & Regina Linskey in Washington
(ZNDA: Rome) As killings increased in retribution for the bombing of a Shiite shrine in Iraq, the Rome-based representative of Baghdad's Chaldean Catholic Patriarchate said that "all of Iraq is in danger."
"It's not just about Sunni and Shiite, because they started three weeks ago on Christians," Father Philip Najim says, referring to the near-simultaneous attacks in late January in Baghdad and Kirkuk, a northern Iraqi city, launched just as some Sunday services had ended.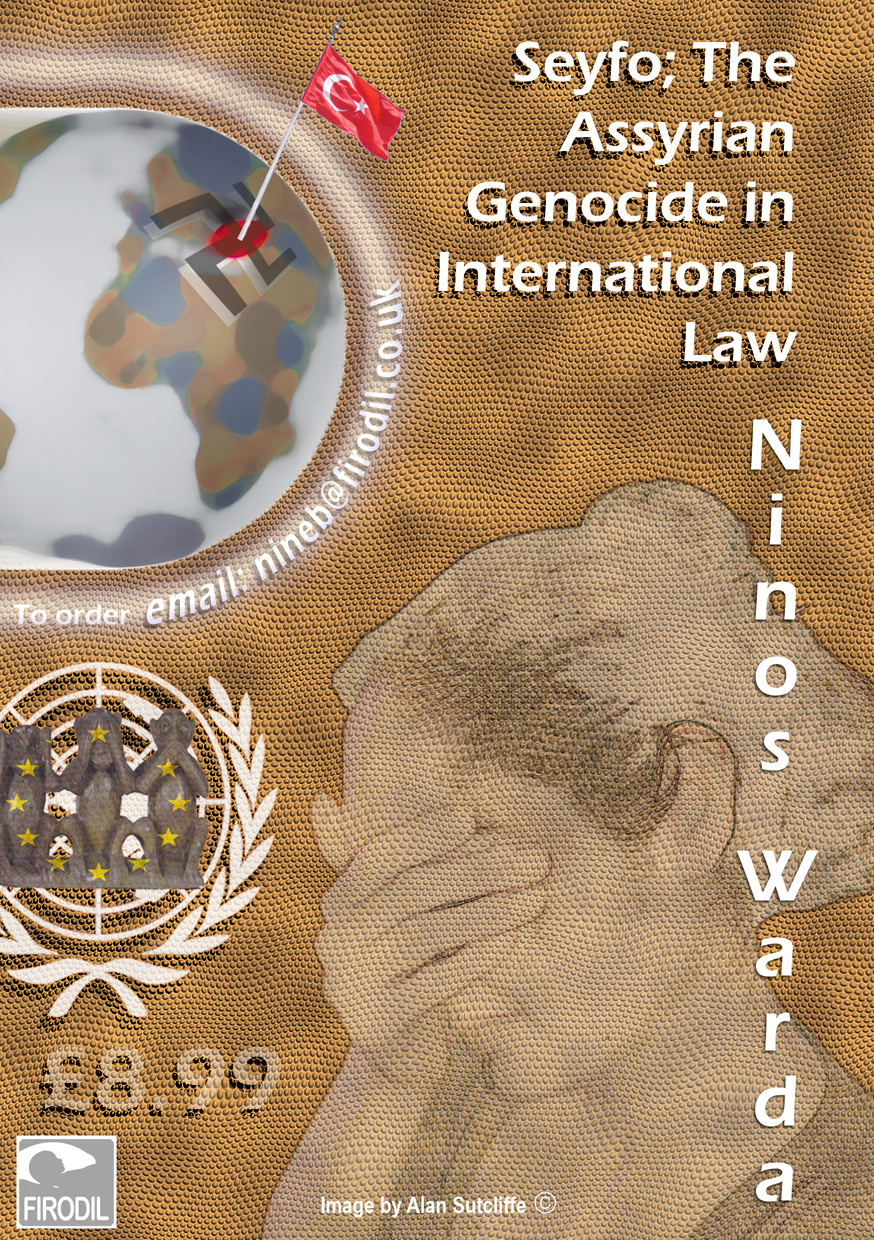 CLICK POSTER TO ORDER YOUR COPY
Father Najim said he believed the people behind the mid-February attacks "came from outside Iraq and they (coalition forces) are doing nothing about it." He said that as an Iraqi, he could assure people "100 percent that no Iraqi man would ever do this. Not a Sunni, not a Shiite."
The people behind the mid-February attacks "want to create division and chaos. They want to stop the process of a new political situation" of democracy and peace, Father Najim said, adding that he did not understand what U.S. and British forces were doing to help keep order.
"Before we can talk about a constitution and democracy, we have to bring stability and unity," he said. "Instead, there is Iraq being divided and creating different camps. Each group is like a country in itself" with its own leader, people and army.
Gunmen shot dead 47 civilians during a protest against the bombing of a sacred Shiite shrine known as the Golden Mosque in Samarra, north of Baghdad. By Feb. 23, more than 110 people were believed killed in the previous two days; many were shot execution-style, The Associated Press reported Feb. 23.
Such attacks against religious places of worship have "never happened in the whole history of Iraq; never (was) sectarian strife" caused by the Iraqi people themselves, Father Najim said.
The terrorists "want to take advantage of the situation, and they know that the most sensitive thing is people's religious sentiments" so they aim at religious places, Father Najim said.
"Our history has been destroyed, our archeology has been destroyed, our culture is being destroyed and our sovereignty has been taken away. The only things left are money from oil and our people," and terrorists were trying to control those by creating chaos, he said.
Vatican to Muslims: Practice What You Preach
Courtesy of the New York Times
23 February 2006
(ZNDA: Paris) After backing calls by Muslims for respect for their religion in the Mohammad cartoons row, the Vatican is now urging Islamic countries to reciprocate by showing more tolerance toward their Christian minorities.
Roman Catholic leaders at first said Muslims were right to be outraged when Western newspapers reprinted Danish caricatures of the Prophet, including one with a bomb in his turban. Most Muslims consider any images of Mohammad to be blasphemous.
After criticizing both the cartoons and the violent protests in Muslim countries that followed, the Vatican this week linked the issue to its long-standing concern that the rights of other faiths are limited, sometimes severely, in Muslim countries.
Vatican prelates have been concerned by recent killings of two Catholic priests in Turkey and Nigeria. Turkish media linked the death there to the cartoons row. At least 146 Christians and Muslims have died in five days of religious riots in Nigeria.
``If we tell our people they have no right to offend, we have to tell the others they have no right to destroy us,'' Cardinal Angelo Sodano, the Vatican's Secretary of State (prime minister), told journalists in Rome.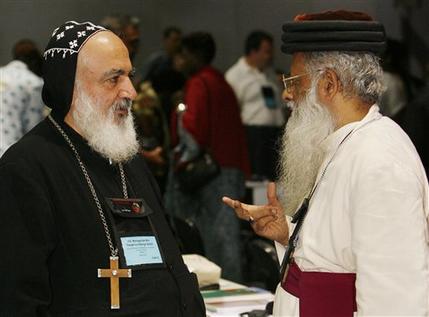 H. E. Metropolitan Mor Theophilus George Saliba, Syrian Orthodox Patriarchate of Antioch and All the East Lebanon, left, and Most. Rev. Dr Mar Aprem, Assyrian Church of the East India talk during the 9th Assembly by the World Council of Churches in Porto Alegre, Brazil, on Wednesday, Feb 15, 2006. A planned papal trip to Turkey will be a critical test of Christian-Muslim relations following the slaying of a Roman Catholic priest in an attack possibly linked to protests of cartoons depicting the Prophet Muhammad, a top Vatican official said Wednesday. (AP Photo/Nabor Goulart)
``We must always stress our demand for reciprocity in political contacts with authorities in Islamic countries and, even more, in cultural contacts,'' Foreign Minister Archbishop Giovanni Lajolo told the daily Corriere della Sera.
Reciprocity -- allowing Christian minorities the same rights as Muslims generally have in Western countries, such as building houses of worship or practicing religion freely -- is at the heart of Vatican diplomacy toward Muslim states.
Vatican diplomats argue that limits on Christians in some Islamic countries are far harsher than restrictions in the West that Muslims decry, such as France's ban on headscarves in state schools.
Saudi Arabia bans all public expression of any non-Muslim religion and sometimes arrests Christians even for worshipping privately. Pakistan allows churches to operate but its Islamic laws effectively deprive Christians of many rights.
Both countries are often criticized at the United Nations Human Rights Commission for violating religious freedoms.
Pope Benedict signaled his concern on Monday when he told the new Moroccan ambassador to the Vatican that peace can only be assured by ``respect for the religious convictions and practices of others, in a reciprocal way in all societies.''
He mentioned no countries by name. Morocco is tolerant of other religions, but like all Muslim countries frowns on conversion from Islam to another faith.
Iraqi Christians say they were well treated under Saddam Hussein's secular policies, but believers have been killed, churches burned and women forced to wear Muslim garb since Islamic groups gained sway after the U.S.-led invasion in 2003.
Christians make up only a tiny fraction of the population in most Muslim countries. War and political pressure in recent decades have forced many to emigrate from Middle Eastern communities dating back to just after the time of Jesus.
As often happens at the Vatican, lower-level officials have been more outspoken than the Pope and his main aides.
``Enough now with this turning the other cheek! It's our duty to protect ourselves,'' Monsignor Velasio De Paolis, secretary of the Vatican's supreme court, thundered in the daily La Stampa. Jesus told his followers to ``turn the other cheek'' when struck.
``The West has had relations with the Arab countries for half a century, mostly for oil, and has not been able to get the slightest concession on human rights,'' he said.
Bishop Rino Fisichella, head of one of the Roman universities that train young priests from around the world, told Corriere della Sera the Vatican should speak out more.
``Let's drop this diplomatic silence,'' said the rector of the Pontifical Lateran University. ``We should put pressure on international organizations to make the societies and states in majority Muslim countries face up to their responsibilities.''
Concern in Holland Over Return of Assyrian Refugees to Syria
Courtesy of the Nederlands Dagblad
16 February 2006
(ZNDA: The Hague) Within the Syriac-Orthodox community of the Netherlands there is a great concern rising, about the government's intention to deport a few hundred refugees to Syria. High representatives from the Syrian authority are currently working in the Netherlands to make this possible.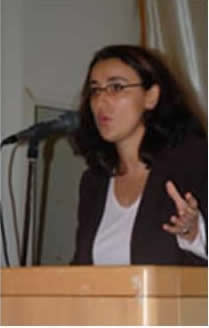 Ms. Attiya Gamri, an Assyrian politician in the provincial parliament of the Netherlands
"There is great fear within our community", says the Assyrian politician, Ms. Attiya Gamri, a member of provencal parliament in Holland representing the political party PvdA in the province of Overijssel. According to Ms. Gamri there may be as many as 250 to 300 people who may be deported to Syria in the near future.
The Syrian authorities had shown no interest in the welfare of these refugees until now. Mr. Klaas Harink, the director of the refugee organization in the Province of Fiesland says: "The cooperation which they apparently are giving now, is remarkable." He confirms that there are talks with high representatives of the Syrian authorities, and the refugees whose cases have been declined are now being summoned to take part in these talks.
"Negotiations with countries to accept such refugees is not unusual", says Mr. E.J.P. Cats, an attorney from the Dutch town of Emmen. Mr. Cats is currently working on a few cases of the Syrian refugees. "But in this case I'm skeptical," explains Mr. Cats. He continues: "Syria doesn't have a good reputation."
According to Mr. Cats the information obtained from the the asylum requesters should not come into the hands of the Syrian authorities. "These people have asked the Dutch government for protection, even though their asylum request is denied, these people still need protection." Cats is wondering how the IND (Immigration and naturalization Service) can guarantee the safety of these Syrian refugees.
The Assyrian Syriac-Orthodox community in Holland is equally concerned about the way the refugees are treated by the Syrian authorities after they return to Syria. Although the talks about the return to Syria from the Netherlands have raised concern for many Assyrian refugees in Holland, most refugees are afraid for the reaction from the Syrian authorities to their asylum requests in the Netherlands. Even if the IND does not provide any information about the asylum requests, the asylum seekers are afraid that the Syrian authorities may become aware of the refugees identities.
Ms Attiya Gamri explains: "It's to simple to say that the Syrian authorities don't know the reason for this".
Every refugees that returns to Syria is held by the authorities to verify their identity, confirms the Dutch Ministry for foreign affairs.
According to Ms Attiya Gamri a percentage of the people being kept by the Syrian authorities in this way are even tortured. "And they are at risk of disappearance in the jails. I don't question the fact that the returning refugees will be seen as traitor. In Syria opposition against president Assad and the political system isn't tolerated."
The rights of the minority groups in Syria are barely regulated, so confirms the Dutch Ministry for Foreign Affairs in a statement.
Christians are not prosecuted for their religion, yet their ethnic background does make their position precarious. The Syrian authorities have in the past repressed every form of deviating political activities.
But the Dutch ministry for Foreign Affairs sees no objection for the refused asylum seekers to return to Syria, although there is much concern about their general human rights situation. Often detainees and prisoners are tortured, the Dutch ministry of Foreign Affairs states. But there is no proof of cases where the asylum requests have caused problems for the seekers in the past.

Dr. Khosroeva Receives "Assyrian Scholar" Award
Dr. Anahit Khosroeva
(ZNDA: Chicago) Last week, Dr. Anahit Khosroeva, an Assyrian Senior Researcher at the Institute of History of the National Academy of Sciences in Yerevan, Armenia was presented with the Assyrian American National Federation's first "Assyrian Scholar" award.
The Assyrian Scholar Award is bestowed upon an individual who demonstrates a commitment to the scholarly and academic studies of the Assyrian people, past or present. According to Mr. Alladin Khamis, president of the AANF, "the Assyrian Scholar is a singular honor given only to scholars whose tireless efforts further efforts to educate either ourselves or others about the history of the Assyrian people."
Dr. Khosroeva's research on the Assyrian Genocide of 1915 at the hands of Ottoman Turks has gained widespread international recognition in the last few years.
Dr. Khosroeva will be honored on Sunday, 26 February, at a dinner reception organized by the Mesopotamian Museum in Chicago.
A Christian Response to Anokeen Varani
Edward Mikhail
California
I am not defending Zinda Magazine because its track record proves that it publishes both sides of every story and in this case it based its article on the facts observed by their correspondent at the Court of Law.
Unlike Ms. Anokeen Varani's attack on the followers of His Grace Mar Bawai Soro, I wish to let her know that I consider her a Sister in Christ. I have no doubt that she loves our Church as much as I do if not more. If we are true Christians we should refrain from attacking and calling each other names.
Winter 2005 Issue of the Assyrian Star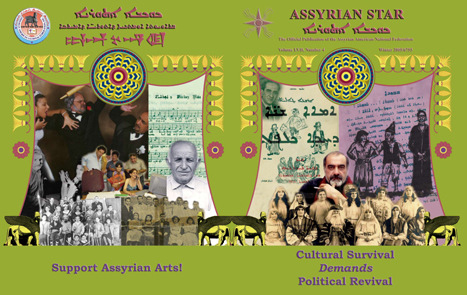 64 informative pages will be available in a few weeks
New 2006 subscribers receive the Theater Issue as Bonus
Subscription Rates:
USA ... $30
Canada ... $35
International ... $40
Institutional Subscribers ... $55
Send your check today to:
Assyrian Star
P.O. Box 2880
Worcester, MA 01613
Questions? theassyrianstar@aol.com

(Why not make a gift subscription to a loved one or friend?)
I did not hear any one claim winning the case, on the contrary all I have heard from His Grace Mar Bawai and his followers is the fact that there are no winners or losers in a case like this. When Church of Christ suffers we all lose.
As for various points in her attack, I would like to say that if Ms. Varani were at the Court, she would have seen both sides of any word that was said or ruling that was made. It is sad that she accuses Zinda Magazine of being one sided and yet she only writes about the side that suits her. Soon the ruling of the court will be made available and hopefully Zinda will publish it. However, here are some answers:
a) While it is true that the matter is still pending, the Court ruled in favor of His Grace Mar Bawai since the law suit filed by The Assyrian Church of the East called for a restraining order against Mar Bawai. The status quo of the Western California Diocese under the directorship of His Grace Mar Bawai was maintained while giving Church Service rights to the Assyrian Church of the East at Mar Narsai Parish and partly at the Mar Gewargis Church.
b) As for Ms. Varani's tears about the money of poor old women given as Mashkhadta and her claim that she does not know what happened to this money. Let me tell Ms. Varani that His Grace Mar Meelis was asked if His Grace Mar Bawai Soro committed any Crime, his answer was "No". Every penny has been accounted for and the Financial Officer of the Diocese Mr. Shimshon Antar was not even called to testify.
c) Ms. Varani also mentioned that only Rev Yoshia Sana of the Chaldean Catholic Church of the East came to the rescue of His Grace Mar Bawai. Once again, she fails to mention that Rev Yoshia was asked to write to the court in response to a declaration written by Rev Paul Joseph Goda. Rev Goda was asked by the Assyrian Church of the East to write a declaration as an expert of the canons of the Assyrian Church of the East. Rev Goda is a Catholic Jesuit not even an Assyrian. While both experts in the case are Catholics, Rev Yoshia consulted by His Grace Mar Bawai is an Assyrian.
d) I do not recall reading anywhere that Ms. Varani or for that matter anyone else was present when His Grace Mar Bawai told His Holiness Mar Dinkha that "we are a weak church", nor I recall His Holiness Mar Dinkha ever say this in public. This is another fabrication from the Factory of Lies.
e) As for lies, hate, deception and evil, I need not say anything. If there was an artist in that Courtroom, he could have painted a very telling picture of who possessed these qualities.
Finally my Sister in Christ, God gave us two ears, two eyes and a fantastic brain to help us see both sides of this or any other issue. Let us not be blinded by being hateful and personal. I pray for Ms. Varani and promise her that Truth will prevail and only the Truth shall set us free.

The letter above was submitted to Zinda prior to the official court ruling which appears in this issue under News Digest. Rev. Paul Goda is a Professor of Law at Santa Clara University in Santa Clara, California (click here). The term Factory of Lies has recently been used in the Assyrian discussion groups and informal television talk shows in reference to the Assyrian television program, AssyriaSat. Mrs. Anokeen Varani is the grand-daughter of the Assyrian-Iranian military general, "Sartip" Phillip Bet-Oshana, the most decorated Assyrian military person in the modern Iranian army. General Bet-Oshana was instrumental in the building of the Assyrian Church of the East cathedral in Tehran, where later His Holiness Mar Dinkha IV was transferred to preside over as a bishop. In 1976 Mar Dinkha IV was consecrated as the Patriarch of the Church of the East. The seat of the bishop of the Diocese of Tehran is currently empty. To rebuke Mar Bawai Soro for his alleged wrongdoings on the basis of the findings of the last Holy Synod His Grace was asked to move to Iran and assume the position of the Bishop of Tehran, Iran (and Russia) - the position once occupied by His Holiness Mar Dinkha IV.
The following is the full text of the findings of the court presided by the Honorable Kevin J. Murphy regarding the preliminary injunction issued by the Court on December 22, 2005 for the plaintiffs, the Holy Synod of the Holy Apostolic Catholic Assyrian Church of the East, et al and the defendants, His Grace Bishop Bawai Soro and Mr. Shimshon Antar:
In the Superior Court of the State of California
In and for the County of Santa Clara
No 1-05-CV-054812
Filed February 23, 2006

This matter came on for hearing on January 30, 31 and February 1, 2006, the Honorable Kevin J. Murphy presiding, on the Order to Show Cause Re: Preliminary Injunction issued by the Court on December 22, 2005. Robert S. Sturges, Robert Oushalem and Tony J. Tanke appeared for plaintiffs. William Faulkner, McManis Faulkner & Morgan, appeared for defendant, Shimshon Antar. William B. Clayton and Henry W. Roux, Clayton & McEvoy appeared for defendant, Ashur B. Soro. Witnesses and exhibits were presented and the matter was argued and submitted for decision.

The Court finds that there is no evidence before the Court to suggest that Bishop Soro or Shimshon Antar misappropriated or misused any funds, no evidence whatsoever that Bishop Soro or Shimshon Antar were involved in some inappropriate illegal action, and no evidence that the defendants were involved in some sort of attempt to prevent individuals from exercising their religious beliefs. The Court further finds that there has not been a showing that plaintiffs would suffer irreparable harm if the Court does not issue the mandatory prohibitive injunction sought by plaintiffs.

Good cause appearing therefore,

IT IS HEREBY ORDERED that plaintiffs' application for a mandatory preliminary injunction, as set forth in plaintiffs' moving papers, is denied.

The Court further finds that it is appropriate to issue a preliminary injunction in some form, in order to prevent chaos.

Good cause appearing therefore,

IT IS HEREBY ORDERED that during the pendency of this action:

Plaintiffs and defendants are mutually restrained and enjoined from transferring or encumbering the real property or transferring or removing the personal property or assets of the Holy Apostolic Catholic Assyrian Church of the East Diocese of Western California, a corporation, or of Saint George Parish, Ceres, California, a corporation, or of Saint George Parish, Mar Yosip Parish, and Mar Narsai Parish, except in the ordinary course of business. "Ordinary course of business" means (and this is not meant to be complete and comprehensive list) that the parties should be able to pay for the operation of the facilities and to pay the current debts which includes loans and salaries, among other things;
Plaintiffs shall have the exclusive use and possession of Mar Narsai Church, San Francisco, California;
Defendants shall have the exclusive use and possession of Mar Yosip Cathedral, San Jose, California;
Plaintiffs and defendants shall share the use and possession of Saint George Church, Ceres, California;
Plaintiffs and defendants shall conduct their use and possession of church property in a manner consistent with all applicable laws and regulations and shall leave the premises in a clean and tidy condition;
Each party shall maintain financial records;
Each party shall provide the adverse party, either as individuals or their attorneys, with copies of all financial records, including but not limited to, evidence of credits and debits, loan documents, any record of assets and liabilities, tax documents, and any corporate books or records.

IT IS FURTHER ORDERED that, before this order shall take effect, plaintiffs must file a written undertaking in the sum of $750,000, as required by the Code of Civil Procedure Section 529, for the purpose of indemnifying defendants for the damages as they may suffer by reason of this preliminary injunction if the court finally decides that plaintiffs are not entitled to it.

February 23, 2006
Judge of the Superior Court
Kevin J. Murphy
Kanna's Next Move
Jonathan S. Davidson, M.D.
California
Our colonies in exile in the United States have recently been blessed by the visits of the honorable Mr. Yonadam Kanna, recently re-elected to the Iraqi parliament. The public has recently been informed by the ADM leadership, specifically through a televised audio report by Dr. Adam from Chicago that Mr. Kanna has met congressional leaders and given his report. He has also reportedly been in a meeting with our president. Given the absence of any formal press releases from the US government regarding these events, it is unlikely that any such meetings of any significance have taken place. Certainly a victory celebration, fundraising, multi city tour around the United States would be a good reason for our member of the parliament to travel from Iraq to the United States.
DAVID YOUKHANA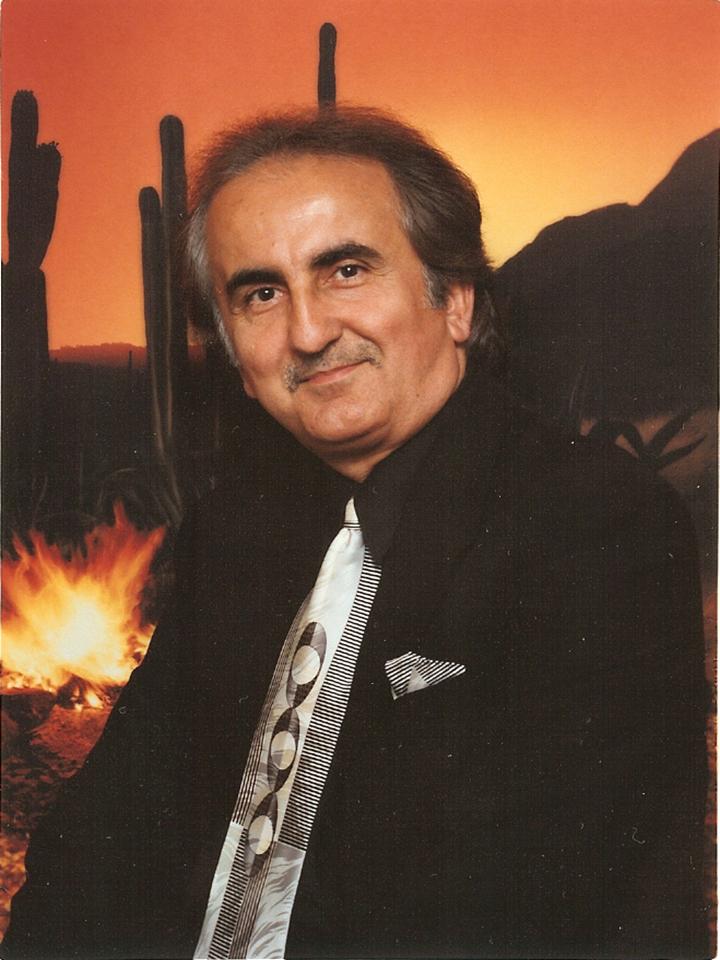 ARIZONA


Real Estate-Relocation-Investment
Broker / Owner
Certified Commercial Sales Specialist
Babylon Realty
Glendale, Arizona 85310
Click Photo For More Information
The Assyrian satellite programs have shown us videos of Mr. Kanna's speech in San Jose, after which Mr. Kanna posed for photos with the very jubilant ex Bishop Mr. Soro.
We have also seen the video of Mr. Kanna and his entourage meeting with HG Mar Dinkha. These meetings are probably the principle reason that Mr. Kanna has come to the United States. The so called 'internal' problem of the church will most likely be eventually decided on behalf of the church leadership. The church will most likely be awarded damages of several million dollars which will make the ex bishop bankrupt. It is likely that Mr. Kanna has consulted with the ex bishop and approached the patriarch and requested a resolution outside the court system. Although the details of the meeting with the patriarch are unknown to us clues exist about the general tone of this meeting.
I had the pleasure of attending an Assyrian Aid Society fund raising dinner in the city of Turlock at which Mr. Kanna was the key note speaker. What was most striking about his speech was the bold confrontational rhetoric against the church leadership. Specifically the following was said:
a) …' these are the same people who killed Jesus Christ'… referring to the church leadership and their similarity to the Jewish religious establishment that asked for Jesus's crucifixion.
b) …'the church leadership behaves as if they were stars….and we will bring down these stars…'
c) ….' You have seen what the people have done, they have elected us with a
majority'…
Additionally during a televised speech the following was said: …' it used to be that the patriarch would ask for twelve body guards from the Diyari tribe and he would get them, this does not happen any more'…
It is likely that Mr. Kanna has asked the patriarch for the legal action against Mr. Soro to be dropped and the church property in question be divided between the opposing parties. Mr. Kanna is convinced that he is the elected leader of the Assyrian Nation and that he has been given a mandate by the Assyrian public. He also views the leadership of both churches as obstacles to the unification of those who call themselves Assyrians, Chaldeans and Jacobites. Such unification, according to ADM is requisite for creation of an autonomous administrative region for Assyrians.
It used to be that Assyrian nationalists engaged in the appeasement of the church leadership. This practice officially ended when Chaldean bishops were criticized for their influence of the 2000 US census. Currently ADM has opted for a more confrontational stance toward the church leaders. Mr. Khanna's characterization of the church leadership amounts to vilification (making one look like a villain) and implies threats of removal. Given the fact that the church is an autocracy/oligarchy removal of the patriarch can only occur through death, natural or otherwise. If history teaches us anything it is that vilification usually precedes assassination. We need to know if the patriarch has received an ultimatum from the ADM. We need to know if the patriarch has been threatened. Is the church leadership in danger of forced removal? Growth of our secular movements is welcome but it should not occur at the price of destruction of the church and its leadership.
Bring on the Future
Filham Y. Isaac
Canada
Aside from the print media that I read I have no other outlet to be heard or be in contact with my fellow Assyrians. This is our current situation. So I tend to participate in some discussions on the Assyrian forums. We do have some TV capabilities but at the moment most of them are limited in their range and in some cases they are misleading the unsuspecting listeners because on occasions some political and/or religious news are distorted using off the cuff remarks to further complicate our current situation. A news broadcast that generates rumors and engages in personal innuendos under the guise of nationalism is hard for me to take seriously.
So, in the void of good information I spend some time sorting through some posts and articles on the AINA forum until recently when I have taken a self imposed break. Some friends have noticed this and are wondering if I have been banned by the moderators. I too have noticed the absence of a handful of great individuals who are active contributors and affective promoters of our plight and news for Assyrians and many other non-Assyrians.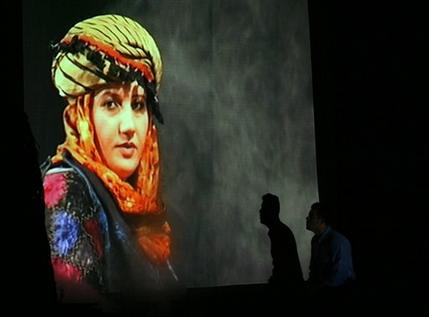 An actress, dressed in Assyrian Christian traditional clothes, in a theater multimedia performance in Ainkawa, suburb of Irbil, Iraq Saturday, Feb. 18, 2006, appears on the screen as her partner actor kneels. The play is about a Christian girl who was raped while visiting her fiancee in prison during the time of Saddam Hussein. It is the first play since his fall in Assyrian language that deals with issues related to peoples' traumas of the time before 2003. This multimedia performance coincides with the continuation of Saddam's trial. Assyrian language dates back a few thousand years and is now spoken by most Iraqi Christians in the north of the country. (AP Photo/Sasa Kralj)
So to quickly answer that, NO I am not banned from AINA. It is my choice that I am staying away from the current ebb and flow of the same old tired subjects. I am sorry to say that I find very little in common with topics discussed. The current discussion show how petty we have become because for the outside reader this is a window from which they can sample and peer into our internal national affairs
On to the BNDP forum we go. I did, and this was even worse. The hardcore fanaticism that I see there is disturbing and a great percentage of the topics are nothing but an internal war of words. It is a risky business being on this forum because they do not seem to care for anyone else's opinion. Other than theirs, the rest are seen as (let me list some of the milder adjectives they use), LIERS, pure THUGGARY, TRAITORS, SORO SUPPORTERS, ZOWAA INTIMEDATORS etc.
I tried to softly get into some conversations and to do what I consider to be for the goodwill of all Assyrians and not just confront who is bashing the people that are trying to do some good. This is not something anyone on this forum wants to entertain. They do not want to even hear you out. You are immediately drowned with what they are advocating starting with their top guns. So, the rest of these drones will follow in a single line formation under indirect and at times not so subtle tiny threats of banishment. The end result from what you read there gives you the impression that an Assyrian civil war is at hand.

With such mentality is it any wonder that it is not so easy for any sort of leadership to be totally successful in the Assyrian society. Our people will always choose the negative side and will battle the do- good-er tooth and nail. That could be just the 5% difference of objectives but according to the noise makers that is a good reason for them to spend their life fighting over it and totally ignoring the bigger common percentage which in fact is what will advance our cause as a nation. Everyone has a good chance to do some good but only great people will dare to try.
Our nation has not experienced this process for thousands of years. They will look up to other nations and marvel at their accomplishment yet when one of their own tries the same they will turn on him/her like a pack of wolves. I often think that this kind of mentality is not a genetic reach from of the ancient Assyrian traditions. It is a non-Assyrian trait learned from other nations. By geographically existing within the same sphere we have unfortunately adopted a lot of these traits but mostly the most destructive ones that stand in the way of our advancement. In such environment one would think it is far better to band together in order to survive. Granted, when the Assyrians seized to be a power one would expect that they would experience a long period of decline but they have had such a long time to rebuild themselves into a better and slightly more organized nation. God knows tens of centuries are ample time to show at least a few forward steps and some accomplishments. Instead of learning how to band together we have become masters in obstacle building.
This is a contributing factor in why unity has eluded us for so long. The few people that stick their necks out will become targets for the majority. I am grateful that some of our people are emerging to break loose from this trend and it is my belief that I should help in this process. I need to try something different.
Think of all the hundreds of years past. Every time a great man emerges from our midst they get knocked off by a wall of opposition and ridicule. They have never received our sincere encouragements and our full support. No Sir, they always end up being isolated and reduced in stature. In the end they are branded as traitors.
For a very long period, the power base happened to be concentrated within the church hierarchy. In the beginning, great achievements were realized but gradually (and as the saying goes, power does corrupt) the total control the church exercised on this nation superseded most of the national aspirations and the democratic processes and eventually turned it into a theocratic rule. We are now struggling with a huge aftermath of the results and I am referring to name issue. The prize then was the leadership of this nation same as it is now.
There are many other moments in our recent history that suffered the same fate. Agha Patros was a great leader for his era but never did receive the full support of this nation. End result, he vanished as quickly as he emerged. Only God knows how many other people could have stepped forward onto the national stage but were tripped on the first step.
Mr. Yonatham Kanna is all what this nation has at this time (never mind being democratically elected) and the man have so far navigated a very difficult course in the Iraq and outside. He needs our support en masse. Instead he has to deal with all the obstacle builders from some of his own people and one would think what this man is trying so hard to do is good enough to earn our full support. This unfortunately, dislodges him from the main course because instead of devoting all his energy to working on the objectives of the Assyrian platform he has to duck and bob to avoid all the stones been throwing at him from some of his own people. The tragedy is that at the end of his current four year tenure, the same crowd, will blame him for not fulfilling their expectations and will forget that they were the stone throwers.
One other such a person is His Grace Mar Bawai Soro. I have known this gentle giant from his early days of his priesthood in Toronto – Canada. When Mar Bawai hints at a much needed reforms and preaches solidarity of his nation, His Grace received no support from the stale hierarchy. Instead his reward was banishment.
Such results are morale breakers and most discouraging and will further diminish our chances to nurture people with leadership qualities. For this reason alone, we are deficient in this area. Often times we hear that we should not mix religion and politics. It is because they are two opposing elements that are competing for the same person and each wants to win the same person. Each one of us is free to choose his/her faith but most of us were born to this nation and we have no choice. I personally have the utmost respect for all the other denominations within our nation but my yearning is to be who I am for the last 6755 years. For our church to compete for my soul does not mean that I should surrender my entity. Realizing this, the Church and State can work together but to my dismay this is not the case. Change is never easy to accept and this is our nation's paradigm shift that we must accept and learn to deal with the current world and realize that the church can no longer dominate all aspects of our lives as in the past. This was so until His Grace Mar Bawai emerged to break this mold and dared to extend a unifying hand to the political leadership.
Greatness is when you have someone like Mar Bawai is willing to cooperate with the other side (political side) while understanding that the two elements should stay separate. Mar Bawai is not competing for the leadership of this nation. He wants to break the thick chains that pins us down as nation. The prize is very worthwhile and compliments both elements. In unity there is strength and in uniting a nation there is continuity of faith.
More over, the proposed reforms are long overdue and are designed to revive our church. Our reality is that most of our people live outside the homeland and we all know the reasons for that and unless some drastic measures are administered our faith will flicker in the wind for a few short decades then the flame will be die and vanish for good. Mar Bawai's name will be recorded in the church history as a person that ensured the continuity of this church by keeping the flickering light as beacon of hope and the connecting link for our next generations that are brought up in the Diaspora.
We are in dire need of some sort of breakthrough and I will not listen to those that want to maintain the status quo and I do not care to listen to their tired arguments that are spun from their lack of imagination and same old fears of inactivity and short sightedness. It is crystal clear to me where we are heading and I need to trust myself and lend a hand for the brave men and women that truly are the leaders of this nation. This nation can not afford another 2000 years of negative progress.
The way forward is for you and me to try something different. The old school of thought can ring their bells but I am no longer attending classes. I am a new man! Bring on the future.
Desperately Seeking Nina
Nina Aide
Pennsylvania
My name is Nina Aide. I live in the USA, state of Pennsylvania. For a few years I've been trying to locate a friend of mine, who according to the last information I got, lives in France. She is an Assyrian, a niece of Tamraz N. Ivanov, born in Georgia, Tbilisi, in 06/25/1959, former USSR.
I would very much appreciate if anyone could help me find Nina Ivanova.
My contacts are as follows: e-mail addresses: aide_nina@msn.com or nrm0715@yahoo.com and my cell phone#: (267) 664-4234 .

Thank you very much in advance.

Rosie Malek-Yonan to Appear at UC-Berkeley

For Immediate Release

GLENDALE, CA – February 2006 – With the recent release of her historical and literary epic novel, The Crimson Field, Assyrian-American author Rosie Malek-Yonan continues on her mission to shed light on the 1914-1918 Genocide of 750,000 Assyrian Christians (also known as Syriac and Chaldean) in the Middle East. As a guest lecturer at University of California at Berkeley, she will be speaking about the Assyrian Genocide/Seyfo as depicted in her book.

Date: Wednesday March 1, 2006

Time: 6-8 p.m.

Location: U.C. Berkeley Campus, 170 Barrows Hall

MEDIA CONTACT:

Monica Malek-Yonan
Tel: 818-249-2242
Email: contact@thecrimsonfield.com

The Crimson Field is available to worldwide retail outlets through Pearlida Publishing
Email: publisher@thecrimsonfield.com
Also available on line at www.thecrimsonfield.com
ISBN Number 0-9771873-4-9
Hardcover, 568 Pages, Price $29.95

For upcoming events, reviews and sample chapter(s) visit: http://www.thecrimsonfield.com
Review copies and interviews arranged on request.
Because They Hate

Below are selected excerpts from Brigitte Gabriel's speech delivered at the Intelligence Summit in Washington DC, Saturday February 18, 2006. This article was first published in the Frontpage Magazine on 20 February 2006.
Brigitte Gabriel
Washington D.C.
We gather here today to share information and knowledge. Intelligence is not merely cold hard data about numerical strength or armament or disposition of military forces. The most important element of intelligence has to be understanding the mindset and intention of the enemy. The West has been wallowing in a state of ignorance and denial for thirty years as Muslim extremist perpetrated evil against innocent victims in the name of Allah.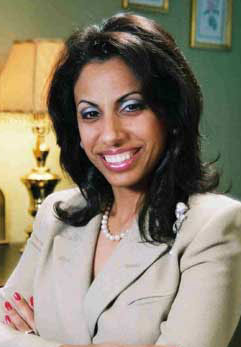 Brigitte Gabriel
I was ten years old when my home exploded around me, burying me under the rubble and leaving me to drink my blood to survive, as the perpetrators shouted "Allah Akbar!" My only crime was that I was a Christian living in a Christian town. At 10 years old, I learned the meaning of the word "infidel."
I had a crash course in survival. Not in the Girl Scouts, but in a bomb shelter where I lived for seven years in pitch darkness, freezing cold, drinking stale water and eating grass to live. At the age of 13 I dressed in my burial clothes going to bed at night, waiting to be slaughtered. By the age of 20, I had buried most of my friends--killed by Muslims. We were not Americans living in New York, or Britons in London. We were Arab Christians living in Lebanon.
As a victim of Islamic terror, I was amazed when I saw Americans waking up on September 12, 2001, and asking themselves "Why do they hate us?" The psychoanalyst experts were coming up with all sort of excuses as to what did we do to offend the Muslim World. But if America and the West were paying attention to the Middle East they would not have had to ask the question. Simply put, they hate us because we are defined in their eyes by one simple word: "infidels."
Under the banner of Islam "la, ilaha illa allah, muhammad rasoulu allah," (None is god except Allah; Muhammad is the Messenger of Allah) they murdered Jewish children in Israel, massacred Christians in Lebanon, killed Copts in Egypt, Assyrians in Syria, Hindus in India, and expelled almost 900,000 Jews from Muslim lands. We Middle Eastern infidels paid the price then. Now infidels worldwide are paying the price for indifference and shortsightedness.
Tolerating evil is a crime. Appeasing murderers doesn't buy protection. It earns one disrespect and loathing in the enemy's eyes. Yet apathy is the weapon by which the West is committing suicide. Political correctness forms the shackles around our ankles, by which Islamists are leading us to our demise.
America and the West are doomed to failure in this war unless they stand up and identify the real enemy: Islam. You hear about Wahabbi and Salafi Islam as the only extreme form of Islam. All the other Muslims, supposedly, are wonderful moderates. Closer to the truth are the pictures of the irrational eruption of violence in reaction to the cartoons of Mohammed printed by a Danish newspaper. From burning embassies, to calls to butcher those who mock Islam, to warnings that the West be prepared for another holocaust, those pictures have given us a glimpse into the real face of the enemy. News pictures and video of these events represent a canvas of hate decorated by different nationalities who share one common ideology of hate, bigotry and intolerance derived from one source: authentic Islam. An Islam that is awakening from centuries of slumber to re-ignite its wrath against the infidel and dominate the world. An Islam which has declared "Intifada" on the West.
America and the West can no longer afford to lay in their lazy state of overweight ignorance. The consequences of this mental disease are starting to attack the body, and if they don't take the necessary steps now to control it, death will be knocking soon. If you want to understand the nature of the enemy we face, visualize a tapestry of snakes. They slither and they hiss, and they would eat each other alive, but they will unite in a hideous mass to achieve their common goal of imposing Islam on the world.
This is the ugly face of the enemy we are fighting. We are fighting a powerful ideology that is capable of altering basic human instincts. An ideology that can turn a mother into a launching pad of death. A perfect example is a recently elected Hamas official in the Palestinian Territories who raves in heavenly joy about sending her three sons to death and offering the ones who are still alive for the cause. It is an ideology that is capable of offering highly educated individuals such as doctors and lawyers far more joy in attaining death than any respect and stature, life in society is ever capable of giving them.
A New Assyrian Magazine From Europe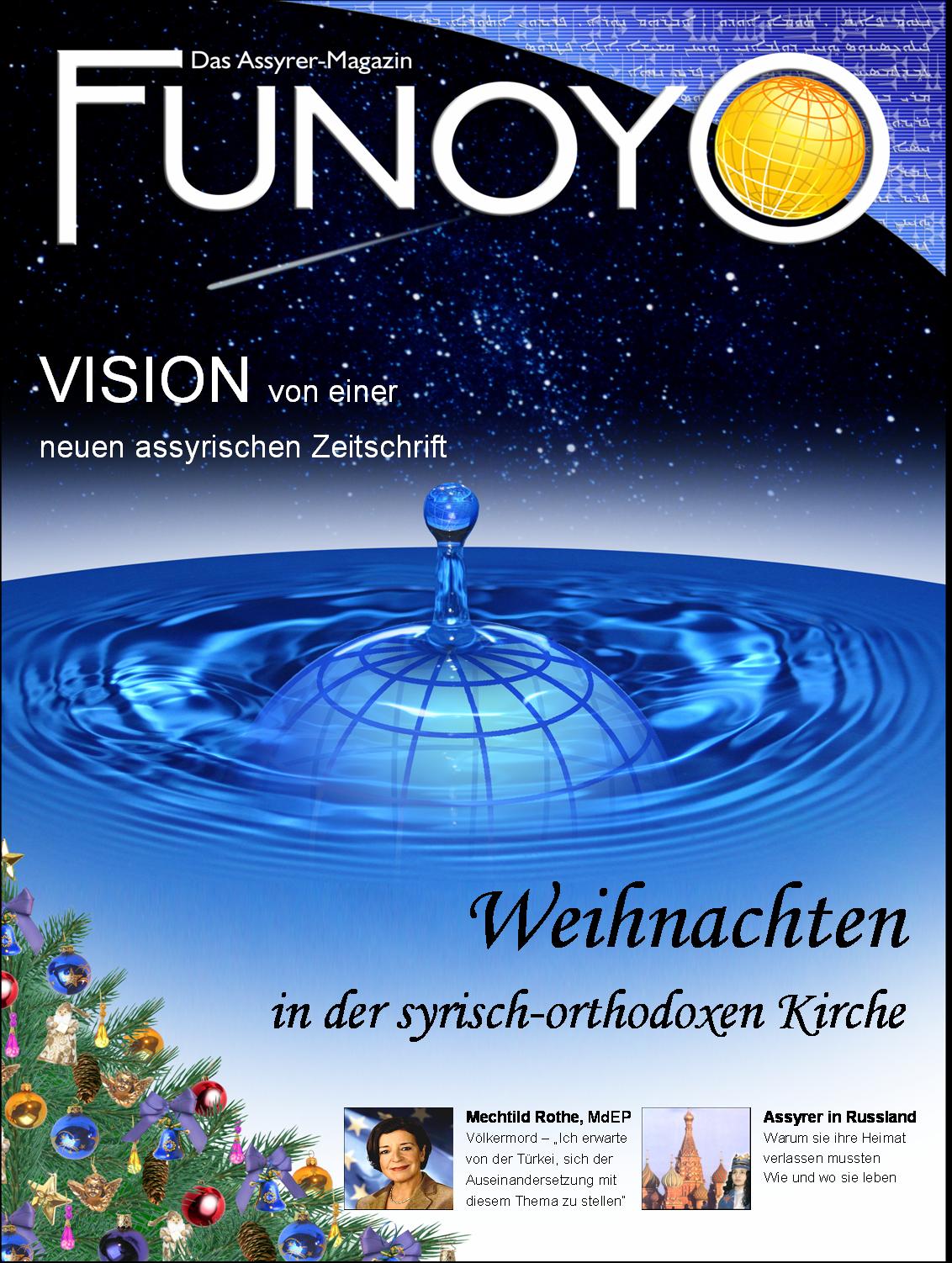 Contact Editorial Office at info@funoyo.de
The United States has been a prime target for radical Islamic hatred and terror. Every Friday, mosques in the Middle East ring with shrill prayers and monotonous chants calling death, destruction and damnation down on America and its people. The radical Islamists' deeds have been as vile as their words. Since the Iran hostage crisis, more than three thousand Americans have died in a terror campaign almost unprecedented in its calculated cruelty along with thousands of other citizens worldwide. Even the Nazis did not turn their own children into human bombs, and then rejoice at their deaths as well the deaths of their victims. This intentional, indiscriminate and wholesale murder of innocent American citizens is justified and glorified in the name of Islam.
America cannot effectively defend itself in this war unless and until the American people understand the nature of the enemy that we face. Even after 9/11 there are those who say that we must "engage" our terrorist enemies, that we must "address their grievances". Their grievance is our freedom of religion. Their grievance is our freedom of speech. Their grievance is our democratic process where the rule of law comes from the voices of many not that of just one prophet. It is the respect we instill in our children towards all religions. It is the equality we grant each other as human beings sharing a planet and striving to make the world a better place for all humanity. Their grievance is the kindness and respect a man shows a woman, the justice we practice as equals under the law, and the mercy we grant our enemy. Their grievance cannot be answered by an apology for who or what we are.
Our mediocre attitude of not confronting Islamic forces of bigotry and hatred wherever they raised their ugly head in the last 30 years, has empowered and strengthened our enemy to launch a full scale attack on the very freedoms we cherish in their effort to impose their values and way of life on our civilization.
If we don't wake up and challenge our Muslim community to take action against the terrorists within it, if we don't believe in ourselves as Americans and in the standards we should hold every patriotic American to, we are going to pay a price for our delusion. For the sake of our children and our country, we must wake up and take action. In the face of a torrent of hateful invective and terrorist murder, America's learning curve since the Iran hostage crisis is so shallow that it is almost flat. The longer we lay supine, the more difficult it will be to stand erect.
Syrian Authorities Follow Path of Asylum Seekers in Holland
Courtesy of Volkskrant
Toine Heijmans and Nuri Kino
The Netherlands
Two Syrian officials from the Netherlands are inspecting the identities of Syrians that will have to leave the country. The Syrians are asked to go to the Dutch immigration-service, but they are not
told that they are going to meet representatives of the Syrian government. Most of the 270 Syrians who are interrogated by the Syrians, amongst them asylum-seekers, are afraid that information given by them will end up in the hands of the Syrian intelligence service or the Mukharabat.
The information provided to the Syrian authorities indicates that the Syrians are held in Zwolle, Den Bosch and Rotterdam. According to the Dutch immigration service (IND) the Syrian officials are employees of the Syrian immigration-service in Damascus. The Syrian inspectors are part of the Ministry of Internal Affairs and "only run by the military and the secret service", says Abdulselam Youssef, spokesman for the Platform of Syrian Refugees in the Netherlands. "Giving information to them is dangerous", he says, pointing at the tyranny of the Syrian government, "as well as for their relatives in Syria."
There are a few hundred Syrians living in the Netherlands without a permit to stay - most of them rejected asylum-seekers. To deport them, the Dutch government normally sends them to the embassy in Brussels to obtain travel papers. Because it usually doesn't work, the Dutch and Syrian government decided to send in two Syrian officials who can determine the identity of the Syrians on the Dutch territory.
One of the officials, Ghazi Hamdaan, has according to several sources a high rank in the Syrian army. His job is to collect information on Syrians living abroad. The other, Ahmed Hayoush, works as an immigration official. According to several Syrians who spoke to them, they possess photographs of the Syrian asylum-seekers, and information on their names, places of birth, also information on their parents and other relatives. The Dutch Ministry of Justice assures that sensitive information on the refugees stays secret - but the Syrians don't believe that. They say it is unlikely that the IND asks them to come to their offices, without telling them that they are going to meet Syrian officials. "We are set up", says one of them.
Video-footage, shot in secret, of one of the meetings, shows the Syrian officials asking whether the Syrians are political asylum-seekers or if they had economic reasons to come to the Netherlands.
Dr. Rita Verdonk serves as Minister Without Portfolio for Immigration of Integration in the Netherlands government of second cabinet Balkenende. Verdonk is a member of the conservative liberal VVD and experienced difficulties last year in the Netherlands, when she had to admit that information on deported asylum-seekers from Congo was being sent to the authorities in Congo.
Human rights lawyer Haitam Malehdie, who will be granted the important Dutch Peace Prize de Geuzenpenning next month, says that it is dangerous to send people back to Syria. "The authorities ask themselves what these people were doing abroad, and they will keep a close eye on them. Nobody knows what exactly happens under the Syrian regime. People can just disappear."
A Zinda Interview with Dr. Donny George

The following is an interview conducted by Zinda Magazine with Dr. Donny George Youkhana, Director of Iraq's Antiquities and the Baghdad Museum. Dr. George is Assyrian and has been traveling extensively to bring greater recognition to the cultural devastation left behind after the looting of the Iraq's national museums in 2003. The interview was conducted by Mr. Ramin Daniels.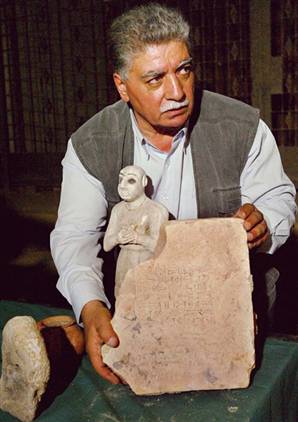 Dr. Donny George holding a precious Sumerian artifact which partially survived the looting in Baghdad.
Z: The looting of the museums after the initial chaos in Baghdad and Mosul has had a devastating effect on the cultural heritage of Iraq. What has been done since then?
DG: Really up to now we have estimated that 15,000 items were looted from the Iraq Museum. Most of them were looted from the store rooms and galleries left by the prior administration. The items recovered by the museum and are now at the museum are about 4000 items. Kuwait, Saudi Arabia, Jordan, Syria all have recovered Iraqi artifacts. Up to now we have not been notified of what may have been confiscated or recovered by the Turkish and Iranian authorities. Some artifacts have been recovered by the European governments, Holland and Italy, and there are over 1,000 items confiscated by the US authorities at the New York customs. Not all of these items were looted from the Museum. Some have been dug up from archeological sites, especially in the southern part of the country. My estimate is that about 50% of the items looted from the Museum have been recovered, which is not so bad in a period of two years. We have regular contacts with our neighboring countries, directly or through Interpol or UNESCO, and connections with other countries to keep track of the recovery process.
Z: Is anyone carrying out any archaeological excavations in Iraq today?
DG: Because the security situation is bad, the excavation and restoration work being done is very restricted. We do not want to send our people to far off places, as we do not want to jeopardize their life and security. Yet we have some projects in Baghdad itself and also inside the museum, to prepare for the reopening of the museum, and we are keeping a low profile. So excavation and restoration activities have dropped significantly.
Z: Is the threat of the destruction of the city of Ashur still a plausible issue?
DG: Regarding the dam threatening the city of Ashur, this was not a dam in Turkey. It was a dam near the city of Beji in Iraq, which would have created a lake submerging two thirds of the city. And the other third would suffer from subterranean water due to this nearby lake. It turned out that Saddam had a castle above the city. Once when he was staying at this castle, he looked down at the river below and remarked that it would be nice to have a lake by the castle. His entourage then sent after the minister of irrigation who came and told Saddam, "we will do as you wish." We later learned that the dam's site was a soft soil area, and the lake at its prime level, could have washed away the sulfur mines that are in the area and poisoned the water. For these reasons, this dam project has now been cancelled and the city is no longer threatened. The city of Ashur is now on the World Monument list. During that time, I worked on getting the city of on the World's Endangered Monument list while this dam project was in progress. Now UNESCO has informed us that the city of Ashur is no longer on the endangered list, only on the world monument list.
Z: With everyone concerned about reconstruction and security where do you find money for the museums and excavation works?
DG: Museum budget is within the budget of the State Board of Antiquities and Heritage. Whatever program we want we can work on. Our budget has been sufficient so far. We have submitted our request for next year's budget. We have funds for the other projects too, such as excavation and restoration work in the whole country. For those we have around three billion Iraqi dinars. During the time of economic sanctions it was very difficult and we did not have much money. The money we received from the government was given to us to promote Saddam. We would not have enough money in our budget, then he would send us a directive to take this much money for a certain project. Thus we would be obligated to always mention his name, that he gave us so much money.
Z: Right after the looting of the museums, Zinda Magazine reported that the Assyrian film maker, Benny Atouri, pledged a donation of one and half million dollars to the Baghdad Museum. Was this money ever received by this museum?
DG: I have never heard anything about this person and his pledge. But there is one thing that you should know. Baghdad Museum Project has nothing to do with us. The person who has initiated this project, John Simmons, I met him once in Washington a year and half ago for half an hour only. I realized that this person as we say in Iraq is "Clouchy". I heard from an Iraqi lady in Boston, who was on the board with him, is suing him now to remove her name from the board. I learned from her that he has so far raised 15 million dollars for the Iraqi Museum. But we have not received a cent from this money. We have nothing, no information from him, and he has not talked to us. When I met him in Washington he told me that I will make plans to come to visit you. Up until now, he has not contacted me, nor have we received a cent for Baghdad Museum projects. We are working with our minister to sue this person one way or another, because he is using our name and he has not given us any of this money. If people, like director Beni Atouri, want to donate, they can send directly to the Iraqi Museum, and we have a lot of people who send us their donations. Or they can send them to UNESCO. They can also do it through two people in the State Department, Maria Coropus or John Russell. I might add that UNESCO keeps 30% of the donations for its own projects, but the State Department, I believe, does not subtract from the funds. And we can provide them with budgetary plans for their donations.
Z: Are you planning to exhibit any pieces of the astonishing collection you hold in Baghdad and Mosul in Europe or North America?
DG: There is a company in Denmark called United Exhibit Group;they have been asking us for over a year to organize an exhibition of the Nimrod treasures. We realize that this is not the right time for such an exhibition. True, we have the authority to do these types of projects abroad. But this is not the time for it. Previously, these types of exhibitions were under the patronage of the UNESCO, but UNESCO is no longer involved in such projects. So we have postponed this. We are not ready for such an exhibition, neither the Iraqi cabinet nor the National Assembly are prepared to allow such exhibition to take place right now.
Z: Let's talk about the Assyrian politics for a little. You were asked to represent the Assyrian Church of the East in the initial talks toward the unity of all Christian groups and Syriac-speaking factions. What came out of those talks?
DG: Yes I was involved in the unity efforts, as I have always believed and supported efforts to bring our communities together. Getting together and sharing love and respect for each other is very important. So I participated in these efforts, but unfortunately, due to my busy schedule; I travel abroad frequently and when I am back home, I have to work long hours so I was often unable to be at their meetings.
Z: Are you involved in other efforts that directly benefit our Assyrian population in Iraq?
DG: I have recently become a member of the Department of the Syriac Literature in the Iraqi Science Academy. They have organized three departments, Arabic, Kurdish, and Syriac. We meet on a monthly basis and we have very capable people there. I am honored to be working with them.
Z: You have gained a great deal of respect among the Assyrians in Iraq and international recognition for your role before and after the fall of Saddam as the head of the Dept of Antiquities. Do you forsee a political future for yourself in Iraq?
8. Thank you for this question. I always believe that whatever I do is my duty as an Assyrian and as an Iraqi. I fight for the protection of Islamic antiquities. Sometimes my Muslim colleagues tell me, "you are a Christian and you care more than us." I tell them, "no, I am an Iraqi and these all belong to Iraq and Iraqi people." But I personally do not like to get involved in politics. For the last elections, Rabi Yonadam called me and asked me. I told him that whatever is for the benefit of my nation, I am prepared. We talked a lot, and we reached the conclusion that we have a lot of capable Assyrians to run for office. My position in the Department of the Antiquities is more important for now, and we decided that I should focus on my current responsibilities as I already am the deputy minister of Tourism and Antiquities which is a newly established ministry.
GENIRO
Put impressive musical talent, good looks, and a raw ambition to succeed and what you get is a brand new grooving voice like of which has not been heard in recent years. His name is Geniro and his songs are extraordinary in both lyrical and musical sense. As soon as any two songs are sampled on his debut album - 21 Days - or off of iTunes or Napster, Geniro is quickly found to be a great storyteller and his stories follow haunting beats and melodies.
Zinda Magazine recently caught up with Geniro at his home in Ontario, Canada. He is the youngest of 10 children in an Assyrian family who came to Canada some 18 years ago. He was only 6. The interview was short, yet as unforgettable as the first time we heard his songs in the office. Just listening to the first two songs we already knew a mega star on the commercial pop music scene was born.
---
Born into a musical family - the youngest child of ten - Geniro's interest and passion for music materialized early on in his childhood. At the age of five, tagging along to his older brother's band rehearsals, he would find himself performing in front of his very first audience. By 10, he would develop into a child prodigy.

Now, at 25, Geniro sets his career on course with the release of his debut album, 21 Days.

Recorded in Toronto, the album introduces 10 musically striking original songs. Led by the first single and title track "21 Days", the album muses on life and love, charging with raw emotion and a fervent vocal style. Instantly memorable choruses are fundamental to the mix as the album continues with the flirtatious beats of "Unbelievable Lady", to the Mediterranean flavor gem "Lonely", to the disco-tinged closer, "1 Night Stand". A dynamic first effort, 21 Days reveals an artist with an abundance of talent and musical diversity.

A skilled performer, Geniro is no stranger to the stage. As a child, he played the drums in his brothers' bands performing in many diverse settings, which included local nightclubs, in Toronto and as far as Sweden. But the drums were just the beginning. By 16, Geniro had turned his attention to the piano and began composing his own music. Able to experiment with his own sounds and grooves, he began to truly develop his craft and delve into the world of songwriting.

"When I write about something I've experienced in my life, the lyrics come out so much easier. The song practically writes itself," remarks Geniro. "That also reflects on the performance aspect of the song. I'd rather be singing about something that has a meaning in my life because it makes my music more passionate and intense."

On 21 Days , Geniro's role moves beyond singer and songwriter to include producer. With the exception of four songs - "21 Days" , "Longtime" , "Runaway" and lonely " - that see Geniro teaming up with Yurko Mychaluk and George Vacval, the rest of the album was entirely self-recorded and self-produced.

"I wanted my first album to sound absolutely different, like nothing else out there right now. People are exposed to so much music these days and influenced by so many styles, that they don't want to buy an album that sounds the same on all 10 or 12 tracks. They want something that's diverse. So that was my goal – to produce an album that didn't sound the same throughout, that had some variety but still had the Geniro stamp on each song. I don't think I could have accomplished that on this album if I had worked with only one producer that specialized in a certain style."

By merging his personal style with modern rhythms of today, Geniro creates a pop sound uniquely his own. Blessed with a sincerity and integrity instilled in him from a very early age, Geniro is poised to place his mark on the nation's musical landscape.
A Zinda Interview with Geniro

Z: When was the last time you were in Iraq?
G: I left Iraq in 1985 when I was 5. My family went to Iran first. Three years later we were in Canada.
Z: What part of Canada?
G: Ontario. I live in Brampton.
Z: When did you start presenting using your singing talents to the public?
G: In school I formed a rock band with a bunch of friends. What I remember the most is my singing at my brother's wedding when I was 5.
Z: You come from a very musical family. What do your brothers do?
G: My brothers have already gained a lot of fame working with other artists, producing and playing their music. Assyrians in particular. Have you heard of the great Assyrian saxophonist, Johnson Aghajan and his CD, the Irresistible Lips?
Z: Yes, of course.
G: My brother worked on that one.
Z: Is that Ninos?
G: Ninos is my inspiration. He's now touring with the Persian Band, Kamran & Hooman. He play the guitar, along with the other band member, David on keyboard.
Z: Is that David Bet-Samo?
G: Yes, Ogin's brother.
Z: And there is also your other brother, Robert?
G: That's my manager. He used to be in the Assyrian band - 3D's. His band toured Sweden, New York, Michigan, and Canada.
Z: What does Geniro play?
G: I've been playing the drums since I was 10. Then I switched to keyboard at 16.
Z: How long have you been singing professionally?
G: About 10 years.
Z: Do you prefer any particular style?
G: Pop / Rock mainly.
Z: The first time we heard your CD in our office in Washington, we could not believe our ears. We asked ourselves why is this Geniro guy not all over the North American pop scene already. Did you always knew that you had this talent for singing new pop music?
G: I grew up listening to music greats like Lionel Ritchie and Phil Collins. My music tends to be a lot more European in style, but I'm comfortable singing a wide spectrum of pop/rock.
Z: If you could switch places with one famous singer for just one day, who would that be?
G: Sting
Z: We noticed some Sting influence in "Taking Out the Trash" from your CD.
G: I like his music and style a lot.
Z: Speaking of style, one Zinda staff member likened your voice and music to the Greek singer, Demis Roussos. You're probably too young to know him, but you can take that as a complement.
G: Atlantic Seabreeze says I'm a Gino Vannelli in the making.
Z: You certainly have a talent for song writing. Do you write all your songs?
G: I wrote nine out of ten on "21 Days".
Z: Robert, your brother, is usually the person we've talked to the most after the release of 21 Days last August. He seems to be quite a believer in Geniro. Is that an accurate assessment?
G: My two brothers, Robert and Nino(s), are fully behind my music and career. Robert even gave up his singing to manage me and Nino plays the guitar on my tracks.
Z: Where are you with the marketing of your debut album?
G: My debut CD - 21 Days - has already found its way to North America and Australia via Internet Channels. We're now working with a marketing company. 21 Days is already featured on Napster and iTunes.
Z: What kind of response have you received from the Assyrian communities so far?
G: My CD is entirely in English and my music is not Assyrian folklore. So I don't expect the same response as you would to an "Assyrian" singer. You see, my audience is your typical pop music radio listeners. But despite of this I've gotten great feedback from the younger generation that appreciates hardwork and good music.
Z: Your title track was licensed for a recent Assyrian film.
G: Strategic Entertainment licensed"21 Days" for its latest film - Cousins.
Z: Last month a lot of people saw you perform live on a Canadian television program.
G: On January 3rd I appeared on DayTime talk show on the Rogers channel for a live interview where I performed my title track 21 Days. [Watch the live performance - click here].
Z: The qualify of your voice and the acoustic guitar playing was simply amazing. Speaking of your title track, did you write the song "21 Days" for a special girl?
G: (Smilingly) It's about meeting a girl for the first time, like preparing to meet a special girl for the first time.
Z: Geniro is not a very Assyrian sounding name. Is that your stage name?
G: It's all about me and my brothers.

To order Geniro's "21 Days" click here.
Thank You
The following individuals contributed to the publication of this issue:
| | |
| --- | --- |
| Fred Aprim | California |
| Dr. Matay Beth Arsan | Holland |
| David Chibo | Australia |
| James Daniel | Canada |
| Sargon David | Canada |
| Mazin Enwiya | Chicago |
| Youkie Khaninia | Arizona |
| George Stifo | Massachussetts |
| Lena Tailo | California |
ZINDA Magazine is published every week. Views expressed in ZINDA do not necessarily represent those of the ZINDA editors, or any of our associated staff. This publication reserves the right, at its sole discretion, not to publish comments or articles previously printed in or submitted to other journals. ZINDA reserves the right to publish and republish your submission in any form or medium. All letters and messages require the name(s) of sender and/or author. All messages published in the SURFS UP! section must be in 500 words or less and bear the name of the author(s). Distribution of material featured in ZINDA is not restricted, but permission from ZINDA is required. This service is meant for the exchange of information, analyses and news. Any material published in Zinda Magazine will not be removed later at the request of the sender. For free subscription to Zinda Magazine, send e-mail with your name, address, telephone number to: zcrew@zindamagazine.com.
ZINDA means "Spark of Fire" in modern Syriac (Assyrian); Zinda's Red Swoosh is a rendering of the seventh letter in the Assyrian alphabet, letter ZEN, and the first letter in the word "Zinda". For more information about the Assyrian culture and heritage write to Zinda Magazine.
Zinda Magazine™ Copyright © Zinda Inc., 1994-2006 - All Rights Reserved - www.zindamagazine.com