Brigham Young University Digitizes Syriac Text from Vatican
Courtesy of BYU & Beth Mardutho
U.S.
A collection of rare Christian manuscripts—some dating to the sixth century—will soon be accessible to scholars worldwide, thanks to a first-time collaboration between Brigham Young University, the Vatican Library and the Assyrian Church of the East.
Working alongside their Vatican colleagues for three years, BYU scholars imaged more than 14,000 pages of text to produce a digital library of 33 important Syriac Christian manuscripts, which will be available on DVD. For Bishop Mar Bawai Soro of the Assyrian Church of the East, access to these texts—which for centuries were out of reach—will help his church members to reconnect with their heritage.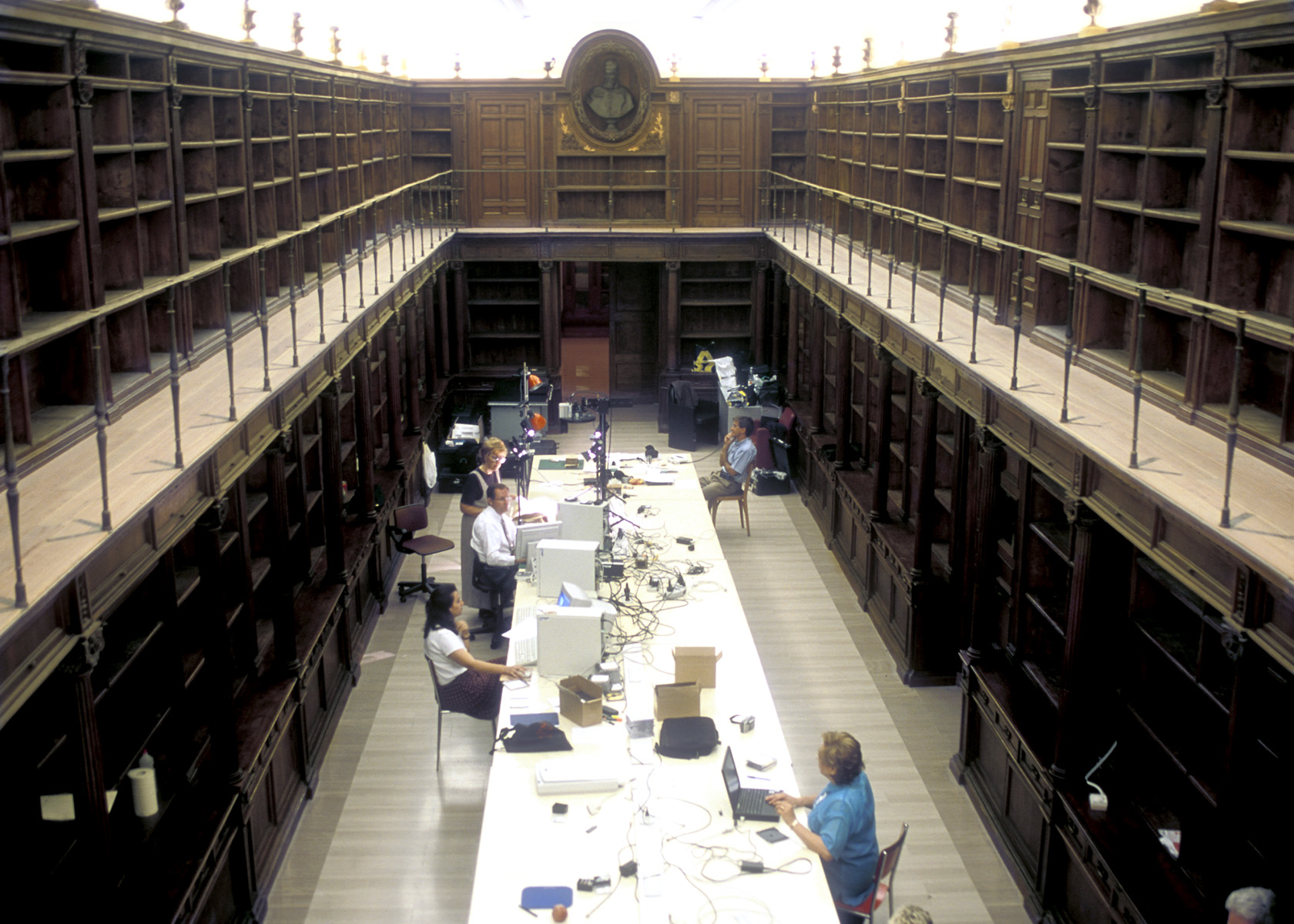 Working alongside their Vatican colleagues in the Vatican Library for three years, BYU scholars imaged more than 14,000 pages of text to produce a digital library of 33 important Syriac Christian manuscripts.

"It as rather an emotional moment when I first viewed the content of the DVD in Rome," says Bishop Soro, a San Jose-based leader of one of the world's oldest Christian churches. "These manuscripts really tell our 'lost' story."
"Our church is so small and insignificant today, but these manuscripts tell of the forgotten glory that our forefathers and foremothers had. In addition, they contain what we believe and hold valuable as teachings and traditions, as doctrine and dogma," he says.
In 1997, Bishop Soro approached the BYU Institute for the Study and Preservation of Ancient Religious Texts about creating a digital library of Syriac Christian texts.
"He had heard about our Dead Sea Scrolls database project and wondered if we might be able to do something similar with the textual tradition of his church," says Noel Reynolds, executive director of the institute. "These texts present important Eastern Christian traditions that have not been preserved in the Greek manuscripts. Our perception of Christian history often ignores the Eastern component, which was at least as important historically," says Reynolds.
"There's a renewed realization of the importance of the early stages of the growth of Christianity," says Kristian Heal, a research associate for the institute and a specialist in Syriac studies. "Many of these texts come from that earlier period. They're not just academic. These texts have something to say to us."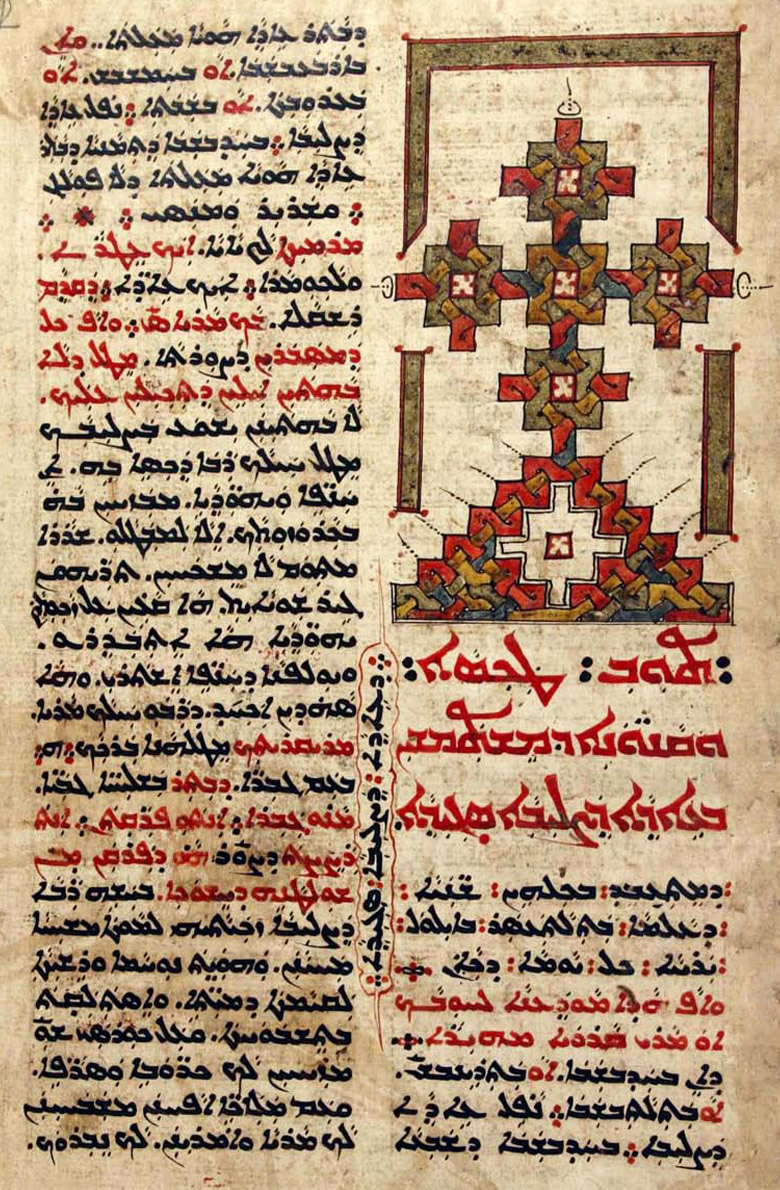 The newly digitized collection includes unpublished works by early Eastern Christian writers such as Jacob of Serugh, Ephrem the poet and Isaac the Syrian. The Chronicle of Edessa, for example, describes life in the city of Edessa beginning in the second century. One oversized 1,000-page manuscript contained 230 separate homilies by different authors.
Most of the manuscripts are from a collection that the Vatican purchased in the 18th century from an Egyptian monastery. For centuries, Syriac Christians themselves were denied access to the manuscripts, even though the texts relate to their early history.
"In the last century, the Vatican Library has moved toward open access. Before that point, the library was only accessible to ecclesiastics working in the Catholic Church," says Heal.
"The Vatican now is very willing to re-offer those manuscripts back to Syriac Christianity," through the imaging project, says Bishop Soro. "It is a project that has fulfilled a great need in the Syriac-speaking communities all over the world. The manuscripts that were scanned . . . contained the essence of our liturgies, worship manuals and our theologies."
Heal says Syriac Christian culture grew outside of the influence of western Christianity, so it maintained its own traditions and language. The language of the church is Syriac, a dialect of Aramaic, the language that Christ spoke.
"These are Christians writing in a Semitic language. Jesus himself spoke Aramaic, and taught in Aramaic. He would have preached all of his sermons and would have taught the Lord's prayer in Aramaic. And so Syriac Christians will often say that their liturgy, that their Lord's prayer, is the same as Jesus would have taught it," says Heal.
For the BYU institute, the project presented a rare opportunity to work on important Christian manuscripts in one of the world's great libraries.
"The Vatican Library is often known as the library of the Pope; it is his own texts. It has a collection of 150,000 manuscripts; it's the largest manuscript collection in the world," Heal says. "The library sees itself now as a repository of human history and memory."
The Vatican Library project is part of a larger effort by the BYU Institute for the Study and Preservation of Ancient Religious Texts to digitize and make accessible important and endangered manuscripts from libraries and monasteries around the world.
"We're interested in preserving the past, in preserving ancient texts. The Vatican Library exists for that very reason . . . and so there was a nice coincidence of interests and desires," says Heal. "The work of the institute has been bringing together technology and scholarship, putting technology in service of scholarship, and then making materials accessible."
The new images, which are being positively received by scholars, are expected to generate interest in studies of Eastern Christianity.
"My first reaction when I saw some of the images was that the quality is much better than the original manuscript," says noted Syriac Christian scholar and Duke University professor Lucas Van Rompay. "What I see here at Brigham Young University is really a large scale effort to preserve these manuscript collections. I haven't seen anything of the same level, of the same expertise and of the same breadth," he says.
For Syriac Christian churches, who trace their origins back to first-century Mesopotamia (modern-day Baghdad), the imaging project will help preserve a culture that has historically endured political upheaval and persecution.
""These manuscripts have endured tremendous hardship," says Bishop Soro. ""More than 80 percent of our written tradition is lost, destroyed or burned by the various superpowers that successively invaded the Middle East region. The people in these churches are now busy surviving; they are not able to preserve their heritage."
"The Syriac-speaking Christians are fleeing the Middle East in record numbers and don't have any other way of taking their ancient manuscript traditions with them," says Reynolds.
Bishop Soro says he hopes that his church members will use the new DVD to further explore their history.
"The actual benefit is that our people will see this patrimony, this heritage, put in the best medium, so that their kids, their teenagers, can look at their tradition with pride and joy and be able to learn themselves and share with the world," says Soro. "Surely this is another cause for being joyous and feeling that we have done something good."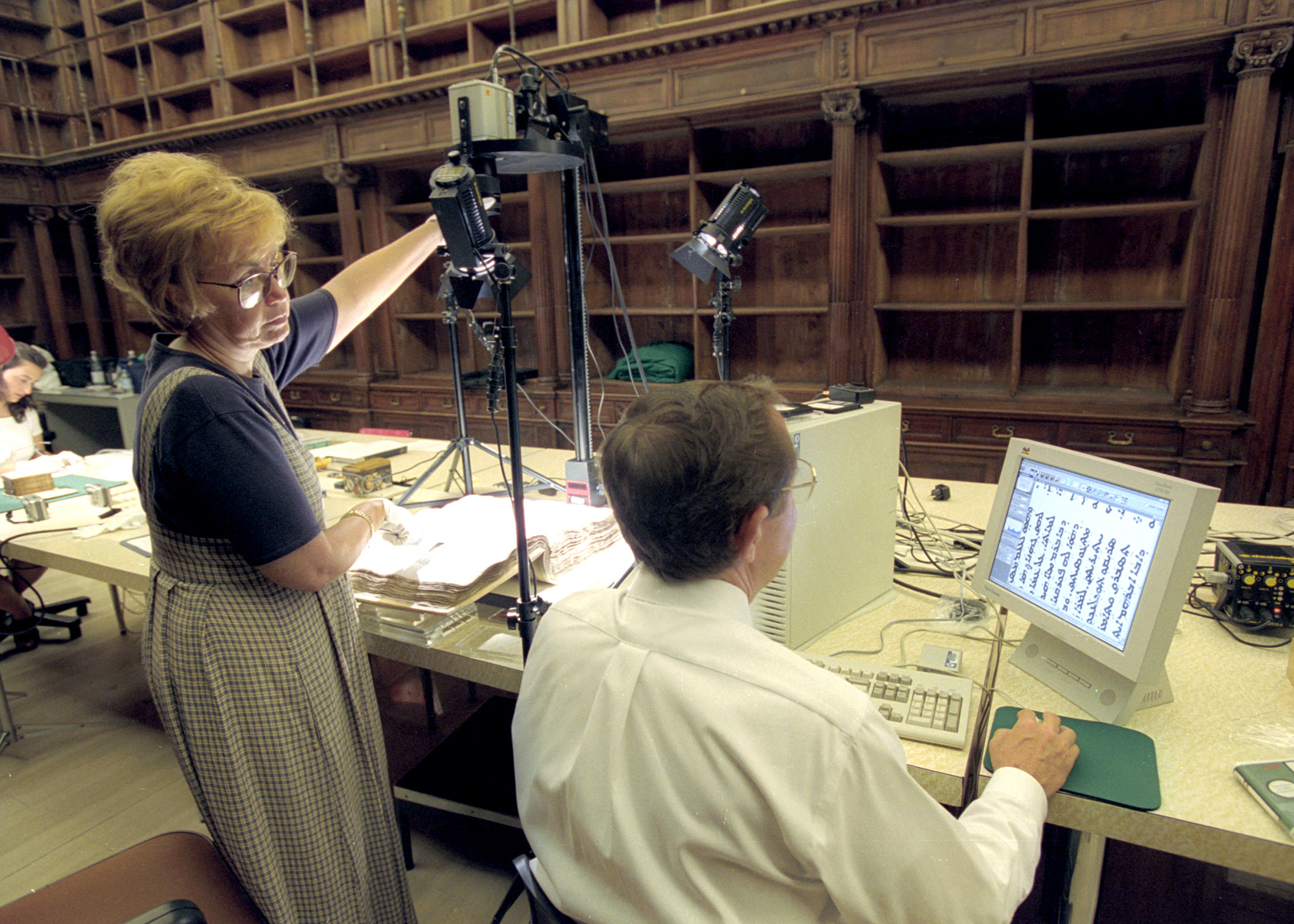 Insert Photo: A high-resolution image of a 17th century liturgical text from the East Syriac Beth Gazza (or "treasury") was part of the Vatican Library collection of Syriac Christian manuscripts digitized by the BYU Institute for the Study and Preservation of Ancient Religious Texts. (Photo used by permission of the Vatican Library and the BYU Institute for the Study and Preservation of Ancient Religious Texts.)
Photo Above: Working alongside their Vatican colleagues in the Vatican Library for three years, BYU scholars imaged more than 14,000 pages of text to produce a digital library of 33 important Syriac Christian manuscripts. Phtos by Mark Philbrick.

American Missionaries Flock into Iraq
Courtesy of the New York Times
18 March
By Charles Duhigg & John Goldman in New York and Suhail Ahmed in Baghdad
(ZNDA: Baghdad) An American missionary proudly watches as a sea of Iraqi arms rise in witness to Jesus Christ and choruses of "Amen" compete with distant rattles of gunfire. The faithful sing familiar Christian hymns in Arabic, their voices bouncing off the shipping containers that protect the church from car bombs.
Every Sunday, more than 400 Iraqis travel to this well-to-do neighborhood far from the protection of an American base to worship in the National Biblical Christian Federation Church. Converted from Islam and from other branches of Christianity, they are the first ripple of a tidal wave that evangelical leaders pray will inundate the Middle East.
"I learned about Jesus and eternal life from a friend, and came to this church to see," said Rana Atass, who has attended weekly services at another church for the last month. Her mother, bearing facial tattoos as some Iraqi women do, stood in a line of congregants to ask church leaders for help in buying food.
"The music is very enthusiastic here," Atass said. "They promise Jesus will solve many problems."
At least nine evangelical churches have opened in Baghdad in the last eight months, many supported by American organizations contributing up to $100,000 per church. More than 900,000 Bibles in Arabic — along with hundreds of tons of food and medical supplies — have been sent to Iraq. About 30 Christian evangelical missionaries are working in Baghdad, and 150 others have visited since last summer. Some Christian groups focus on offering aid and avoid proselytizing.
These missionaries' humanitarian and religious labors are fraught with peril. Four Americans affiliated with the Southern Baptist Convention were killed and one was critically injured after gunmen opened fire on their vehicle in Mosul. A spokesman for the International Mission Board said the Americans had been scouting locations for humanitarian and evangelical work.
An influential Shiite Muslim leader, Sheik Fatih Kashif Ghitaa, said, "Iraqis already see the American occupation as a religious war." Ghitaa said Shiite and Sunni clerics have discussed issuing a fatwa, or religious edict, against missionaries.
The missionaries — a mix of professional proselytizers and novices with little or no preparation — are buoyed by President Bush's evangelical bent, his oft-repeated biblical references and his vision of freedom spreading out from a saved Iraq.
"God and the president have given us an opportunity to bring Jesus Christ to the Middle East," said Tom Craig, an independent American missionary working in Iraq and Cyprus. "This is my commandment. No amount of danger will stop me."
The Colorado Springs-based Christian and Missionary Alliance helped turn the National Biblical Christian Federation Church into a beachhead of Western Christian prayer eight months ago, intensifying a clash of civilizations that has consumed the Middle East for centuries. As the U.S. prepares to return sovereignty to Iraqis on June 30, amid violence and anti-American demonstrations, the stakes have never been higher.
"Iraq will become the center for spreading the gospel of Jesus Christ to Iran, Libya, throughout the Middle East," said Kyle Fisk, executive administrator of the National Association of Evangelicals, which represents 4.5 million Christians in the United States.
"President Bush said democracy will spread from Iraq to nearby countries," Fisk said. "A free Iraq also allows us to spread Jesus Christ's teachings even in nations where the laws keep us out."
Iraqi political leaders worry that evangelical efforts will undermine the nation's stability.
"Extremists, whether Muslims or evangelicals, inspire violence and hatred," said Mahmoud Othman, a member of the Iraqi Governing Council. "The newspapers are screaming about a Christian conspiracy."
Missionaries say their work is bringing freedom to Iraq.
"We don't force Jesus Christ's love on anyone," said Darrell Phenicie, an American missionary who teaches theology in Baghdad. "Doesn't freedom of religion mean the right to learn about other choices?"
Evangelical churches were illegal under Saddam Hussein, although Iraq's 300,000 nonevangelical Christians were permitted to practice. Proselytizing is banned in most Middle East nations, but Fisk and other evangelical leaders hope to train Iraqi missionaries to work discreetly in other Arab countries.
Aid That Opens Doors
Humanitarian aid is the point of entry for many Christian groups. National Biblical Christian Federation Church has distributed more than 60,000 aid boxes prepared by Samaritan's Purse, an organization headed by U.S. evangelist Franklin Graham. Many of them were given to Muslims, said Ghassan Thomas, an Iraqi pastor.
"Handing out food is a perfect time to talk about Jesus Christ with nonbelievers."
Two blocks away from Thomas' church, evangelicals are building another house of worship, an oasis of marble and bright lights on a dusty, rundown street. The new church has received about $50,000 from Missouri-based Assemblies of God, said Pastor Jules Vivan, and another $50,000 in supplies and assistance from independent American missionaries.
Vivan preaches to only 150 parishioners, but he said his goal, set with assistance from Assemblies of God, is to attract 10,000 more in the next five years.
"It is every Christian's requirement to share Jesus Christ's gospel with everyone on the planet, including every Muslim," said Richard D. Land, president of the public policy arm of the largest U.S. Protestant denomination, the Southern Baptist Convention. "If that causes anger and violence, it only shows we must speak more loudly."
Some Iraqis and nonevangelical religious leaders say the White House and U.S. military should protect missionaries as well as regulate how they seek Iraqi converts.
Curtailing the work of evangelical missionaries, however, may be politically vexing. Bush's chief political advisors have said that religious conservatives will be a linchpin in the president's reelection strategy.
"Iraq, and the war against terrorism, will be very important in getting evangelicals to the polls in November," said Ralph Reed, former director of the Christian Coalition and now chairman of the Bush reelection campaign in the Southeast. "And it is anything but surprising that evangelical pastors would view their own religion as superior to other faiths. Teaching others about Jesus is part of Christianity."
"Each individual and group that lives and works in Iraq must make their own decisions," said a White House official, who spoke on condition of anonymity. "These are private groups. Their safety is their responsibility."
Phone calls seeking comment from the U.S.-backed Coalition Provisional Authority in Baghdad were not returned.
Reed and other evangelical leaders said most missionaries working in Iraq show a deep respect for Islam and cultural sensitivity. They agreed, however, that the discretion was not shared by all organizations. Leaders of smaller church groups argued that sensitivity was secondary to saving Iraqi souls.
"Yes, sharing Christ's love causes conflict. But the alternative is allowing people to go to hell," said Todd Nettleton with Oklahoma-based Voice of the Martyrs. American VOM missionaries have passed out Christian tracts in Baghdad traffic jams, among other activities.
Such attitudes are frequently heard in the evangelical community.
"Many evangelicals feel war in Iraq is part of a broader religious mission," said John Green, a professor at the University of Akron in Ohio and an expert on the religious right. "And the Bush campaign will do anything they can to mobilize that bloc. Evangelicals not only vote Republican, they produce lots of activists that stuff envelopes, make phone calls — they are the grass roots."
Evangelical leaders said they were rushing to establish churches in anticipation that Iraqi laws would curtail missionary access after the return of sovereignty.
"Christians believe we have a six-month window in Iraq," Nettleton said. "Our attitude is: Let's do everything we can now."
American evangelical organizations, including Voice of the Martyrs, the Southern Baptist Convention and Pennsylvania-based Assn. of Baptists for World Evangelism, have said they will focus much of their proselytizing on Muslims in Iraq and surrounding nations.
That focus, however, concerns other Westerners working in the Middle East.
Risks for Colleagues
"This adds to a growing perception that all Americans want to convert Muslims," said Leanne Clausen with Christian Peacemaker Teams, an American aid group that does not proselytize. Nonevangelical Iraqi churches have been vandalized in recent weeks. Newspaper editorials and Islamic clerics charge that Americans are in Iraq on a religious crusade. Clausen warned: "The missionaries coming here don't realize the danger they are placing us in."
Some of those dangers extend to missionaries visiting Iraq who are unprepared for violence. Independent missionaries working in Iraq have little or no formal training for war zones. Some are just American pastors who fly to Iraq and begin working on behalf of a new church.
Iraq's new churches report enormous success in attracting parishioners. Almost every night they are filled with the newly faithful, drawn by the dynamism and energy that have fueled evangelical growth in the United States.
"When I come here, my heart sings with happiness," said Jonvia Elias, an Iraqi homemaker who attends the National Anglican Church of the Christian Union. "We learn how to love Jesus and feel joy. It feels very young here."
Others, particularly converted Muslims, fear that their attendance is dangerous.
At the Holy Renaissance Evangelic Church in Baghdad, a Friday service included three Muslim women in head scarves. All were regular attendees and said they first visited the church at the urging of close friends or missionaries. They continued to attend because of the church's message of love and upbeat music and community. All, however, feared for their safety.
"I was invited to this church, and I found peace and love here," said 30-year-old Khalida Khamid. "But I do not tell anyone I am here, and if there are any photos taken, I will leave. It is dangerous."
Other converted Muslims said the promises of evangelical Christianity outweighed the risks.
Atass' father, a Muslim who she said was not very devout, forbade her to attend her church. But after a church member helped her find a new job, he relented.
"Baghdad has changed since the Americans came," Atass said. "It is harder now. I ask Jesus to help."
As Atass spoke, her mother finally caught the attention of church leaders. They listened to her problems and handed her a box that contained some food, cleaning supplies and a pamphlet about Jesus' life.
"I want eternal life," Atass said, "but we also need enough to eat."
Assyrian Stockbroker in Baghdad Dreams of America
Courtesy of People Magazine
22 March
By Richard Jerome & Bob Meadows
This past Christmas, Rita Elias and her family didn't celebrate outside their home. In fact, as a Christian in predominantly Muslim Iraq, Elias almost never openly practices her faith these days. "We rarely go to the church now," she says. "There is a fear of bombs in places such as churches."
The aftermath of war has forced many changes in Elias's life. Her family locks its Baghdad home - recently repaired after a bomb fragment destroyed their rooftop storeroom - at dusk. "The robbers and thieves rule the night," says Elias, 30, who works for the Middle Eastern bank. "It makes me feel like a prisoner in our own house." The stock exchange where she worked as a trader is now inhabited by squatters. Now she works at a branch of the bank and a minibus picks her up each morning to take her there. Always fashion-conscious, Elias has never donned the headcovering many Muslim women wear. But now, with growing sectarianism, she says she stands out. "People are staring at me. Before, they didn't," she says. "I don't think I have to wear a scarf as a Christian."
Right after the war, Elias says, American soldiers would patrol the streets and "talk to people, buy things from shops and play soccer with the children." She rarely sees them on patrol now because of increased attacks. Elias, who has sisters in Michigan, looks at the soldiers as a symbol of the promised land. "If I got the opportunity I would leave," she says. "I would prefer America."
Church in San Jose Holds Fund-Raiser for Future Building Plans
Courtesy of the Willow Glen Times
By Carol Rosen
Nearly 400 women of the Assyrian Church of the East in San Jose attended a tea party fund-raiser earlier this month for their church. It was designed to raise money for a new church that will be built in south Almaden near the Quicksilver Park on land that recently was purchased. The current church, St. Joseph's Cathedral in Willow Glen, continues to expand and the 400 families that attend need larger facilities.
The women attending the tea varied in age from very young ladies - at the youth group table - to grandmothers. More than 40 women from the church spent $50 each to sponsor a table and decorated it with themes ranging from traditional Assyrian to Japanese to crystal. Tables were named for cities in Babylonia and featured themes such as "Assyrian Star", "Gates of Ishtar", "Hanging Gardens of Babylon" to "Ladies in Wonderland", "Valentine" and English Garden". Centerpieces included lovely bouquets of flowers, candles and Assyrian sculptures such as the Winged Bull and a miniature version of the walled Assyrian Kingdom.
The women invited friends and/or family and served a meal on exquisite heirloom china or with china matching the table's name. Sherry Rad, a church member who bought two tables and owns E Events, provided service plates. They dined on tea sandwiches, pastries and cakes.
The three-hour tea featured the Assyrian Church of the East's Bishop of the Diocese of Western California, Mar Bawai Soro. He discussed the transformation of women's roles in the 21st century Assyrian society including how society can help women to excel in all aspects of life and the cost of supporting women in social involvement and education. The bishop also discussed women's roles as teachers, healers and leaders, in addition to their role in the church and the community and their influence on the church's society.
The tea also featured a raffle with donated gifts, including an airline ticket to travel anywhere within the United States, a gift certificate for Guadinos in Los Gatos, jewelry including two necklaces, a gold Assyrian star and a gold cross pendant, statue and paintings, candles and other art work.
The church holds four fundraisers at its current location, 680 Minnesota Ave. in Willow Glen. Although this is the first time the tea party has been held, the ladies plan to make it an annual vent. Each year the church holds an Assyrian festival in August; a two-day event with Assyrian dancing, food and culture plus exhibitions. They also hold Christmas and Easter bazaars featuring food and decorations in addition to traditional games. The bazaars are held in the recreation hall next to the cathedral, which is also is rented out for weddings and parties.