AZORES SUMMIT STATEMENT INCLUDES ASSYRIANS, CHALDEANS
Courtesy of the Associated Press (17 March)
Text of the statement on Iraq that was released yesterday at a summit in the Azores islands
Iraq's talented people, rich culture, and tremendous potential have been hijacked by Saddam Hussein. His brutal regime has reduced a country with a long and proud history to an international pariah that oppresses its citizens, started two wars of aggression against its neighbors, and still poses a grave threat to the security of its region and the world.
Saddam's defiance of United Nations Security Council resolutions demanding the disarmament of his nuclear, chemical, biological, and long-range missile capacity has led to sanctions on Iraq and has undermined the authority of the U.N. For 12 years, the international community has tried to persuade him to disarm and thereby avoid military conflict, most recently through the unanimous adoption of UNSCR 1441. The responsibility is his. If Saddam refuses even now to cooperate fully with the United Nations, he brings on himself the serious consequences foreseen in UNSCR 1441 and previous resolutions.
In these circumstances, we would undertake a solemn obligation to help the Iraqi people build a new Iraq at peace with itself and its neighbors. The Iraqi people deserve to be lifted from insecurity and tyranny, and freed to determine for themselves the future of their country. We envisage a unified Iraq with its territorial integrity respected. All the Iraqi people -- its rich mix of Sunni and Shiite Arabs, Kurds, Turkomen, Assyrians, Chaldeans, and all others -- should enjoy freedom, prosperity, and equality in a united country. We will support the Iraqi people's aspirations for a representative government that upholds human rights and the rule of law as cornerstones of democracy.
We will work to prevent and repair damage by Saddam Hussein's regime to the natural resources of Iraq and pledge to protect them as a national asset of and for the Iraqi people. All Iraqis should share the wealth generated by their national economy. We will seek a swift end to international sanctions, and support an international reconstruction program to help Iraq achieve real prosperity and reintegrate into the global community.
We will fight terrorism in all its forms. Iraq must never again be a haven for terrorists of any kind.
In achieving this vision, we plan to work in close partnership with international institutions, including the United Nations; our Allies and partners; and bilateral donors. If conflict occurs, we plan to seek the adoption, on an urgent basis, of new United Nations Security Council resolutions that would affirm Iraq's territorial integrity, ensure rapid delivery of humanitarian relief, and endorse an appropriate post-conflict administration for Iraq. We will also propose that the Secretary General be given authority, on an interim basis, to ensure that the humanitarian needs of the Iraqi people continue to be met through the Oil for Food program.
Any military presence, should it be necessary, will be temporary and intended to promote security and elimination of weapons of mass destruction; the delivery of humanitarian aid; and the conditions for the reconstruction of Iraq. Our commitment to support the people of Iraq will be for the long term.
We call upon the international community to join with us in helping to realize a better future for the Iraqi people.
ASSYRIANS MEET WITH WHITE HOUSE OFFICIALS & U.S. CONGRESSIONAL REPRESENTATIVES THIS WEEK
(ZNDA: Washington) On 3 March Dr. Emanuel Kamber, an Assyrian activist and prominent member of the working groups formulating the post-Saddam policies and constitutional bylaws, delivered an important speech at the "Post-Saddam Iraq Conference Series" organized by the American Enterprise Institute in Washington D.C. This portion of the conference dealt with the "Constitutional Issues and Federalism: Ethnicity and Justice in Post-Saddam Iraq." (see News Digest)
On 6 March, Dr. Emanuel Kamber joined two Assyrian-Chaldeans, Dr. Ramsey Jiddou of Detroit and Dr. Katrin Micheal from Washington D.C., and a few other Iraqi-Americans in full day meetings at the White House and the U.S. Defense Department. They met with Vice President Chaney; Dr. Condolezza Rice, National Security Adviser; Dr. Paul Wolfowitz, Deputy Secretary of Defense; Dr. Khalilzada, President' Envoy to Free Iraqis; and Steve Hadley, Deputy National Security Adviser. A press conference was held outside the White House after the meetings. The Assyrian representatives introduced themselves as "Assyrian Chaldean Syriac people- one nation with different names."
At government expense, these representatives were brought to Washington to tell Mr. Cheney, Miss Rice and other ranking officials of the pressing need to remove Saddam from power.
"Finally, somebody is listening to us," Mr. Jiddou, 59, a chemist who immigrated from Baghdad in the late 1970s to escape Saddam Hussein's dictatorial oppression, said over the weekend.
The State Department would not comment on its effort to recruit these community members.
Dr. Jiddou and Dr. Kamber were among a delegation of 10 Iraqis who later met with Mr. Donald Ramsfeld, Secretary of Defense and Paul Wolfowitz at the Pentagon.
Dr. Katrin Michael also met with several Congressional Representatives last week, including Mr. Mark Kirk (Illinois-10th District), Co-Chairman of the Iraq Working Group, and Mr. Darrel Issa (California).
Last Friday, President George W. Bush met with three Iraqi civilian victims of the 1988 chemical attack Iraqi leader Saddam Hussein launched against their city that they say killed thousands and caused long-term physical and psychological problems among survivors.
Dr. Katrin Michael and two other Iraqis spoke with President Bush for approximately 20 minutes about their experiences after Saddam attacked the Iraqi city of Halabja with chemical weapons. The brief meeting came as Bush is set to leave for Portugal's Azores to discuss how to win U.N. approval for a new resolution on Iraq.
Dr. Michael, of Alexandria, Va., said she was blind for three days after the attack. "We had long-term effects. I suffered a lot of breathing (problems) and hands shaking. I've sought treatment in different countries. The psychological effects were most important," said Michael, who fled Iraq in 1988.
Dr. Michael, who urged governments not to use chemical weapons during war, is a researcher with the Iraq Foundation. She joined the Kurdish-based Iraqi resistance movement in 1982 to fight Saddam.
On Tuesday, 18 March, Dr. Michael will testify before Congress and describe her experience with chemical weapons. In her upcoming autobiography, Dr. Katrin describes her family's experiences with the Iraqi Baath regime.
[Z-info: See Also: Iraqi Assyrians Meet Top U.S. Administration Officials
http://www.aina.org/releases/2003/bushmeeting.htm ]
ASSYRIAN & IRAQI DELEGATION'S LETTER TO DR. CONDOLEZZA RICE
The following is the full text of the letter submitted to Vice President Chaney and Dr. Rice after the 6 March meeting of the Assyrian & other Iraqi Representatives at the White House:
March 6, 2003

Dr. Condolezza Rice,
National Security Advisor
The White House

Dear Dr. Rice:

We are grateful for allowing us the opportunity to meet with you and share our views as Iraqi Americans regarding the liberation and future of Iraq. We are heartened by our President's commitment for a free, democratic, pluralistic and constitutional Iraq.

In the last 34 years the people of Iraq have suffered under the brutal, barbaric oppressive regime of Saddam Hussein and his organizations of terror. He committed genocide, ethnic and religious cleansing against millions. He used chemical, biological and the environment as weapons of mass destruction. In addition to his continuous war against the people inside and outside Iraq, his appetite for war and aggression extended to neighboring countries.

Those who are marching for peace and justice in the name of the Iraqi people are unwittingly supporting a totalitarian dictator who promotes terrorism. Instead they should be calling for the implementation of UN resolution 688. They have no clue what justice is and who has brought war, bloodshed and annihilation by weapons of mass destruction and wholesale devastation to Iraq and the region.

We, as Iraqi Americans support our President in his leadership of the world to liberate the people of Iraq. We believe this is crucial for the safety and security of the people of the United States, and in the best interest of the people of Iraq, the people of the region and the world.

We stand for:
1. Human rights and equality for every Iraqi irrespective of gender, ethnicity religion, political or personal beliefs.
2. Unity and territorial integrity of Iraq and no intervention or incursion from neighboring countries under any pretext.
3. Establishment of a democratic and constitutional Iraq that is based on the rule of law and organized under a federal framework.
4. An Iraqi transitional authority after the liberation.
5. An Iraq that is free from chemical, biological and nuclear weapons.
6. An Iraq that is at peace with its neighbors.
7. An Iraq that is a catalyst for democracy, peace and prosperity in the region.
We call on the US and the coalition forces to make every effort to minimize civilian casualties and damage to infrastructure during the liberation of Iraq. We stand ready to help our government and the people of Iraq in the reconstruction and development of the new free Iraq.

Thank you again for this opportunity. Please extend our support and gratitude to President Bush as he leads the world for a moral just cause.

Respectfully,


Muhammad Al-Jebori
Pakeza Alexander, President Kurdish Humanitarian Organization
Abdulali Alwishah, Attorney
Howra Al-Zudd, Student
Emad Dhia, Msc., MBA, Founder, Iraqi Forum for Democracy
Maha Hussain, M.D., President, Iraqi Forum for Democracy
Ramsey Jiddou, Ph.D.
Emanuel Kamber, Ph.D.
Sam Kareem
Imam Hassan Qazweni
Saman Shah, Ph.D., VP Kurdish National Congress of North America
EUROPEAN PARLIAMENT MEMBERS STATEMENT ON ASSYRIANS/SYRIACS IN TURKEY AND IRAQ

It is of utmost importance that the European Union directs its attention to the alarming situation as regards violations of the political and religious freedom of Christian minorities in the Middle East. At stake are fundamental
human rights guaranteed by international law.
In particular, one of the ancient ethnic groups in Turkey and Iraq, the Assyrians/Syriacs, is near the point of extinction. Before the Gulf War 1,5 million Assyrians/Syriacs populated Iraq. Today this number has decreased to 0,5 million inhabitants. There are currently estimated 10-15,000 Assyrians/Syriacs left in Turkey.
The Assyrian/Syriac people have a precious cultural heritage of great importance for the entire civilized community. Nonetheless, Assyrian churches and monasteries are being systematically confiscated or even destroyed.
With every international crisis in the Middle East, the Assyrians/Syriacs as well as other Christian minority groups have been targeted by both fighting sides, as they found themselves caught in the middle of different political and religious power-constellations. At present, there is strong concern about the situation of Assyrians/Syriacs in Northern Iraq.
On the other hand, Turkey has not improved its record as regards the religious freedom and property rights of Christian minorities, in spite of recent changes in national legislation. The Commission states in its Strategy Paper on the enlargement that Turkey has made noticeable progress towards meeting the Copenhagen political criteria. This is not enough. It is time that the EU made clear to the Turkish administration that it expects full and proper implementation of the Copenhagen criteria as a pre-requisite for EU membership.
The Assyrians/Syriacs represent an original Christian group in the Middle East. Along with other religious minorities, they need to be officially recognized and be allowed to effectively enjoy their basic human rights by governments and national authorities. It is therefore of great importance that the EU demonstrates stronger concern for the plight of the Assyrian/Syriac people, by bringing the issue of their political and religious rights and indeed of their very existence to the main political agenda.
The situation of the Assyrians/Syriacs was raised in an open hearing in the beginning of October 2002 in the European Parliament arranged by the Nordic Christian Democrats.
Yours sincerely,
Mr. Anders Wijkman, Member of the European Parliament
Mr. Lennart Sacrédeus, Member of the European Parliament
Mr. Jonas Sjöstedt, Member of the European Parliament
Ms. Eija-Riitta Korhola, Member of the European Parliament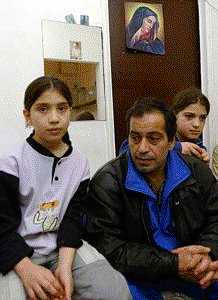 KURDISH RESOLUTION THREATENS ASSYRIAN LANDS IN IRAQ
Read http://aina.org/releases/2003/landtransfer.htm

IRAQI-AMERICANS DISCUSS WAR, WORRY FOR LOVED ONES
Courtesy of ABC News (18 March); by Rob Johnson
(ZNDA: Chicago) With American troops close to Iraq's doorstep, there are frazzled nerves both in the Persian Gulf region and in Chicago. Younathan Youkhana is an Assyrian Christian originally from northern Iraq. Though he's been in the U.S. 31 years, he hopes someday to return to his homeland. So Youkhana supports President Bush's insistence on war.
"We hope we'll have a lot of democracy there and the freedom there and people to do business back home, that will do their business and people live there. They have been suffering for so many years. They will relax and have a place. They deserve to have a good life, too," said Younathan Youkhana, Assyrian National Council.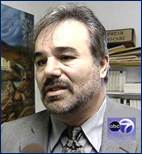 Dr. Qais Mekki believes the U.S. has absolutely no justification for attacking Iraq. Dr. Qais Mekki holds a very different view. He left Baghdad in 1981, and has been a U.S. citizen for a dozen years. He believes the U.S. has absolutely no justification for attacking Iraq.
"The president is setting a precedent which is essentially quite dangerous, especially that it lacks any credible linkage to any credible threat coming from Iraq," said Dr. Qais Mekki, Iraqi-born American.
Both men still have family in Iraq, and are understandably concerned about their loved ones' questionable futures. "We hope our people could be safe and to be -- to control the country in a nice way and easy way," said Youkhana.
"I'm puzzled what did they do to deserve all of this since they are innocent bystanders. It looks like the bombshells are going to fall on a lot of innocent bystanders," said Mekki.
Youkhana hopes that Iraq will become an economically stable Democratic country after the war. Mekki fears that the obliteration of Saddam's regime will lead to radicalism.

WORLDS APART ON CHALDEAN CRISIS

Coutesy of the Union-Tribune & Copley News Services (12 March); By Marcus Stern, Photo by Nelvin Cepeda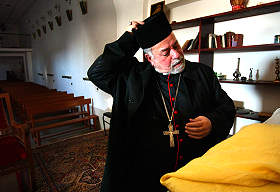 (ZNDA: North Iraq) Ibrahim Yosuf Elias, bishop of the northeastern Iraqi city of Sulaimaniyah, denies that Chaldeans and other Iraqi Christians face religious persecution under Saddam Hussein's Baath regime.

Vegetable farmer Sabah Hana, an Iraqi Catholic, said he spent 10 years in Saddam Hussein's infamous Baghdad prison, Abu Ghraib. His brother, also a Chaldean Catholic, was executed in the same prison in 1987.
But politics – not religion – caused their problems, he said.
"There were many Christians in prison with me," he said. "But it wasn't because they were Christians. It was because they opposed Saddam."
While Chaldean advocates, human rights groups and immigration lawyers in the United States argue that Chaldean Catholics are targets of religious persecution in Iraq, many Chaldeans in semi-autonomous northern Iraq paint a different picture.
"I haven't heard of any (religious) persecution," said Ibrahim Yosuf Elias, bishop of the northeastern Iraqi city of Sulaimaniyah. "There have been no problems for any of the Chaldeans of Iraq."
Elias was careful to note that many Chaldeans and other Iraqi Christians have been jailed and killed for their political opposition to Hussein. But he emphatically rejected the notion that it was because of their religion.
"Saddam does not tolerate political opposition," he said in his church office, surrounded by pictures of himself with Pope John Paul II.
On the other side of the globe, the notion that religious persecution does not exist in Iraq was hotly disputed.
Cheri Attix, a San Diego immigration attorney who has represented about a dozen Chaldean asylum seekers, said the bishop's comments "are absurd. . . . The human-rights reports speak for themselves."
Bill Frelick, director of Amnesty International's refugee program, said the situation is not as black and white as the long-distance debate suggests.
"In that part of the world religion isn't regarded as articles of faith, as it is in the U.S," he said in an interview from Washington. "Religion in many cases is an identity that attaches to you. Religion and ethnicity and nationality and politics all get mooshed together. So to me it's a matter of splitting hairs. It all boils down to the same thing: You are going to be persecuted."
Iraq has experienced an exodus since the 1991 Gulf War, Elias said.
The war and the sanctions that followed have left the Iraqi economy in ruins. Most of those fleeing are professionals, including engineers, who are seeking better economic conditions and jobs in Europe or the United States, he said.
He had a sharp retort to those who tell the United States and other governments that, as Christians, they risk being killed or jailed if they are returned to Iraq, at least in the semi-autonomous north.
"They are lying," Frelick said. "They are just trying to get (immigration) benefits from your government. . . . We have all the freedoms and rights of others here."
While reliable numbers are hard to come by, it is frequently estimated that 150,000 Chaldeans – Iraqi Catholics – have settled in the United States. Detroit and San Diego are the number one and number two destinations, respectively.
There also are an estimated 100,000 Iraqi Christians known as Assyrians living in the United States. They are Iraqi Christians affiliated with the Eastern Orthodox Church rather than the Catholic Church.
San Diego-area Chaldeans reacted skeptically to Bishop Elias' remarks.
The Rev. Michael Bazzi of St. Peter's Chaldean Catholic Church in El Cajon speculated that Elias "is afraid; that's why he said that. He is scared and afraid because if he speaks one word against Saddam he will be killed."
Bazzi said the bishop could be killed even though he is in the area controlled by Kurds. "Even if he is there, Saddam's agents will kill him. It is miserable for all Christians in Iraq. They are second-class citizens and they cannot talk."
Said one Chaldean refugee living in El Cajon since 1994: "If this bishop gets out of Iraq, I am sure he would say something quite different."
Elias, after conducting Mass on Sunday at the old Chaldean church in Sulaimaniyah, replied to their skepticism.
"I don't say it out of fear of Saddam," he said. "We really don't have a problem with religious persecution. Our only problem is that we can't get a bell for our new church."
The new church is under construction.
The old church, its plaster walls cracked, carries the heavy odor of kerosene, which is used to fire lanterns that heat the church during Masses and other rites.
During a recent ceremony marking the Stations of the Cross, the electricity failed and Elias was forced to use candlelight to read passages from the Bible.
The Chaldean village of Harmota is a two-hour drive from Sulaimaniyah. It is a remote farming hamlet within a rural portion of northern Iraq that was declared a Kurdish-controlled zone after the Persian Gulf War.
A fourth-century monastery sits on a hillside overlooking Harmota. It has been built and destroyed many times.
Most recently, Hussein's soldiers used dynamite to blow it up in 1988.
The monastery's destruction was part of a broad scorched-earth campaign targeting Kurdish resistance to Hussein's Baath Party rule and his efforts to "Arabize" Iraq.
Most of the dwellings in this heavily Kurdish area were destroyed. The same year in which Hussein's forces destroyed the monastery, Kurds say, they also attacked villages in the region with deadly chemicals.
U.S. and British warplanes for a decade have kept Hussein from imposing direct control over the region. This has created an opening for a Kurdish government organized under two separate parties, the Kurdish Democratic Party, or KDP, and the Patriotic Union of Kurdistan, or PUK. The PUK, which controls this area, is providing much of the money to build the new Chaldean church in Sulaimaniyah.
Harmota awakens each morning like a 19th-century agrarian hamlet.
Chickens, roosters, goats and cows run along its unpaved streets. Women line up to fill containers with water from a pipe of constantly flowing water. Children head off to school on foot. Men let out the livestock and march out to plow their fields.
Hana, the vegetable farmer, hitches two donkeys to his plow. The rich, dark soil of this swath of the world's "Fertile Crescent" will produce wheat and a range of vegetables that are the lifeblood of the community.
Muslims and Christians say they co-exist peacefully here. Jacob Ibrahim Meekha, a Chaldean English teacher at Harmota's intermediate school, said Chaldeans have Easter egg hunts and decorate their houses traditionally for Christmas. Muslims frequently share in the social festivity of Christian holidays, and Christians reciprocate on Muslim holidays, he said.
There are tensions and differences. For instance, interfaith marriages are rare and heavily discouraged. Muslims for a long time were reluctant to eat with Christians.
But that has largely disappeared over time, especially in the urban areas.
Signs of harmony dominate: Christian and Muslim children sit side by side in Harmota's schools. Christian and Muslim women wait with each other to use the same spring and shoulder their containers home with each other. Men sip tea and work the fields together, regardless of whether they are Muslim or Christian.
"Everybody gets along," Meekha said. "We have complete freedom, not only religious, but for all our traditions. Of course, hatred (and fear) of Saddam reaches us all."
NO TO CHURCHES IN SAUDI ARABIA: MINISTER
Courtesy of the Times of India (12 March)
(ZNDA: Riyadh) Saudi Arabia, the birthplace of Islam, will not allow churches to be built on its land regardless of the outcry from ``fanatics,'' according to Defence Minister Prince Sultan.
"This country was the launch pad for the prophecy and the message, and nothing can contradict this, even if we lose our necks," Sultan told reporters on Saturday. His comments were published by Saudi newspapers and confirmed by several journalists who attended the press conference.
"Those who talked (about churches in Saudi Arabia) are church people and they are, unfortunately, fanatics," Sultan said, according to Monday's Okaz daily newspaper. "We are not against religions at all ... but there are no churches - not in the past, the present or future, and I am saying this and I am responsible for what I say.'' Officials at the Defence Ministry in Riyadh would not comment on the remarks.
Last Thursday, the US Commission on International Religious Freedom, an independent federal agency, complained that a new State Department list of countries that severely limit religious freedom omits several that deserve censure, including US ally Saudi Arabia. The commission's annual reports say that religious freedom ``does not exist'' in the Gulf Kingdom.
Islam is the only accepted religion in Saudi Arabia, home to the faith's holiest shrines in Mecca and Medina. ``The whole world knows the kingdom and its friendship and loyalty and sincerity in its religion,'' he said.
Sultan said that foreigners have been allowed to worship freely in their homes since they began arriving in Saudi Arabia in 1951. But permitting a church in the country ``would affect Islam and all Muslims,'' he reportedly said.
KASPER "KAY" AARON SAFFER DIES AT 94
(ZNDA: Worcester) Kasper "Kay" Aaron Saffer, 94, of 392 Mill Street, died Monday, 10 March at home after an illness. He leaves his wife of 62 years, Phyllis (Arslen) Saffer; 2 daughters, Pamela C. Saffer of Worcester and Leslie G. Saffer of New Haven, CT; a sister, Elsie Donoian of Worcester; several nephews and nieces. A brother, Charles A. Saffer and 2 sisters, Natalie Belezarian and Mary Baptist predeceased him.
He was born in Watertown the son of Aaron and Sophie (Atlas) Saffer and has lived here for many years. He attended Worcester and West Boylston Schools. He was a Navy veteran of WWII. Mr. Saffer was the owner and operator of Kay's Barber Shop on Park Avenue from 1950 until his retirement in 1978. He was a member of the former St. Mary's Assyrian Apostolic Church, an active member of the United Assyrian Association of Massachusetts, a lifetime member of the Disabled American Veteran's Association and a member of the National Association of Watch and Watch and Clock Collectors, Inc. He was a respected resource of Ancient Middle Eastern History, a professional drummer and percussionist playing American and Middle Eastern music, a speed ice skater. He bought and sold antiques as a hobby, was an avid reader who loved gardening and animals. In the 1930's he traveled by rail to New Mexico to dig for gold.
The funeral service will be held Saturday, March 15th at 10:00 AM, in O'Connor Brothers Funeral Home, 592 Park Avenue. Burial will be in Hope Cemetery. Calling hours will be Friday, March 14th from 5:00 until 8:00 PM. Flowers may be sent or memorial contributions may be made to UMass Memorial Home Health and Hospice, 650 Lincoln Street, Worcester, Massachusetts, 01605.