STATEMENT OF IRAQI ASSYRIAN LEADER YONADAM KANNA

Courtesy of PR Newswire & Association des Assyro-Chaldéens de France (18 Sept)

(ZNDA: New York) As he emerged from a joint meeting of the Iraqi opposition groups this week, Assyrian Democratic Movement General Secretary Yonadam Y. Kanna renewed his call for an end to all religious persecution in Iraq, particularly of Christians.

Secretary Kanna issued the following statement following the meeting at the Waldorf-Astoria Hotel:
"To be truly free and democratic, the new Iraq must also be secular and truly tolerant of all religious traditions and unafraid to Constitutionally recognize ethnic minorities. Only then will we see an end to the persecution of minorities, which President George W. Bush condemned in his speech to the United Nations last week. Only then will all Iraqi people be able to live in peace and under justice.
"Somehow, there is a misconception abroad that the Iraqi regime is secular in nature; nothing could be further from the truth. Since it came to power, we Assyrians have suffered both ethnic and religious persecution.
"Assyrian schools have been officially banned, and Assyrian cultural organizations have been forbidden. We have seen 200 churches and monasteries destroyed in 200 destroyed villages. Over 20 members of the Assyrian Democratic Movement have been ruthlessly murdered, and just last month a 70-year old Catholic nun of the Chaldean Order was beaten, raped, stabbed to death and then beheaded in her convent by three men in uniform."
In an interview with La Libre Belgique, Mr. Kanna explained last week that: "All segments of the Iraqi population are represented within the opposition. No political or ethnic group is absent." On America's preparation for war with Iraq, Mr. Kanna noted: "The Americans will not openly engage in armed conflict with Iraq unless there be a military coup d'état in Baghdad before the attack. We are sure that the Americans have already made the decision to attack."
Mr. Kanna concluded his interview by pointing at the possibility of the existence of al-Qaida in Baghdad and even the presence of the Afghan leader Gulbuddin Hekmatyar in Iraq. He commented that Baghdad maintains links with the al-Qaida members.

SYRIAN ORTHODOX CHURCH JOIN U.S. CHURCHES IN CONDEMNING WAR WITH IRAQ

Courtesy of U.S. Newswire (12 Sept)

(ZNDA: Washington) Last week the Syrian Orthodox Church joined many U.S. Protestant and Orthodox churches and organizations and leaders of Roman Catholic religious orders in announcing opposition to U.S. military action against Iraq. In a letter to President Bush, the church leaders acknowledged that "Mr. Hussein poses a threat to his neighbors and to his own people, (but) we nevertheless believe it is wrong, as well as detrimental to U.S. interests" to launch an attack on Iraq.
The letter, convened by a national coalition named Churches for Middle East Peace, stated, "We oppose on moral grounds the United States taking further military action against Iraq now." Citing the probable humanitarian consequences, civilian casualties, and the chaotic political aftermath of such a war, the church leaders noted that U.S. military force could easily destabilize the region with possible catastrophic results and further increase anti-American sentiment in the Middle East and Gulf.

The Rev. Dr. Bob Edgar, General Secretary of the National Council of Churches, a joint ministry of 36 Protestant and Orthodox churches, stated, "We do not need to march down the path to Armageddon. Pre-emptive military action now being contemplated by the Administration cannot be morally justified." Edgar, a former six-term Member of the U.S. Congress, said, "Among other consequences, consider that a pre-emptive strike by the U.S. presents to the world a model of aggression that may encourage other nations to attack neighboring countries that threaten them."
Releasing their letter after President Bush's statement to the United Nations General Assembly, the church leaders insisted that the President work through the U.N. toward peace, not toward war. Father Stan DeBoe, chair of Churches for Middle East Peace, commented, "Consulting with the U.N. while insisting that the U.N. precisely implement our own policy is not what international cooperation is about. It is not a matter of 'you go along with us or else we'll do what we want,' but rather how does the U.S. work with and through the U.N. to implement the consensus of the international community."
DeBoe continued, "We are urging the President to uphold the values of our great country by working closely with the community of nations, not by rattling sabers nor by threatening to overthrow governments with force."
69TH AANF CONVENTION A SUCCESS
POLITICS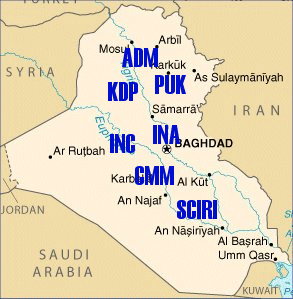 Map Courtesy of AINA
(ZNDA: Chicago) Last week the Assyrian International News Agency issued a statement praising the political discussions and meetings at the recent Assyrian National Convention held in Detroit, Michigan a success. "Of greatest concern for all Assyrians remains fair political representation for Assyrians in any future Iraqi governmental reform as well as concern for the safety of Assyrians residing both within the government controlled areas of Iraq as well as the northern UN administered region," writes AINA.
On 31 August 31, according to the AINA report, the Assyrian Coalition of political organizations addressed the Assyrian Convention through brief presentations and a panel discussion. Speakers included Mr. Abgar Maloul of the Assyrian Democratic Organization (ADO), former Illinois State Senator John Nimrod of the Assyrian Universal Alliance (AUA), Mr. Shimon Khamo of the Bet Nahrain Democratic Party (BNDP), and Mr. Eshia Esho of the Assyrian National Organization (ANO). Also addressing the gathering of 300 attendees was Mr. Yonadam Kanna, Secretary General of the Assyrian Democratic Movement (ADM), who had traveled from Iraq. All speakers universally addressed Assyrian concerns regarding inadequate Assyrian political representation in Iraqi opposition meetings. Mr. Kanna added an in depth analysis of the political situation in Iraq and the looming conflict with the international community. Mr. Kanna emphasized the need to overthrow the regime of Saddam Hussein and placed the blame for Iraq's international isolation squarely on the Iraqi regime.
AINA report continues: "Concluding the political forum were Dr. Ronald Michael and former Congressman Michael Flanagan of the Assyrian American League (AAL). Dr. Michael summarized the current lobbying efforts by the AAL aimed at raising the Assyrian political profile within Washington D.C. and increasing Assyrian political participation in opposition venues. Congressman Flanagan outlined the AAL's networking activities within Congress and the State Department and expressed optimism that Assyrian participation in upcoming opposition meetings would be realized in the near future. The forum was also addressed by Mr. Ator Golani, the President of the AANF who expressed the solid support of the AANF. Mr. Saad Marouf, President of the Chaldean Federation of America likewise expressed support of the Chaldean community for what he described as the "impressive" outlook and achievements of the Assyrian Coalition and the AAL. Mr. Habib Afram of the Syriac Universal Alliance echoed his support and, like Mr. Golani and Mr. Marouf, reaffirmed that the communities of Assyrians, Chaldeans, and Syriacs comprise one nation."
Mr. Nate Jenson of the U.S. State Department, referred to as the "Assyrian Desk Officer" at the State Department, attended the Convention on September 1st at the invitation of the AAL.
For AINA's full report visit: http://aina.org/releases/2002/convention6752.htm
EDUCATION
The Diaspora Symposium included four speakers from the United States, Canada, Sweden, and Australia. The Assyrian Identity Conference included speakers from very diverse academic fields including sociology, Syriac studies, Assyriology, and anthropology. The papers presented were The Assyrian cultural heritage, from Survival to Revival, by Professor Abdilmasih Saadi; Maintenance and Transformation of Ethnic Identity: the Assyrian/Syria case, by Dr. Fuat Deniz; Chaldeans and the National Designation, by Mr. Habib Hanoona. Dr. Saadi put out a call for an initiative to build a network of Assyrian scholars and Assyrian intelligentsia.
ENTERTAINMENT
Opening Night Ceremony
This was a spectacular event despite the fact that the English Speaking Master of Ceremony had canceled at the last minute, and despite the fact that the mic-system blew out twice.
The highlight was clearly a dance piece titled "The presentation of Assyrian History" produced and choreographed by Alwan Shamoun of Canada and his team of young Assyrian performers from Detroit. The Assyrian Youth Dance Group of Detroit included the twin sisters, Edna and Ature Markous, dressed as the Assyrian Queen and her guardian. Nina Toma was also dressed as an Assyrian Guard. The performance was moving, energetic and well-organized. Mr. Shamoun comes from an ROTC background, giving the performance a patriotic edge.
A Candle Light Vigil remembering 9/11 was followed by singer Steve Acho's song "America-United We Stand."
Sa'ad Ma'rouf, chairman of Chaldean Federation of America (CFA), gave a moving speech about the unity of Chaldeens and Assyrians under one name and one cause.
Entertainers throughout the Convention included Mr. Janan Sawa, Ms. Juliana Jendo, Mr. Odi Youel Johnson (saxophone) and the Banipal and Eve Band.
AN AFTERNOON WITH ASSYRIAN POETS
The revered contemporary Assyrian poets -- Ninos Aho, Yosep Bet Yosep, Mikhael Mammo and Samie Benno - entertained a large audience of Assyrian literary enthusiasts with some of their favorite pieces.
YOUTH EXCELLENCE PAGEANT
Although very qualified candidates were presented at this year's Youth Excellence Pageant, the event was not well-attended. The participants were:
1. Nahira Adams (Modesto, California) - First Prize Winner
Nahira, presenting himself entirely in the Assyrian language, is the son of the current president of the Assyrian American Civic Club of Turlock, Dr. Fred Adams.
2. Rachel Thomas (Michigan)
Rachel studies music and presented a short, but moving vocal performance.
3. Nenos Damerchi (Canada)
Nenos, born in Kuwait and a Z-Crew member, has served in the Canadian Air Force and is a winner of two mathematics competitions in Canada.
4. Rewat Najar (Michigan)
Rewat is a Pre-Medical student at Wayne State University and a member of the Chaldean Federation of America. She is fluent in Syriac, Arabic and French.
5. Nancy Odisho (Connecticut)
Nancy, a law student in Chicago, is a member and past President of the St. Thomas Youth Group in New Britain, Connecticut.
ASSYRIAN NATIONAL YOUTH INITIATIVE
This workshop was organized by Bernadette Najor of the Chaldean Federation of America and Ms. Zeena Tawfik. Ms. Najor is a teacher and a Doctoral Candidate at Wayne State University. Ms. Brenda Rosenberg discussed the stereotypes that the Assyrian youth may in confronting racism. Ms. Rosenberg owns a fashion retailing and manufacturing consulting firm. She has worked with many Jewish groups, self-help as well as more broader community services. Trained by Mr. Deepak Chopra, she focuses on working with interfaith groups and uses a methodology called "Integrative Coaching".
It was noted that as many as 3,000 Assyrian youth may currently be behind the bars in Detroit and Chicago.
Ms. Zeena Towfik suggested an Assyrian Summer Camp for the youth between the ages of 8 and 15 with a proposed budget of $125-150,000.
NEXT CONVENTION
The 70th Annual National Convention will be held between August 28 and September 1, 2003 at Rosemont, Illinois.
Zinda Magazine will present more information on the proceedings of the Women's Conference and the educational conferences in the upcoming issues.
TURKISH SCHOOLS TO TEACH LESSONS ON THE "SO-CALLED" SEYFO GENOCIDE
Courtesy of the Turkish Daily News (20 Aug)
(ZNDA: Ankara) Turkey's National Education Ministry is putting forth a new educational initiative to teach issues related to what it defines as the "so-called Armenian genocide claims as well as Greek-Pontus and Assyrians" to the intermediate and high school students in that country. This initiative will commence with the coming academic year.
One hundred and ten teachers will be participating in a training program in Ankara, where they will utilize a text book written by Professor Yavuz Ercan from the Faculty of Language, History, & Geography Department of the Ankara University titled "Some Current Issues and Reflections on the Ottoman Empire".
The purpose of the curriculum is to make students more aware of the issues and lobby activities related to "Armenian Genocide Claims". The issues related to Greek-Pontus and Assyrians are also included in the project which will be applied to grades 5 and 7 and all high school students.
The 5th graders will be given information on the "Armenian Genocide Claims" and will be taught the stutus of the Armenians in Turkey based on the Lausanne Treaty of 1923.
The 7th graders will be taught the "Oriental Issue" and review the politics of England, Russia and France in connection with the Ottoman Empire and the minorities in the Empire (Armenians).
"Why did the Armenians bring up the genocide claims to the attention of the world again?" and "What are the aims of the Armenian terrorist organization (ASALA)'s crimes?" will be the topics covered.
The topics related to the Assyrians and Pontic Greeks will be covered in more detail during the high school years.
ASSYRIAN AMERICAN COMMUNITY LEADS LOCAL VIGIL TO REMEMBER THE VICTIMS OF TERRORISM

(ZNDA: Turlock) The Assyrian American Community of Stanislaus County hosted a candlelight vigil and prayer to help remember the fallen victims of the tragic attack on America September 11, 2001. The community gathered for a candlelight vigil and prayer at 7:00 p.m. at the Assyrian American Civic Club (AACC) of Turlock located at 2618 North Golden State Boulevard in Turlock.
In addition to the vigil, the AACC of Turlock unveiled a commemorative monument as a memorial to the fallen hero's on that tragic day. Leaders of the community were in attendance include the Mayor of Turlock, Dr. Curt Andre, Turlock City Fire Chief, Mark Langley, and spiritual and civic leaders of the Assyrian community.

"September 11 had a devastating impact on all Americans including the Assyrian American Community," Commented Sargon Vartan, Spokesperson of the AACC. "Our mission is to utilize the combined resources of our community to provide a viable local avenue for people to remember and heal."
"The attacks on America last year have served to stimulate people to search their souls and yet have also shown that people can mobilize amid crisis and set aside differences of culture, politics and religion to come to each other's aide," Said Curt Andre, Honorable Mayor of Turlock. "I am happy to be able to take part in this remembrance, and I hope that it serves as an aide to facilitate the healing process."
Additionally, Lazar Piro, President of the Assyrian National Council of Stanislaus remarked, "We are truly delighted to be able to be a part of such an historic event. When people of different cultures and religious beliefs can come together, only truly great things can happen. "
The Assyrian American Civic Club of Turlock (AACC) was established on October 29, 1946, the AACC received an official charter on January 31, 1947. The AACC hosts a ladies auxiliary, youth group, cultural committee, athletic committee, education committee, welfare committee, television and radio facilities, restaurant and catering facilities.

CRASH LEAVES VOID IN CHALDEAN FAMILY; BETTER LIFE IN U.S.
Courtesy of the San Diego Union-Tribune (15 Sept); article by Jennifer Vigil

(ZNDA: San Diego) Shamoon Ballo left a Chaldean village in Iraq 20 years ago, propelled by dreams of a safer and more promising life. The shopkeeper's risk paid off.

All but one of Ballo's seven siblings followed him to the United States, settling in and around San Diego. The extended family, now numbering in the hundreds, found shelter in his Spring Valley home and work in his North Park grocery.
A piece of the family's dream died Friday in Rancho San Diego when a van plowed into a car carrying Ballo, his wife Samria, and teen-age daughter Rita, killing them instantly.
The collision on Jamacha Road, in an area neighbors say is known for high speeds and car crashes, also left daughter-in-law Linda Ballo clinging to life.
The driver, Tommy Ballo, Shamoon Ballo's eldest son and the only person wearing a seat belt in the family's Honda, suffered an injured shoulder. The three teen-agers in the van sustained minor injuries.
No citations were issued and the cause remains under investigation, but California Highway Patrol investigators believe speed may have been a factor.
Scores of relatives packed Shamoon Ballo's home off Kenwood Drive yesterday. Others kept watch at a San Diego hospital, where Linda, the wife of one of the driver's two brothers, lay in intensive care.
"We fled Iraq because of the bombing, and we came here and they're all killed by a car," Shamoon Ballo's nephew Fouad Ballo said as he sat outside his uncle's home. "Unbelievable."
Family members remembered Shamoon, 63, as a leader glad to take on the role of peacemaker in his large family; Samria, 56, as a homemaker who happily cooked for dozens of her loved ones; and Rita, 18, as a Valhalla High School graduate devoted to her church.
As they talked on the porch, relatives inside the two-story home listened to tape of an Aramaic prayer that they said begged God for forgiveness and support.
Shamoon Ballo, born in northern Iraq, moved to Baghdad for better job prospects, then traveled west through Jordan and Italy to become one of the first Ballos in the United States.
He and some of his relatives started a store specializing in Middle Eastern goods. Then he branched off, buying S&N Market on University Avenue in North Park.
The family devoted itself to San Diego's large Chaldean community, a minority in Iraq because of its Christian beliefs. They split their time between worship at St. Peter Chaldean Catholic Cathedral and a Chaldean social club, both in El Cajon.
On Friday the family intended to turn north onto Jamacha from the eastbound lanes of Sundale Road, near Tommy Ballo's residence. They were headed to Fouad Ballo's home, about two miles away, for a housewarming party.
A pile of flowers marks the spot on the southeast corner of the intersection where their Accord came to rest, car alarm blaring from the impact, at 9 p.m. Friday.
The force of the Toyota van, traveling south and driven by an 18- year-old El Cajon man, threw two of the victims from the vehicle.
Fady Esho, a Chaldean who lives on the northeast corner, rushed outside when he heard the crash. Only later did he realize the victims were the Ballos, longtime family friends.
Residents have long pleaded for a traffic signal at the intersection, Esho said, adding that a car once crashed into his back yard. At least four pedestrians have been struck and killed in the area since early 2001.
"Three caskets. One church. It's overload," Esho said.
Much of the conversation yesterday focused on the loss of Rita Ballo, a radiant yet quiet churchgoer who taught catechism classes at St. Peter. Esho's mother placed a large crucifix among the flowers at the shrine, and someone taped Rita's senior portrait to it.
Ashley Barno, 16, wore a heart-shaped pendant yesterday; she had fetched it from her cousin's bedroom in the morning. On it was a tiny image of Tinkerbell sprinkling fairy dust on the name Rita, spelled out below.
Rita Ballo graduated from high school in June and planned to attend nearby Cuyamaca College next year. She had asked Father Michael Bazzi, head of St. Peter, to help her learn Aramaic, the language of her family's region.
Bazzi, who had to break the news of the deaths to the young woman's fellow catechism teachers, said Rita was the family's most active church volunteer.
"When they had something to give to the church, they gave Rita," he said.