BETH MARDUTHO LAUNCHES THE SYRIAC DIGITAL LIBRARY

(ZNDA: New Jersey) On June 6, Beth Mardutho: The Syriac Institute launched Project eBeth Arké: The Syriac Digital Library. The project aims to bring 3,000 out-of-copyright books, journal articles, pictures, and audio recordings to the Internet in an eLibrary form. The Syriac name of the library, eBeth Arké, literally means 'house of archives' and denotes a library. The project is directed by Dr. George Kiraz.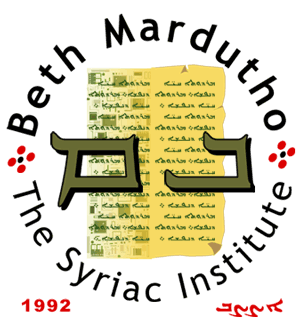 The Institute initiated the project and is leading it in partnership with major university libraries, including Brigham Young University, The Catholic University of America, Brown University, Dumbarton Oaks Library, Princeton Theological Seminary, and others. Associated with the project is a Library Partnership program that gives public and private libraries the opportunity to complete their collections, or start a collection from the ground up.

Publications on Syriac studies are usually scattered over so many libraries and are hard to obtain. eBeth Arké will bring all this material to every library, classroom and home through the Internet. The eLibrary contains books like the work of the Maronite scholar Assemani Bibliotheca Orientalis from 1719, to this date the most comprehensive survey of Syriac literature. Grammars and dictionaries are also featured such as Nöldeke's Syrische Grammatik from 1880, with its English translation from 1904, and Smith's Thesaurus Syriacus from 1879, with its English version Compendious Syriac Dictionary (1909). Included are the various editions and publications of the Chaldean scholar Paul Bedjan, the Catalogues of Wright, and many text editions by Cureton, Lamy, and others with English, German and French translations. Works from the Middle East and India are an important part of the eLibrary, such as the dictionaries of Toma Oudo from 1897 and Awgen Manna from 1900, and the grammar of the Syriac Catholic scholar Iqlimis Y. Daoud from 1896. Books on the late period are included such as Wigram's The Assyrians and Their Neighbours from 1929, and Southgate's Narrative of a Visit to the Syrian [Jacobite] Church of Mesopotamia from 1856. The 3,000 item collection will include publications in English, German, French, Syriac, Sourith, Arabic and other languages.

The project was welcomed by many scholars and libraries worldwide. "How frustrating it is that important literature on Syriac studies is scattered over so many periodicals and books, with the result that even a good library like Oxford University's Bodleian Library does not cover anything like the whole range," said Dr. Sebastian Brock, reader of Aramaic at Oxford's Oriental Institute. "To have all this material that is out of copyright collected together and made available in this way would be an immensely valuable service, not only to scholars working in this and the many related academic fields, but also to the wider public and above all, to people belonging to the different Churches of Syriac tradition," added Dr. Brock.

The Institute is making use of the latest in eBook technology. Books are being digitized using high quality digitization equipment. The images are then converted into eBook form, and when possible Optical-Character Recognition is applied in order to allow readers to search the text. Links are added from the table of contents and indices to pages, making navigation a click away. A Web version is created to allow readers borrow (i.e., download) eBooks from any place around the world. Sample eBooks are now available on the Institute's web page.

The scope of this project is not limited only to one readership. "The Syriac Digital Library Project," commented Prof. Susan Harvey of Brown University "speaks to needs shared by an entire spectrum, from scholar to interested reader, from student to one whose heritage this is. It is a worthy undertaking indeed."

Beth Mardutho is hiring two professional digital content firms whose task is the digitization of books, the creation of corresponding eBooks, and the building of a web-based virtual library. The average cost of digitizing a book is $250. The Institute calls upon individuals and institutions to adopt books in order to build this eLibrary of 3,000 items. Various contribution plans are available, giving everyone the opportunity to be part of the project. A secure on-line donation form is available on the project's home page.

For further information, to read sample eBooks, and to support this project, please visit www.bethmardutho.org (click on eBeth Arké).
SYRIAC STUDIES AT THE UNIVERSITY OF TORONTO
(ZNDA: Toronto) The University of Toronto offers a number of credit courses in Syriac Studies at the undergraduate level. NMC-350Y (Syriac Literature in Translation) for example does not require any prior knowledge of Syriac. It will be offered in 2001-2002 on Tuesdays from 4 to 6 pm. The course surveys various literary genres, such as hymns, historiography (chronicles), hagiography (acts of Martyrs and lives of Syriac saints), spirituality and mysticism, etc. Such authors as Aphrahat and Ephrem (4th Century), Philoxenus of Mabbug and Babay (5th Century), Isaac of Nineveh (7th Century), Joseph Hazzaya (8th Century), Bar Hebraeus (13th Century) will be studies. Undergraduate students a the University of Toronto can enroll in it as an elective course. Call (416) 978-3184 or email a.harrak@utoronto.ca or click here.
Information provided by the Canadian Society for Syriac Studies Newsletter- Summer 2001

JOURNAL OF THE ASSYRIAN ACADEMIC SOCIETY UPCOMING ISSUE
Appearing below is the Table of Contents for the forthcoming issue of JAAS. For subscription information and rates, please contact the AAS at: jaas@aas.net; or mail your request to:
Assyrian Academic Society
P.O. Box 3541
Skokie, IL 60076
(773) 461-6633
=====================================================================
Forthcoming in July
Journal of the Assyrian Academic Society---Volume 13, No. 1, 2001
Table of Contents
I. English Section
Abdul-Massih Saadi
"From Survival to Revival: In the Aftermath of the Assyrian Genocide"
Eden Naby
"The Persian Cultural Setting and the Diversion of Assyrian Culture"
Peter BetBasso
"30 Assyrian Folk dances"
Abdul-Massih Saadi
"A Treasure Trove of Syriac Literature: Unearthing, Demystifying, and Cataloguing A Wealth of Manuscripts at the Lutheran School of Theology "
Oraham Yalda Oraham
"The Word Became Flesh and Dwelt in Us: A Homily by Mar Narsai (?-502 AD)."
II. Assyrian Section
Oraham Yalda Oraham
"Miltha Hwa Bisra Wag-ginban: Mimra de-Mar Narsai (?-502 AD)"
[The Word Became Flesh and Dwelt in Us: A Homily by Mar Narsai (?-502 AD)]
Zaia Canon
"Ramsha"
[Evening] This poem is translated from its original in Arabic written by Abu-Mathi.
Malko Khoshaba
"Qa'im de-zmerta Atureta" [Modern Assyrian Song]
III. Arabic Section
Saad Saadi
"Dirasa Etmologia Fi at-Tasmia as-Syriania" [Etmological Studies of Syriac Appellations]
Zaia Canon
"Abrohom Nuro wa Kitab 'Tawldotho'" [Abrohom Nuro and 'Tawldotho', a book analysis]
Saad Saadi
"Oufakkiro Fik" [Thinking of You]
Hurmiz Aboona
"Mathbahat Badr Khan fi Tiyari wa Hakkari" [Badr Khan Massacres in Tiyari and Hakkari]

Nadia E. Joseph
Editor

ASSYRIAN HISTORY CLASS TAUGHT IN SAN JOSE
Did You Know that:
1. An Assyrian kingdom existed for nearly 1000 years after the Fall of Nineveh.

2. A patriarch of the Church of the East was not Assyrian, rather Mongolian.

3. One of the first modern newspapers in the Middle East was published by Assyrians.

4. Until a few hundred years ago Assyrian patriarchs could marry and have children.

5. Two out of every three Assyrian living in Iran, Turkey, and Iraq was killed or died of starvation and cold between 1914 and 1923.
The chronicles of the Assyrian nation after the Fall of Nineveh in 612 B.C. are indeed some of the most fascinating chapters of world history.
How do we account for the survival of the Assyrian language, Christianity, and traditions in the Middle East?
When and why did the major Assyrian religious schisms happen in the past 2000 years?
How do we know that Assyrians survived the Greek, Persian, Roman, Arab, and Mongol attacks on Bet-Nahrain?
Join Wilfred Alkhas, Editor of Zinda Magazine, for an intriguing visual presentation of the history of the Assyrian nation from the Fall of Nineveh until 2001. This unique class will include discussions, video, extensive handouts, a study-guide written by the instructor, and refreshments.
Registration Fee: $ 10.00
Mondays: 7:00-8:30 PM; July 9 - August 20 (seven sessions)
Location: 20000 Almaden Road, Assyrian American Association of San Jose Beta
No prior knowledge of Assyrian history required.
To register please email your name, address, and phone number to historyclass@zindamagazine.com.